Manage Your Welding Fumes
Weld fume management has always been a concern for busy welding shops but the ability to meet strict manganese fume targets in particular has pushed weld to change their approach to fume management substantially.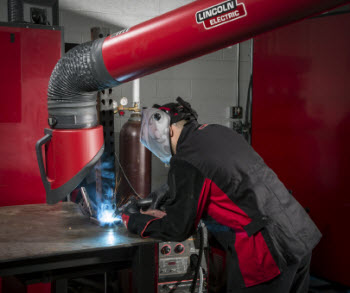 Of course, the importance of fume management can't be stressed enough.
Weld smoke is a pernicious little evil out there because it's such a fine particle. It's an oxidized metal particle that tends to remain aloft in the plant atmosphere very easily, which allows it to flow everywhere and get into the surface of everything in a facility.
These are superfine particles in the range of 0.1 to 1 micron that are highly respirable
The question is, how should a company proceed to find the best solution for their needs?
Ultimately, no single system that will solve all your weld fume management challenges on its own, but the variety of tools available to reduce operators' weld fume exposure continues to grow.
Once you understand the exposure you are dealing with, then you can work through the generally accepted occupational health and safety hierarchy of controls to get to a solution that is appropriate for occupational health and safety, and what is feasible for your budget. Here are just two options.
Fume Extraction Arms
Fume extraction arms can be very effective tools provided they are properly positioned for the work at hand. However, they may not be appropriate for all welding environments and projects, so an analysis of your specific welding situation is necessary.
Welders may resist moving an arm along a fixed part all day, but the local exhaust ventilation units that are currently available can make this easy to do but for those situations when it may not be feasible to continuously move the fume extraction arm, welders can consider other engineered fume extraction solutions to ensure welder safety.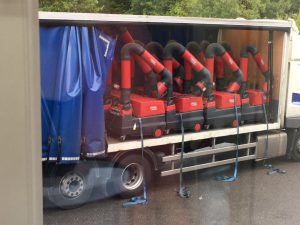 Just arrived into our warehouse a quantity of pre-used Lincoln Mobiflex Fume Extraction units with moveable arms and hoods. 
Ideal to position over and extract the welding fumes from the welder.
For more details click the link
These are sold fully tested, serviced with filters cleaned.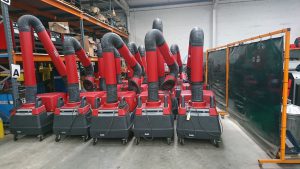 For those looking for a fume extraction arm that has a bit more power, technology is being developed to address that problem.  Miller, for instance, has developed what it calls its Capture 5, which resembles a traditional mobile fume extractor but has a capture distance of up to 5 ft.
It is like double-walled pipe, the inside pipe that acts as the intake for the fumes. That air is brought to a filter. Then the exhaust air, instead of being blown out the back of the system, is blown out through the hood between the double wall. It exhausts at a 90-degree angle from the capture hood, creating a negative pressure zone around that hood, which helps create a collection zone up to 5 ft. away from the hood. With such an extension of the fume arm's collection capability, there is less need to move the arm.
Inverter Technology
Modern inverter technology, which allows you to create a pulse waveform that stabilizes arc length and reduces spatter, can create a cleaner weld while producing less fume.
By controlling the arc transfer through this new waveform technology, you may be able to improve your overall fume management, including your manganese exposure.
If you start using an advanced pulse waveform, you will generally have to switch to a wire with a larger diameter because it often lowers your voltage to maintain the current to make the weld similar to that which you would get using a smaller diameter wire.
For other forms of new, used and refurbished Welding Fume Extraction Systems see our link here.  Contact us for help on deciding the best method of extracting dangerous fumes from your welding bays.
Our clients are often surprised at how affordable buying second-hand equipment is so before you have an issue with Health and Safety in the workplace why not ask us for a help with a welding fume solution?