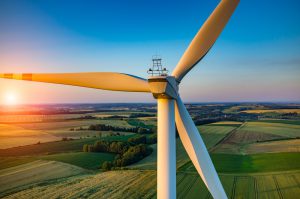 Wind Farms in the UK have set a national record over the past few days with an output surpassing 10GW, according to UK media, which refers to information provided by Drax Electric Insights, based on data from Elexon and National Grid.
The statistics at the Electric Insights website show that wind power supply in the UK exceeded 10GW on 15 January (10.7GW) and hit a 12GW mark on both 16 and 17 January, with figures for 18 January showing 8.3GW.
The Gansu Wind Farm, China
The Gansu Wind Farm Project is currently under construction in the desert near Jiuquan, China. The planned total capacity for the wind farm is 8 GW which it will achieve in phases. Currently, at 6,000 MW, the Gansu Wind Farm is already the largest wind farm in the world and is almost equal to the United Kingdom's total wind power capacity.
The project has almost 7,000 wind turbines in operation with 36 new wind turbines being erected each day. However, due to local government favouring coal and poor long-distance transmission capacity, The Gansu Project in China is one of the most underutilized wind projects in the world with nearly 40% of capacity wasted.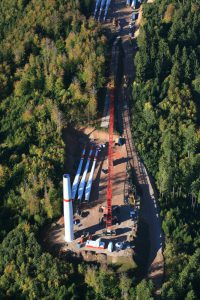 Polish Industry Launches 2025 Offshore Wind Programme
Poland's Foundation for Sustainable Energy (FNEZ) has, in cooperation with entities from the maritime industry, offshore energy, wind energy, steel industry and manufacturers of offshore constructions, ships, and cables, established a Memorandum of the Polish Offshore Energy Sector (PPPEM).
The PPPEM (Porozumienie Polskiego Przemysłu Energetyki Morskiej) has gathered 40 entities, including the Polish Offshore Wind Energy Society (PTME), that see the development of offshore energy investments, especially offshore wind energy, as an opportunity for creating an innovative, competitive and powerful Polish industry, according to FNEZ.
The programme called Baltic Energy for Poland 2025, aims to advance Poland on its path to utilising its untapped offshore wind potential in the Baltic Sea.
How are Wind Towers Constructed?
Wind energy does not pollute the air or create harmful greenhouse gases. It emits no CO2, unlike fossil fuel based powers that rely on coal or natural gas combustion. Within just a few months of operation, wind turbine towers recover the energy they use during their build, operations, and dismantlement. To use wind turbines to their fullest potential, manufacturers make their main components out of steel.
Steel is strong enough to hold the turbine's blades in place as they rotate, as well as provide a strong nacelle frame and machinery. The nacelle can weigh 300 tons and requires strong steel for safe operation. The nacelle contains high-value steels such as electrical steels that help conserve energy. The wind turbine tower industry has implemented steel in most components of the turbine to provide greater strength and durability.

Tubular Steel Towers
Most large tubular steel wind turbines rely on steel for its towers, manufactured in sections of 20 to 30 metres. Each section has flanges at either end. Workers bolt these sections together on site. Tubular steel towers, as the name implies, are conical, with their diameter increasing toward the base. This increases the tower's strength and saves materials. The advantage of steel in this tower is to provide a strong enough base to support the height and the heavy weight of the turbine. Steel is also a flexible enough material to allow for the conical shape of a tubular steel tower without breaking or resisting pressure.
Lattice Towers
Lattice towers have welded steel profiles instead of steel sheets. Lattice towers provide the advantage of a smaller cost investment compared to others, since they use about half as much material as tubular towers. Yet the lattice tower still provides similar stiffness and reliability as tubular towers. Steel enables this type of wind turbine to exist using fewer materials because of the metal's incredible strength. Lattice towers allow wind to pass through the base and tower sections, decreasing the pressure and resistance on the structure. One disadvantage according to some people is the appearance of lattice towers. Aesthetic complaints have led to a marketed decrease in the use of lattice towers for modern wind turbines.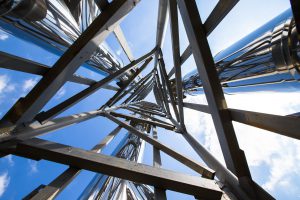 Steel Hybrid Towers
Steel and concrete hybrid towers are ideal for taller turbines, as they bring the best of both materials. Taller towers do not need as great a diameter, reducing the number of trees that must be cut down. Many experts in the industry believe that concrete-steel hybrids are the future. Concrete bottom sections with tubular steel upper sections can deliver the greatest height and stability.
Heavy Duty welding equipment is a major part of the plant needed to construct these towers. Often made in a facility and then transported to the Wind Farm site for construction.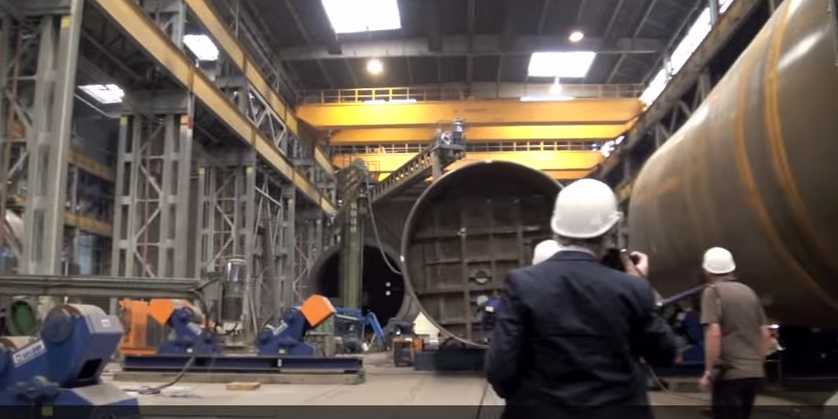 You will need a Column and Boom welder working in conjunction with a set of welding rotators and a welding application such Submerged Arc. 
If you are looking for large specialised semi auto vessel and tank welders follow two links to a used  Welding Boom Manipulator and set of special purpose Fit Up Rotators for sale
Register with us for all the latest stock updates and exclusive offers, enter your email address below!