Stock Update: AMI 95-2375 x 2, As new condition and unused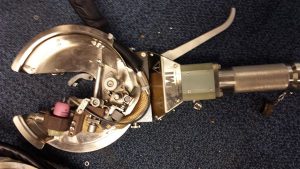 We have just received into stock 2 x AMI 95-2375 open weld heads, capable of root pass for fusion welding or with filler wire with an external wire feeder – ideal for limited axial or radial clearance.
The weld head also features a mechanical arc gap controller to prevent the tungsten electrode from hitting the weld puddle if the pipe is out-of-round.
Popular weld head due to little set up time and mounts almost instantly onto the pipe.
200A continuous duty, water cooled set up.
Up to 10mm/0.4″ wall thickness and 0.75 – 2.375″/19-61mm tube/pipe OD range.
95-WF wire feeders for the 95 series weld head also in stock.
Full specifications available here.
Click here for price enquiry.
Do you have orbital welding equipment surplus to requirement or For Sale?
We are always interested in purchasing all types, from fusion welding to pipe welding