Nelson Studwelding and Taylor Stud Welding Systems have introduced some great new products onto the market.
Below are a couple of the options available for different applications: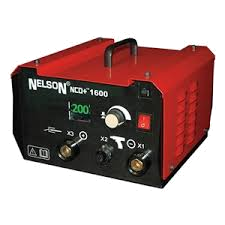 CD capacitor discharge stud welding power supply for arc welding with and without tip ignition.
Ideal for welding steel studs M3-M8, brass M3-M8 and aluminium M3-M6.
Features:
Ultra portable, thanks to it's light weight and compact dimensions.
Power saving, 40% lower power consumption compared with conventional welding units.
Colour LCD, straight forward graphical interface for operation and maintenance.
Stud holder protection, a three-point mount prevents unintentional damage.
Stud Expert, Preset weld parameters with a database based on material and thread size.
Adjustable columns, straight forward adaptation to different stud lengths.
Integrated process control, display of weld current, weld time, arc voltage and weld power.
Click here for specifications and full details.
Some of the benefits:
Fast and highly economical.
Easy programming and quick change facilities.
Ideal for long and short production runs.
Maximum welding rate of up to 60 studs per minute.
Accuracy level better than +/-0.15mm.
Machine features:
Systems available up to 4 axis.
Weld areas up to 3000 x 2000mm.
Rigid open aluminium frame with "T" slot profile bed.
Fitted with linear encoders to give high positional accuracy (servo systems only).
Available with either PC or PLC control and heavy duty servo or stepper motors
Click here for specifications and full details.
We have a range of stud welding machines in stock for both CD/capacitor discharge and DA/drawn arc applications, click here to see what's currently available. Or alternatively if you have stud welding machines you are looking to sell, we want to hear from you!
Quick, easy transactions to get payback for your surplus equipment, click here to send us details or call Peter on +44(0) 1162 696941.
Keep up to date with all of our latest updates and exclusive offers, enter your email address below to subscribe: