Battle for the First British Woman Champion
A tense week led up to Saturday 12th August when the final round of the Westermans International British Womens Motocross Championship 2017 took place at Brookthorpe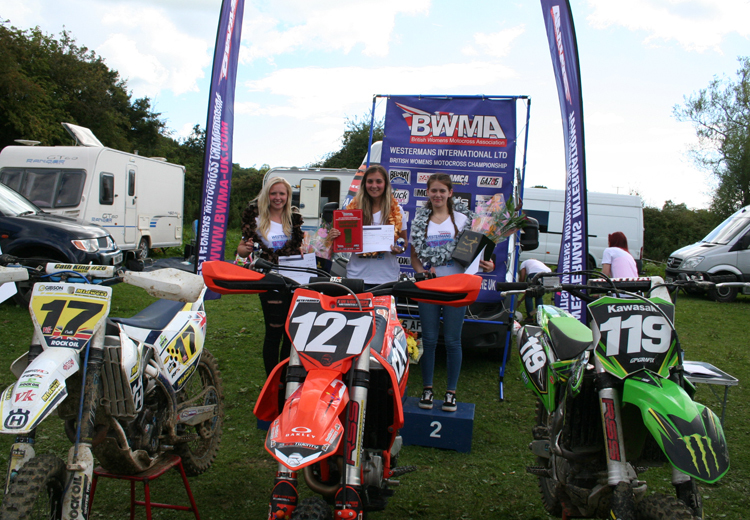 Working out the AMCA points system for the first ever Championship was easy for the clear leader Beth Farmer but there were some tactical discussions for 2nd and 3rd place.
With prize money from Westermans International of £1750 to be won you can understand why the girls, parents and partners were rather agitated but excited at the start of each of the 3 races.
The sun shone and we witnessed these young girls fight for each corner on what can only be described as a very steep hilly track with lots of jumps.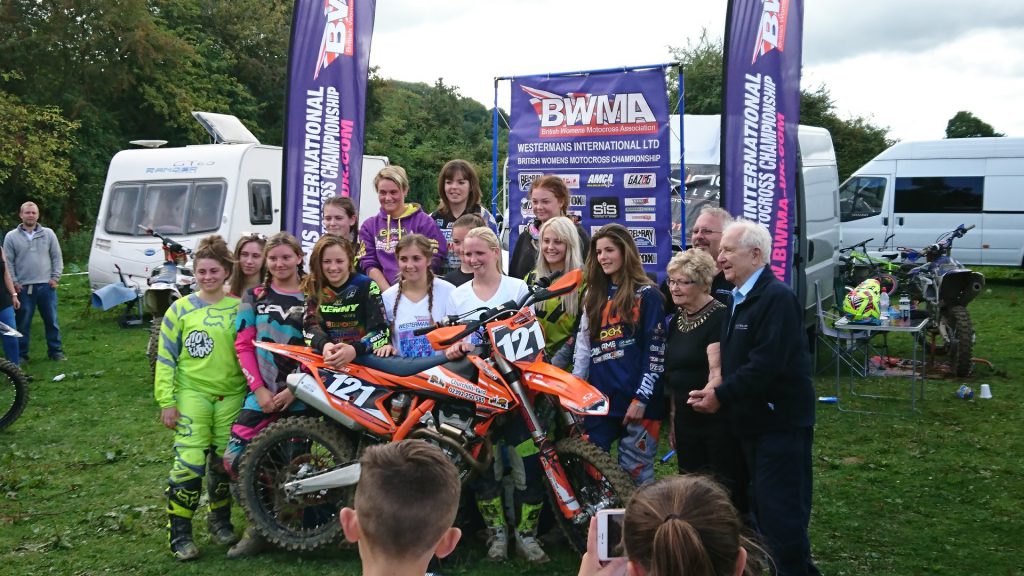 Photograph shows Peter and Rosemarie Westerman with all the riders in Round 5
Cath King already leading in the Holeshot competition sponsored by BelRay had no  trouble taking all 3 this week being the fastest out of the start gates every time.
Extreme Sport
There were a number of crashes and dropping of bikes. Vicky Marriott in the final race was injured so much so that she had to be taken to Gloucester hospital suffering concussion.  We are happy to say that despite the massive headache she is on the mend.
Nadiya Jones and Sophie Level, both new to the championship rode hard and fast, Charlotte Hall who pulled it out of the thin air in the last race finally getting a great start, but it was Beth Farmer, Leonni Tighe and Cath King who finally at the end of some nail biting riding that took the championship places respectively.  Well deserved and committed to the BWMA championship.
Congratulations

1st Beth Farmer. middle. 2nd Leonni Tighe. right. 3rd Cath King. left.
There were many awards and rewards for all the girls that competed in this first ever British Womens Championship; development, confidence, ambition and friendship. Eleanor Calby walked away with Most Improved Rider voted by riders and parents. Ciara Robertson won cash to pay for her Entry Fee. Millie King who finished a brilliant 4th overall didn't have the best race but never once gave up. See the full BWMA Championship Leader Board here.
A very inspiring set of young ladies to watch both on and off the race track leading the way forward in Britain to show the many younger girls who follow along with their brothers and dads that they too can be British Champions in their very own right.
Thanks must go to Vicky Marriott and her Dad Howard. Vicky knew that this championship was a must for women's motocross. They have worked extremely hard to get this off the ground and be the fantastic success it was.  Well Done Both.
Get in First
We all need to support our community in one way or another so if you are interested in Sponsoring one of these talented girls please get in touch.
This can be as little as paying fuel for the bikes, entry fees, graphics on the bikes, kit or travelling expenses.  you would not believe how grateful these riders are for recognition.  Now they are able to enter the European races and then World races. What a better way to get your name out there.  You have seen it with the football and cricket, well I can tell you these girls are going to get your name out there. Get in before the big boys like Yamaha, Dunlop and Thor get in. With the youngest being only 13 you can see they can't sustain the hobby on pocket money alone!
Want to find out more about Sponsoring Women in Motocross please get in touch with Claire Spillane.
Westermans International has been involved in the Motocross scene for many years. We have made many friends and customers who are involved with welding and fabrication.
The company will continue to be the main Sponsor of the British Womens Motocross Championship for 2018.  Wishing all the girls a great summer of racing at their own clubs.
See you all next season.