Daredevil Guy Martin builds WW1 tank in tribute to British Engineers
Engineers revealed how they made Guy Martin's Mark IV replica tank in a brilliant TV show aired this week.
With the exception of a couple all tanks are female. Meet DEBORAH 11…..
The tank, invented by William Foster & Co Ltd,  Lincoln in England first saw action on September 15, 1916. Within 24 hours 179 were out of action. Most had broken down, with only 60 lost to enemy fire. Not a great success.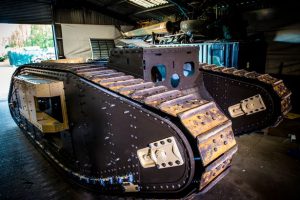 The truck mechanic and television presenter came up with the idea of producing a replica of a 30-tonne Mark IV tank to mark the centenary of a battle in which they were first deployed.
And he turned to JCB's engineers and welders to help turn his dream into reality in time for the special anniversary.They rose to the challenge in double-quick time with the profile parts cut, rolled and bent into shape at JCB Heavy Products in Uttoxeter before being welded together at JCB's World HQ in Rocester.
Using modern techniques including robotic welding and a Laser cutter 4000 watt to cut through the 15 mm material to rebuild the machine the biggest problem was to make it look as though it had just come off the factory line during the war.  Even replicating the roller spacing for the tracks of the tank, so it would sound exactly the same as the original
Design engineer Tom Beamish said: "The manufacture of tanks was cutting-edge stuff at the time but looking back on it now, it barely seems possible with the equipment workers then would have had.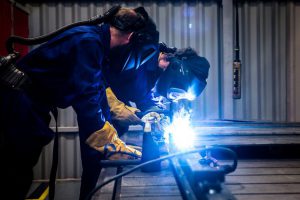 Guy Martin leant a hand in the welding shop where Chris Shenton said fabrication work took less than four weeks. The completed chassis was transported to Norfolk tank museum, near Norwich, where the remainder of the project took place.
Herts-based engineers Chasestead Ltd manufactured more than 360 components, from gun mounts to ­periscopes, using ­computer ­technology the original makers could hardly dream of.
Gearbox parts were salvaged from scrapped farm vehicles. And 3,000 fake rivets were used for authenticity.  The main difference to the real thing was the ­engine.  No original Daimler engines exist so Guy used an old Rolls-Royce one bought 25 years ago for £100 by tank enthusiast Stephen Machaye. The replica was built by volunteers at the Norfolk Tank Museum at Forncett St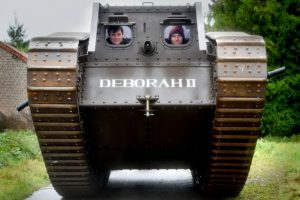 And on Armistice Day Guy Martin and his team took their tank to Cambrai where they observed the two minutes' silence during a poignant service after not being able to complete their dream and drive the tank through Lincoln city centre on Remembrance Sunday this year.
Watch the Channel 4 show on Catch up or Google Guy Martin Tank for lots more information.
If you have a similar project and are looking for welders search our site….. Whether buying or selling any welding or fabrication plant and equipment we would love the opportunity to talk to you.