Great Weather – Complicated Results
It was great to finally get to see all the girls again at a sunny Brookthorpe for the 3rd Round of the BWMA Westermans International British Womens Motocross Championship 2018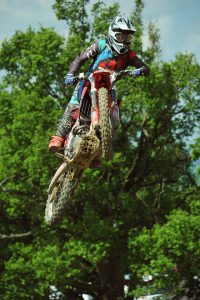 2017 the first ever Championship certainly was a success and I was very happy to see so many more girls on the start line of the first race. The 27 strong field this year is so determined all the way through to back with everyone having someone to battle.
Transponder recording on the day was compromised so timings were unreliable and Howard Marriott the organiser had to revert to manual lap scoring whilst taking some stick from a couple of competitive parents!
The weather conditions were perfect for the first of the Elite ladies race – and for the hundreds of spectators at the track just outside Gloucester.
With so many women racing it was hard to keep track of everyone's position.  Only Chelsea Gowland riding her Redline Westermans Honda stuck out in the lead. Great to see her recovered after her fractured ankle last year.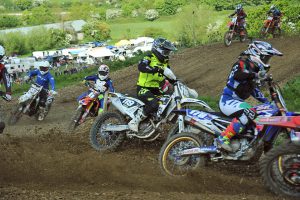 A new rider Amie Goodlad consistently gave chase with Tighe in close pursuit, the racing was close and frantic, Tighe rode her heart out to try and close in on Goodlad but eventually had to settle for 3rd defending her position.  Hard charging Taylor Scott got the better of Nadiya Jones who managed desperately to hold off the fast Honda UK rider Ellie Sleightholm, rounding out the top ten was Eleanor Calby racing for the first time on a 250f KTM switching from her 125, the consistent Midwest Husqvarna rider Cath King just surviving the assault from Realising Dreams Honda rider Charlotte Hall, closely followed by BWMA organiser Vicky Marriott on her Redline Westermans Yamaha, just holding back the late charge of young Jaymee Garrood.
That was only the first race! The track started to get choppy for the second of the Eite Adults race and hard and compacted on the 3rd.  Georgia Ithell managed another clear BelRay Holeshot  and Leonni Tighe got the third one of the day.
All of the girls have shown tremendous development from the very start of the BWMA.
The most exciting for me was seeing the new Youth Class.  I had heard they were combining the boys with this race. But little did I know that the girls outnumbered them by a long way.  Only 3 boys to 13 girls. Now do you see why a women's and girl's championship is so important for the riders?
A white helmet with bright pink Mohican was clearly a natural on her bike and very fast.  Taking the lead in all 3 races. I was pleased to meet Elisha Elliott later, finding out she only started about 4 years ago. At only 14 is a serious rider with a huge amount of skill for such a young crosser.  Certainly she will give the ladies some fierce competition when she can ride in the Elite Class at 16.  In the final face, Cristina Palmer took the BelRay Holeshot of Elliott, the young lass from Scotland came in overall 4th with Jaysi Austin and Hannah Jones taking 2nd and 3rd. The rest of the field know what they have to do and they all showed tremendous determination to fight for each and every position.
It was great but also sad to see Beth Farmer spectating.  Last year she won the 2017 Championship but after injuring herself yet again at MX she now has to have a serious knee op and will not be riding this season.  Get fit soon Beth and keep baking the cakes!
ELITE RESULTS
1st Chelsea Gowland  180pts
2nd Amie Goodlad – 162pts
3rd Leonni Tighe – 147pts
4th Ellie Sleightholm – 140pts
5th Taylor Scott – 129pts
6th Catherine King – 125pts
7th Charlotte Hall – 119pts
8th Nadiya Jones – 115pts
9th Kayleigh Durston – 107pts
10th Georgia Ithell – 101pts
YOUTH RESULTS
1st Elisha Elliott 180pts
2nd Jaysi Austin 153pts
3rd Hannah Jones 150pts
4th Cristina Palmer 146pts
5th Izzy Neale 139pts
6th Grace Packman 129pts
7th Pippa Lloyd 121pts
8th Ella Hollingsbee 119pts
9th Caitlin Williams 107pts
10th Megan Radford 103pts
Next round of the BWMA is the Bank Holiday weekend in Warmingham near Sandbach.
Westermans, suppliers of welding and cutting equipment to the motobike and motorcycle parts and accessory manufacturers welcome association with all Riders, fellow Sponsors, family members and friends to follow Westermans Twitter, Facebook and Instagram