IMBA European Women's Motocross Championship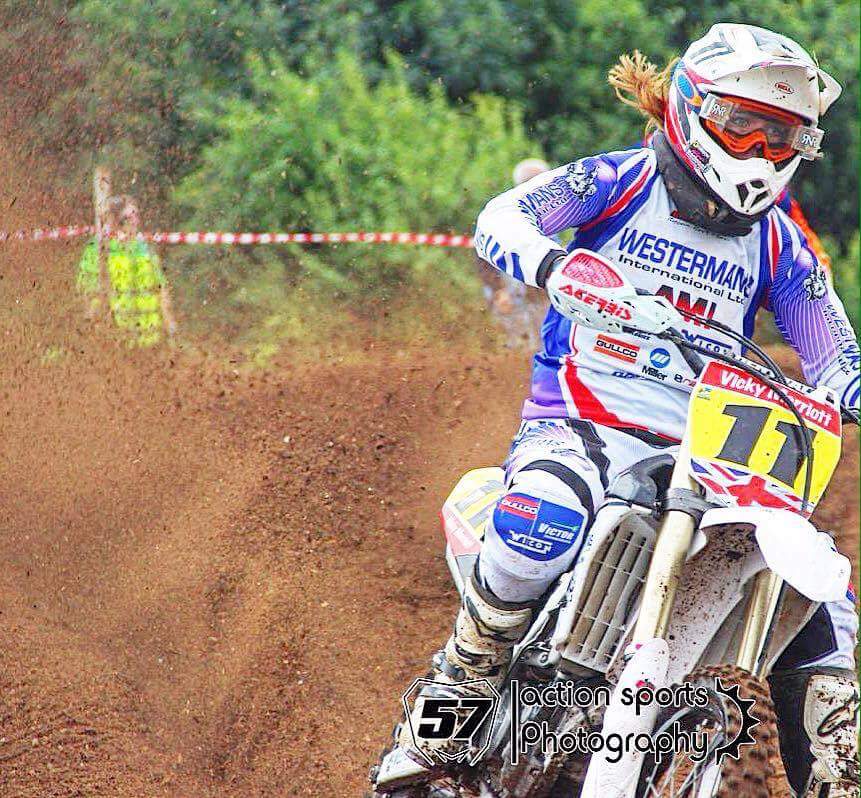 Following a strong 2015 season with an 8th place overall in the Women's British National Motocross Championship. Leicester's Vicky Marriott had a choice to make.
Photo courtesy of Action Sport Photography
With no financial sponsorship for 2016 she couldn't afford to do another 9 round season of National Motocross Championships travelling all over the UK and Ireland, so chose to take the opportunity to compete in the 4 round IMBA European Women's Motocross Championship as part of the 3 girl British team, along with the 2 day British Invitational International Women's National Championship.
Finding race kit support from Craig Westerman of Leicester's Westermans Welding International Ltd, bike cleaning products from Pro-Green Ltd and energy supplements to help with fitness and training from EQ Nutrition, Vicky was able to compete in one of the most prestigious championships and represent her country.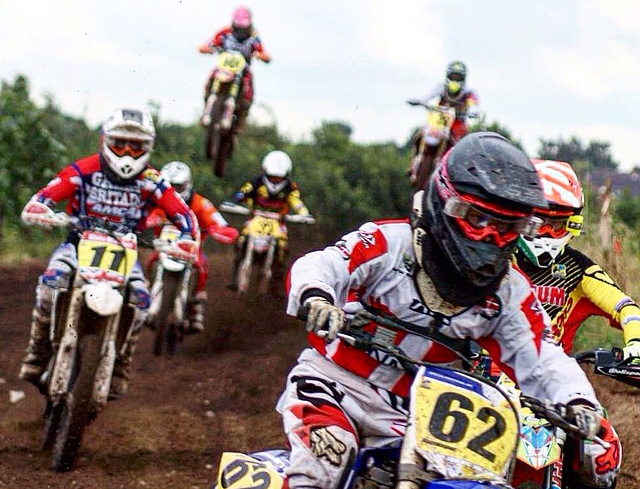 Picture. Vicky Marriott No. 11 chasing the leading pack of the top European Girl racers
The first round was held on April 10th at Genk in Belgium. An early race on the calendar. Vickie's preparation was going well with a winter of practising and an engine rebuild scheduled on her 2014 Yamaha 6 weeks before round 1. But with an unexpected 5 week delay on the engine build, preparations were turned upside down. With only 1 weekend to practice before the biggest season of her life, the first round proved a big eye opener. With 40 girls from all over Europe on the line of the first race Vicky raced well with strong performances but could only manage 29th overall. It demonstrated just how quick the top girls were and how much work was required to be competitive.
There was a 3 month gap between round 1 and the British round on Sunday 31st July. In this time Vicky worked tirelessly to improve, racing local club races and training with some top riders to improve her speed and skill. All this paid off on the soft loamy soil of the British Lower Drayton track which roughed up badly particularly with the Mens IMBA European MX1 in (which Leicester's Luke Burton won all 3 races for Britain) and MX2 Championships with the IMBA Sidecarcross Championship, Vicky still has to get the hang of qualification and the hot lap, but with a qualification position of 22nd it was already a positive result. Confidence running high Vicky pushed in her first race and worked her way up from a lowly 24th position on her first lap to overtake and push her way up to an incredible 15th place after 20 minutes of racing.
Race 2 and Vicky was on a high, from another midpack start she pushed up hard knocking on the door of the top 10 running in 12th position until a coming together with a Belgium competitor meant that she was unable to complete the race after a mild concussion.
Race 3 and the track that was incredibly rough by now and Vicky feeling slightly second hand was able to still push hard, making her way into the top 20 she managed to finish in a strong 17th place. The final position moving Vicky up to 21st overall in the championship.
With a hectic 3 weeks with only two weeks before Round 3 in Germany on 14th August and 3 weeks before the British Girls National Vicky is full of confidence to improve even further.
How did she get started?
Most people grow up playing football, athletics or any of the other mainstream sports. Vicky was like them and enjoyed playing football and played for Leicester City ladies under 14's, but there was something missing. It just wasn't exciting enough, it wasn't fulfilling. She craved something that pushed her a bit harder. Well she is now there.
We wish Vicky all the very best for the next Round and Girls Nationals.  It is great to support such a dedicated young woman who for many would have given up when she suffered a brain haemorrhage through a biking accident but hell no, this girl still keeps pushing her limits. Top admiration.
Community support is a great way of giving back something.  Let us know if you are local and looking for support to reach your goals.