Four catalytic converters have been stolen from cars in Syston overnight between Tuesday 29th January and Saturday 2nd February 2013.
They were taken from vehicles on Pine Drive, Quenby Crescent, Wanlip Road and Tentercroft Avenue in the Leicestershire village of Syston. All of the vehicles were 4X4s.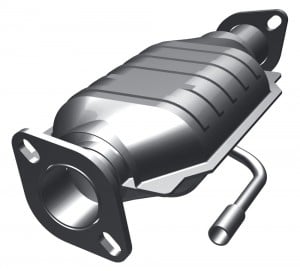 The increase in the cost of scrap metal has led to a national increase in the number of catalytic convertors being stolen.  The police in Syston have reacted by sending messages out on social media, and the police community messaging system – Neighbourhood Link; and acting on information from the public about suspicious vehicles in their area.
A Safer Neighbourhood Team member for Syston recommends that owners of 4×4's keep them in a garage whenever possible or park them in well lit places.  It is also important to keep any valuable items out of sight.
There are companies that sell catalytic converter alarms which might be worth considering and there are metal cages on the market too which can be fitted around the catalytic converter and will act as a strong deterrent.
If you own any sort of vehicle with a high clearance, enabling easy access underneath, then it would be worth considering some form of crime prevention measure.
As a welding equipment supplier in Syston, we have always been aware of individuals out to steal metal, either scrap or products from factories.   The majority of fabricators, foundries and steel mill businesses protect themselves with CCTV cameras, some even invest in night Watchmen and guard dogs who patrol the yards. This being a less expensive than the increased insurance premiums if claims are made after a theft takes place.
Does this mean though that the new scrap trade legislation which took effect this year to clamp down on cash being paid for metal is really not working?
If you want to have a cage welded for your vehicle, we can recommend many welding fabricators around the UK and Ireland who will be able to do this for you. Get in touch.