The ESAB Demobus will be touring the UK from Monday 9th June – Friday 20th June 2014 at a venue near you.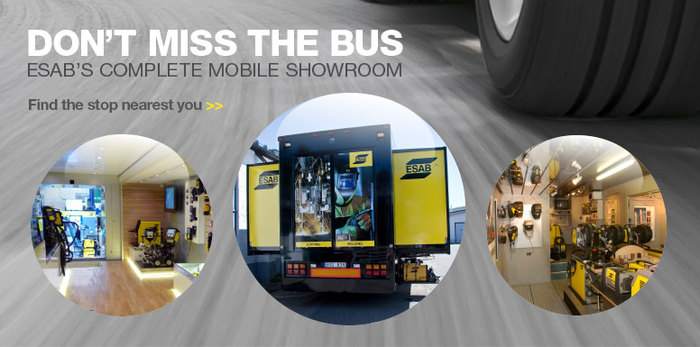 On board ESAB will be presenting and demonstrating a wide range of welding and cutting products and processes including the latest products launched.
You are invited to join these free events – see live welding demonstrations, products displays and talk to the experts in the industry.
VENUES AND DATES
Monday 9th June
Eltham Welding Supplies
Charlton Athletic Football Club, The Valley, Floyd Road, Charlton, London, SE7 8BL
11.00 am – 4.00 pm
Tuesday 10th June
Electraweld
IPS Training Centre, Northbank House, Sir Thomas Longley Road, Rochester, Kent, ME2 4DU
Open 08.00 am – 5.00 pm
Wednesday 11th June
Wellington Welding Supplies
Unit 1, Endeavour Park, 11 Witney Road, Nuffield Industrial Estate, Poole, BH17 0GJ
Open 09.30 am – 4.00 pm
Thursday 12th June
Gear Trodes
Unit 10 Baglan Industrial Park, Aberavon Road, Port Talbot, West Glamorgan, SA12 7DJ
Open 09.30 am – 4.00 pm
Friday 13th June
Shropshire Welding
Unit A10, Stafford Park 15 Telford, Shropshire,  TF3 3BB
Open 09.00 am – 4.00 pm
Monday 16th June
Doncaster College
THE HUB, Doncaster College, Chappell Drive, Doncaster College, DN1 2RF
Open 09.30 am – 4.00pm
Tuesday 17th June
Engineering and Welding Supplies
Adam Smith Street, Westmarsh Industrial Estate, Grimsby  DN31 1SJ,
Open 09.30 am – 4.00 pm
Wednesday 18th June
Engineering and Welding Supplies
Soho Street, Smethwick, West Midlands, B66 2RH
Open 09.30 am – 4.00 pm
Thursday 19th June
S.P.A Welding Supplies
Marlborough House, Marlborough Road, Lancing,  BN15 8UF
Open 09.30 am – 4.00 pm
Friday 20th June
ESAB Group (UK) Ltd
Hanover House, Queensgate, Britannia Road, Waltham Cross, Hertfordshire, EN8 7TF
Open 09.00 am – 4.00 pm
ESAB are also offering the chance to win welding products if you attend an event.
Click here to sign up to their Newsletter to keep up to date with products and developments.
We have been selling new, used and refurbished ESAB welding equipment and machinery for decades.  We have a large inventory of spares in stock and can supply new machines and new replacement parts quickly around the world.
ESAB equipment is robust and reliable for the professional welder. Take a look at videos on our own site of subarc tractors, orbital welders, tig and mig welders.
Looking for used ESAB CNC plasma or gas profile cutters?  then we can supply.  Contact welding@westermans.com with your requirements or view the range on our web site.
If you are in the Midlands visiting one of these events, why not pop in to see the vast selection of ESAB machines we have in stock and ready for immediate delivery? Find us in North West Leicestershire, only 5 minutes from Junction 22 of the M1 heading south.