Following our recent International Development Award win at the Midland Family Business Awards, we decided to enter the Leicester Mercury Business Awards in the International Trade category.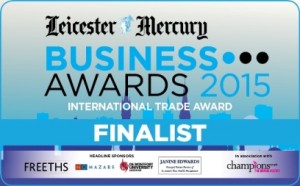 We were then announced as finalists! The competition is high, having 2 very good companies also announced as finalists: Impact Air Systems and Inspiration Healthcare.
However we hope that our long standing reputation and our wealth of international clients and customers will stand us in good stead for a shot at the award!
Our recent press coverage (being on BBC regional news and Peter having an interview on local BBC Radio Leicester) might also give us some leverage!
We are absolutely thrilled to have this sort of recognition. For the past 50 years it hasn't even entered our minds to go up for these kind of awards, but it just goes to show what hard work achieves! To anybody who is thinking about it, but aren't sure if you're 'quite good enough' – just do it! We did and have loved every minute!
So keep your fingers crossed for us! The final is on Thursday 23rd April, where we will be attending a gala evening and dinner at the Platinum Suite – a great evening to be had by all I'm sure.
We will let you know how we get on!