This letter shows the kindness of NHS staff, no matter the pressure they are under!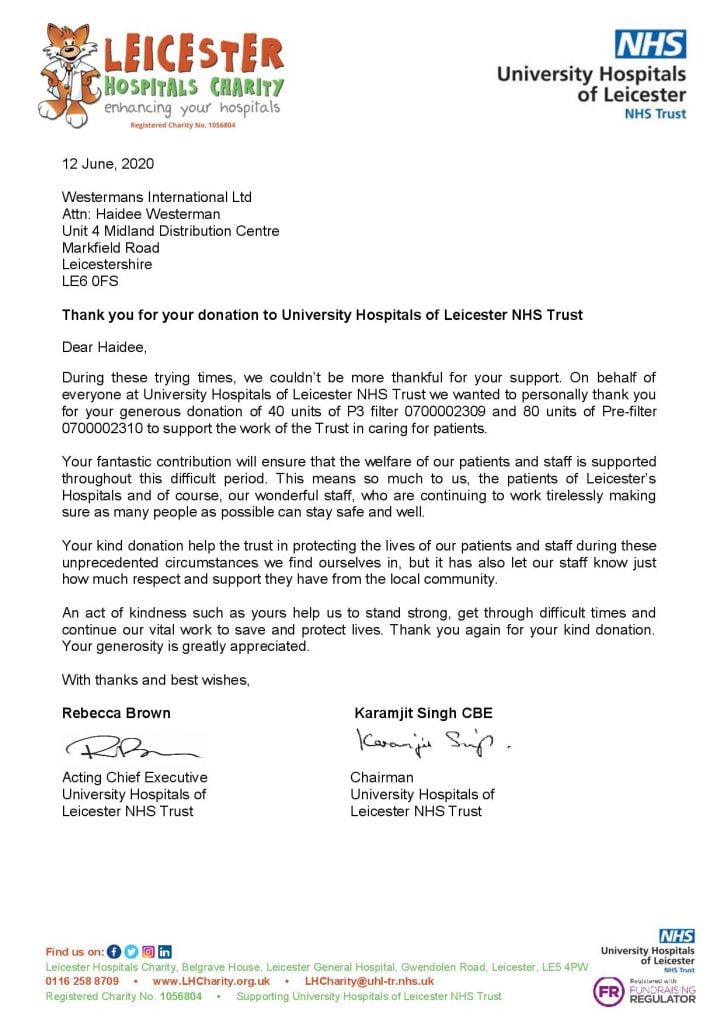 We wanted to give something back to any of the key-workers helping us out during the Pandemic. So we jumped at the chance to donate our own products, which include RPE equipment, to the local hospitals.
To receive a personal thank you letter for our donation to Leicester Royal Infirmary just melted our hearts. Yet again.
Our family business has been lucky to be in a sector that was essential and we have been able to work with limited staff. We now want to share some goodwill with those in need as some tough times are to follow.
Personally, I know some NHS staff will want to receive monetary recognition for their dedication during the Covid-19 crisis – but in reality I am told what they really want is something far simpler.
More staff in all departments of hospitals, clinics and care homes.
The result would be less staff off with stress and sickness, improving morale for all NHS workers. Most importantly, a feeling of being valued, so that they can go home after a very long shift, knowing that they provided each and every patient with the love and care patients desperately need. We all want to feel valued as humans, it is the least NHS workers deserve!
RANT OVER!
Here's what you can do
Following the success of the weekly Clap for Carers, people will be encouraged to reflect on the heroes of the coronavirus pandemic with family and friends at 5pm on July 5 – the 72nd anniversary of the NHS.
Broadcasters will also suspend transmissions for a moment as a mark of respect.
On Saturday July 4, the evening before, people will be asked to put a light in their windows in remembrance of those lost to Covid-19.
Thank you again to everyone who has cared, helped, supported, donated, worked, fetched, carried and given to each and everyone who needed help.
Author: Claire Spillane – Director of Westermans International, Buyers and Sellers of Used welding and cutting equipment – Mum and Nana