ACT QUICK
Buy 2 x Used Messer MG MultiTherm Cutting Machines
PRICED at £50,000 to SELL
Normal List price when new €560.000,00
Due to re-structuring, don't miss the chance to purchase two MultiTherm cutting machines from the same location
The Messer MultiTherm – Vielseitig und effizient Versatile and efficient
Whether plasma (straight or bevel), multi-torch gas cutting, marking or a combination of all is your requirement, the MultiTherm is THE machine for you.
Das Arbeitspferd unter den Messer Schneidmaschinen. Für die höchsten Anforderungen an Qualität und Produktivität.
The workhorse of the Messer cutting range. Where only top quality and productivity will suffice.
These two large capacity machines work back to back giving you up to 36m length of track or individual
High spec and quality equipment includes
Global ControlPLUS
Alpha Oxyfuel Machine Cutting torches
Omniflow Automatic Gas Control System
Sensomat-PAN Height Sensing for Oxyfuel – Sensomat-PAN Height Sensing reliably maintains the proper standoff distance between the oxyfuel torch tip and the workpiece, without operator intervention.
Kjellberg Finsterwalde FineFocus 800 plasma cutting systems x 2
Why Buy from Us?
We are Specialised Worldwide suppliers of Used CNC Plasma and Gas Profile Cutting machines  See our TrustPilot Reviews for peace of mind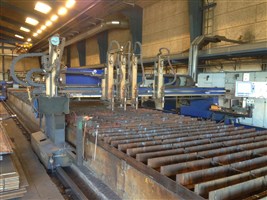 Specification of 2 used fully working systems for sale from the UK today as shown in the video
Messer Multitherm 5000 CNC Plasma & Gas Cutter
Cutting 4m x 18m Sheets with both machines on same rail 36m
Condition: Used
Key Features:
Year 2006
Network adaptor connected to control, 3 x 20m/min AC servo drive
Kjellberg FineFocus 800 plasma cutting system
Dry plasma cutting up to 80 mm
Package option for Parallel operation 2 x 800 Finefocus – Dry plasma cutting up to 160 mm
Air cooled heat shield under the portal
Emergency wire attached to the front and rear of the machine
36m rail length for double – sided drive, stop both sides 36m shared over 2 machines
Omniflow gas supply control system for up to 4 burners, Omniflow controller for gas via management database
Omniflow 200 gas torch with motorised height lift, Torch holder with 90mm longitudinal travel
OmniFlow control for checking the operation of gas through management database
Machine Alfa torch with internal ignition and distance control
SensoMat Alfa with internal ignition and magnetic distance control, SensoMat ARC/S
Messer Global Control PLUS, CNC control with 15″ TFT graphic touch screen
Air cooled heat shield under the portal
5 x OmniLift 200 gas torch with motorised height lift
Torch holder with 90mm offset in length
Machine Alfa Torch with internal ignition and distance control for propane
Sold Together as a Fully Working Package with Warranty
All images taken on site and before transportation to our own facility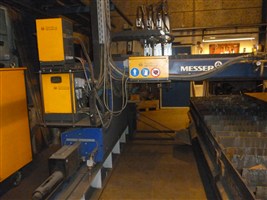 Want to view the machinery? Please feel free to visit us in Leicestershire to see the plant.  An appointment is advisable.
To benefit from this unique opportunity CALL our Technical Sales now for more details on +44 (0)116 2696941
You can read at your leisure the full PDF specification data by following these links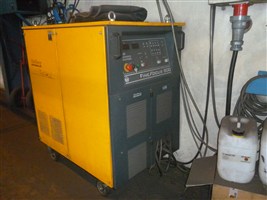 Please note: Cutting beds are not supplied.  Cheaper and easier on transportation if you fabricate your own.  Drawings can be supplied.
All equipment conforms to EU Standards.  Operating and Maintenance manuals will be supplied with the equipment.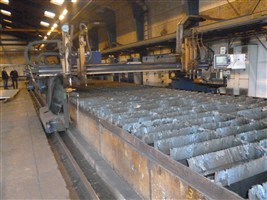 Save Money Today * In stock  * Production Up Fast
All prices exclude VAT
All dimensions to be confirmed before ordering
Industries for these machines:  Ship building, large vessels manufacturers, cutting plate, heavy construction equipment, steel fabrication, beam construction, steel stockholders, plate cutting, wind farms ……
Countries: Malaysia, Indonesia, Kuwait, Saudi Arabia, Mexico, Brasil, India, South Africa, Nigeria, Ghana
CALL our Technical Sales Department now for more details on +44 (0)116 2696941