If you are looking to sell your Kemppi TIG welding machine, or ESAB CNC plasma cutter – Peter Westerman is always looking to buy surplus welding and cutting machines.
His latest campaign for the Westermans welding equipment purchasing department, was for welding positioners/welding manipulators.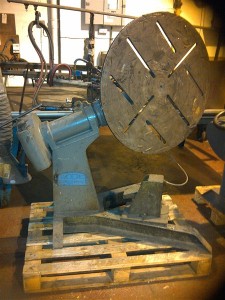 Here is his response –
AMAZING,
We have just been asking for one ton welding positioners and John from Glasgow found us 3 Bode machines in nice condition that had not been used for 4 years!
I biked up to Glasgow and bought them on the spot and we have now paid John a handsome commission of £925 – nice one John, thanks!
If you fancy earning yourself some nice money – why not provide Peter with details of welding equipment for sale – the bigger the better! Just remember, the more value in the equipment – the more money everyone can make!
Know some equipment for sale or surplus to requirements but it's not yours? No problem! We pay commission for successful leads also! Everyone's a winner!