A great Championship event
Devizes Club Track at Grittenham
Despite a depleted field due to injuries and holiday, the penultimate round of the British Womens Motocross Championship held at Grittenham on Sunday certainly lived up to its promise last weekend.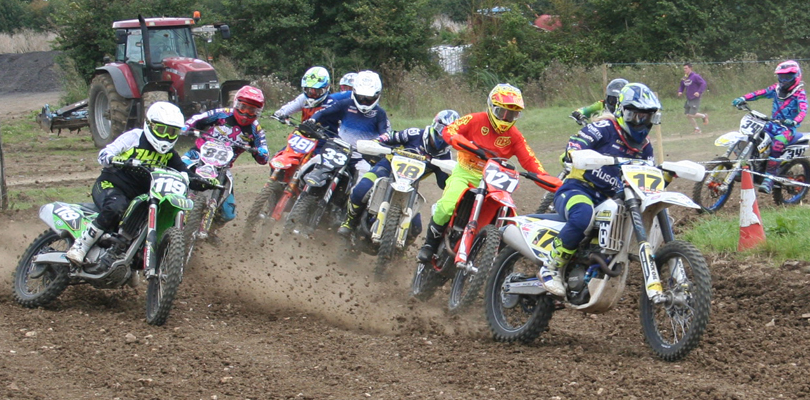 Once again the girls present produced plenty of spectacular racing and as always gave it their all!.

I didn't get there to watch the qualifying round but I was told the Eleanor Calby was outstanding after her 125cc Championship at the All British day only the previous day. It was great to see Louise Powell back who had missed the previous two rounds due to a family illness and Ciara Robertson who had a 10 hour journey down from Scotland.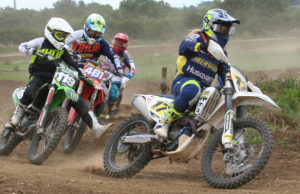 Race 1.
After the pressures of the previous round Beth Farmer leader in the BWMA Championship showed us was she was capable of.  Following Catherine King who took the BelRay holeshot into the first corner she quickly took the lead and rode a very mature race to steadily pull out a comfortable win. Meanwhile behind her all hell was let loose as Nadiya Jones and a few others were caught out by the start gate dropping so quickly. Determined though, Jones then showed her true class to charge back up the leaderboard in spectacular style and thus bag a strong 2nd at the finish. The battle for 3rd place was hard fought setting the tone for the day with Cath King, Leonni Tighe and the very impressive Louise Powell fighting it out to the end. Young Eleanor Calby got the better of the battle with Charlotte Hall in 7th who made up for a disappointing qualifying position whilst Millie King who struggled to get to grips with the track and Vicky Marriott rounded out the top ten. In this group of girls the youngest is just 13, Abbie Chambers who has been injured for some time, Grace Bates Leah Monks and Hannah Stone enjoyed their own private tussle for the right to finish.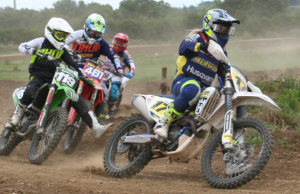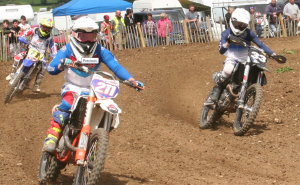 Another BelRay holeshot in Race 2 for Cath King, Nadiya Jones again crashing early had another battle to fight. Beth Farmer quickly took the lead and with a very measured ride she built another comfortable gap at the front before racing onto the win.
Taking 2nd was Catherine King and the talented Wiltshire lass. Talented Leonie Tighe who had travelled down from Manchester with all her family and the two dogs, took 3rd. Louise Powell who really hasn't ridden let alone competed took 4th place making this race a really exciting times for the girls battling for 5th – 10th place.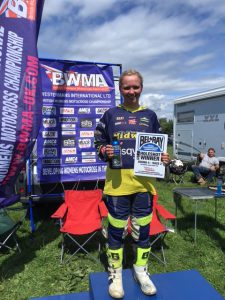 It wasn't a surprise on her home track when Catherine King completed her hat trick of BelRay holeshots. On this occasion though the best racing for me was again in the mid pack, Catherine King had ridden an almost faultless meeting but she too made an error. Under pressure, Catherine dropped down to 5th at the finish as the very determined and experienced Louise Powell and Leonni Tighe both passed her.
Millie King who rode so well at lower Drayton was again in the middle of the pack where most of the battles took place with Charlotte Hall, Ciara Robertson, Vicky Marriott and Eleanor Calby locked horns for 6th, continually swapping positions lap by lap, simply superb! During that super contest, Ciara Robertson had eventually dropped out of contention after falling, so at the chequered flag it was Hall topping that private party from Eleanor Calby, Vicky Marriott and Mille King. Ciara Robertson raced hard to fight back after her tumble but she had to settle for 11th as the young Abbie Chambers managed to hold on to 10th place.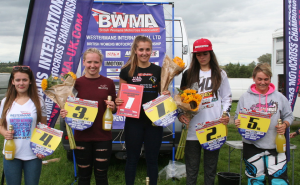 Cath and Millie King loving riding at their home track with family and supporters cheering the sisters on.  Louise and her Dad and a group of supporters had a superb day especially with Louise taking 5th place in the Round.
The excitement really had stepped up a gear  with changes to the Championship standings but now it's all about the finale at Brookthorpe on Saturday 12th August.
See the full Report and images from Howard Marriott, Organiser of the Championship here on the AMCA web site.
Round 4 Grittenham
1st Beth Farmer 174 points
2nd Nadiya Jones 159 points
3rd Catherine King 149 points
4th Leonni Tighe 144 points
5th Louise Powell 142 points
6th Charlotte Hall 123 points
7th Eleanor Calby 119 points
8th Millie King 118 points
9th Ciara Roberton 113 points
10th Vicky Marriott 111 points
Saturday 12th August is the Final of the Westermans International British Womens Motocross Championship.
Will Beth Farmer, who rides like a champion, be the Winner of the 2017 Championship? See the Standings here with only one race to go. And how does she keep this kit so clean?!