Polysoude provides modular welding heads and tools which easily adapt to various applications for tube to tube and pipe welding
and meet the increasing quality requirements for materials which are often difficult to weld.

Only automated orbital welding technology guarantees TIG pipe welding with controlled and limited heat input in order to respect the material properties. Polysoude welding systems are able to produce any high quality pipe welds at high production rates, under severe environmental conditions.
The Art of Welding
Orbital tube and pipe welding from French makers Polysoude provides different configurations of tube-to-tube or tubesheet equipment according to the application and special requirements.
Boilers and heat exchangers are used in all kinds of industries and are mostly found in the chemical and petrochemical industries, in refineries, as well as in electric power plants.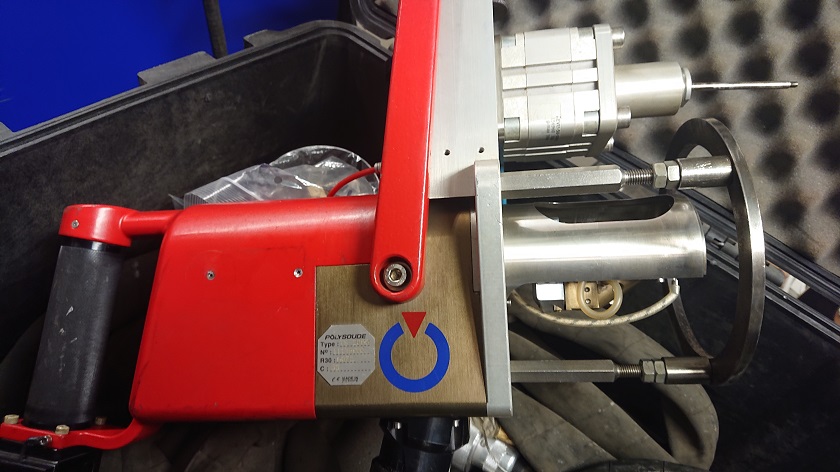 POLYSOUDE provides tube-to-tubesheet welding heads with or without filler wire and a continuous rotating torch. The high duty cycle is achieved with water cooling. Optional accessories for internal bore, back/double plate applications are available.
A closed chamber welding head allows the execution of fusion welding without the addition of filler wire. An open welding head without AVC configuration is particularly suitable for single layer welding. Two layers must be welded in two separate steps.
An open welding head with AVC configuration allows the use of multiple welding heads with filler wire by one operator. The electrode to workpiece distance can be programmed and is kept constant without interruption of the weld cycle.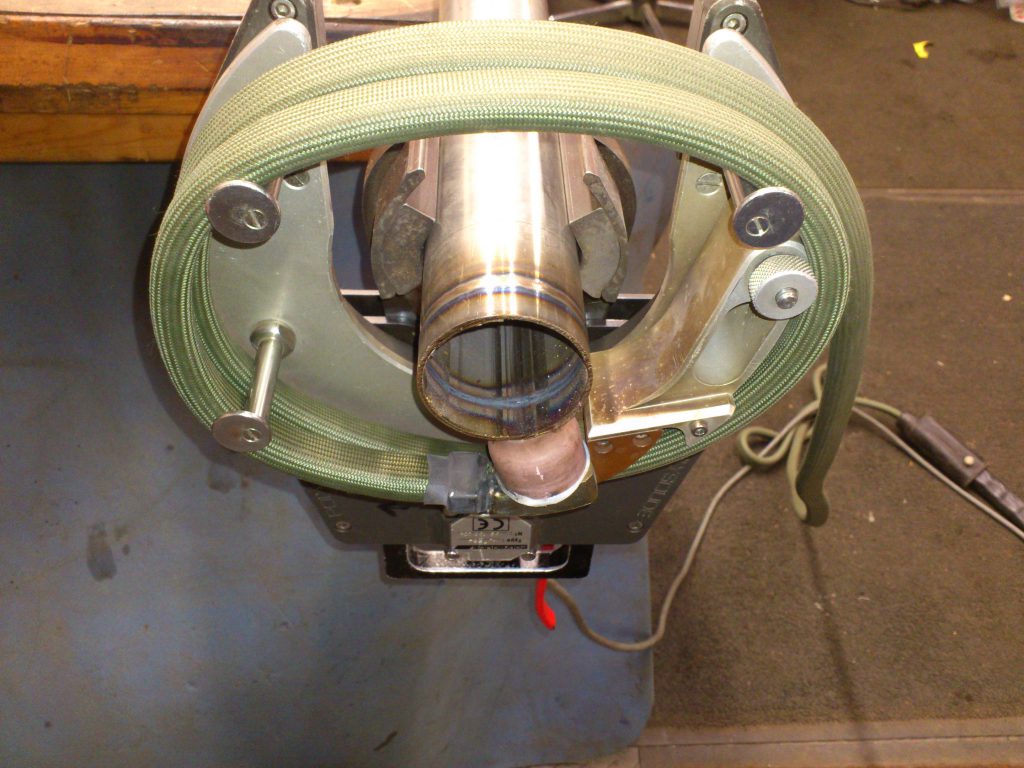 Fusion welds of thin-walled tubes cover a wide range of applications, for example in the following fields: semiconductor industry, biochemistry, instrumentation, food and beverage, pharmaceutical industry, chemical/ sanitary industry, and aeronautics/aerospace.
In most cases, the tubes are made of austenitic stainless steel, but nickel alloys as well as titanium and its alloys can also be found. The range covers diameters from 1.6 to 170 mm; with various wall thicknesses, but mostly between 0.2 and 3.2 mm. For several reasons, it may be necessary to apply filler metal in orbital welding procedures.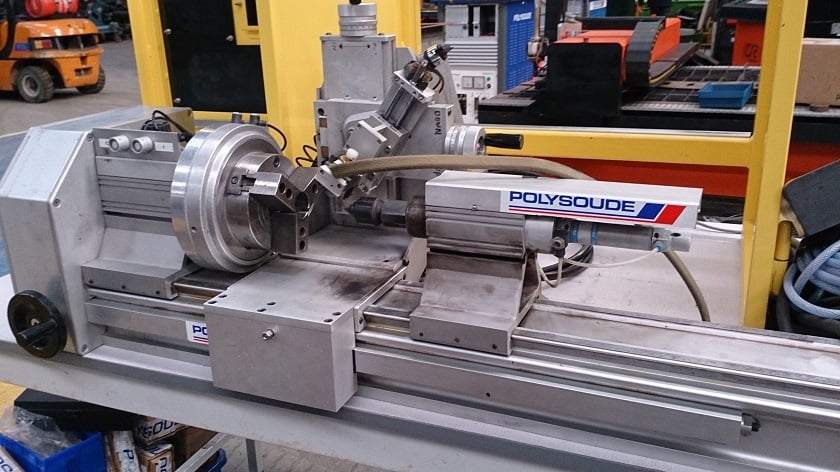 To compliment we sell Polysoude closed chamber welding heads designed for autogenous welding of tubes without filler wire in high purity industries. The give excellent results when welding austenitic stainless steel, metals susceptible to oxidation such as titanium or alloys such as Inconel.
We stock a wide range of used Polysoude equipment for all diameters, wall thicknesses and workpiece geometries including Cold and Hot wire and multi process power sources.
Maybe you need an open welding head? With or without filler wire these applications were conceived as a tool for orbital TIG welding. Polysoude open welding heads of the U-type are equipped with a TIG-torch with gas diffuser. Excellent gas protection is achieved in the zone around the torch, which is covered by the shielding gas streaming out of the gas lens.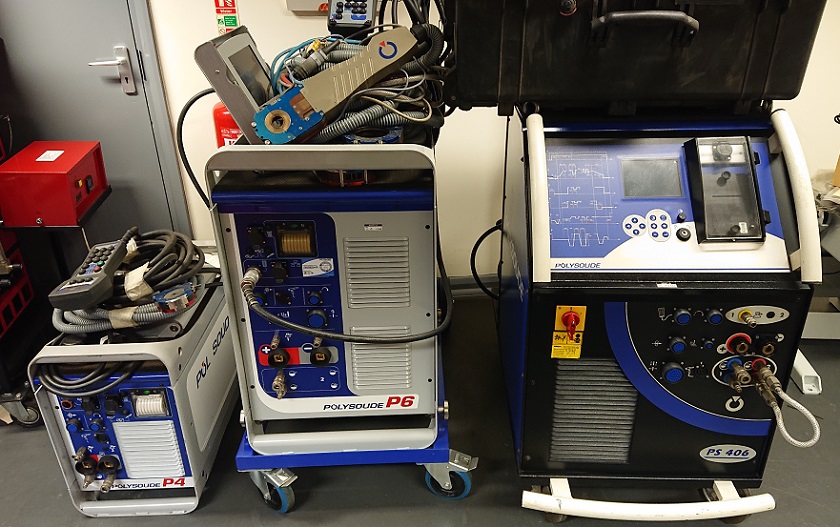 Tube-to-tube welding applications with the addition of filler wire are often required in power generation (power plant construction), oil & gas supply (pipeline welding) and chemical or petrochemical industries. A wide range of base materials are used.
Our second-hand Polysoude power supplies, weld heads and accessories are available immediately. Saving time and money on new buying equipment.


Polysoude has a wider product range than just orbital welding equipment. The application range covers Plasma welding, weld cladding or overlay as it is also known as. Our client and renowned overlay specialist for the nuclear, oil and gas and petrochemical industries Arc Energy Resources Ltd invested in a bi-cathode technology with a Polysoude cladding system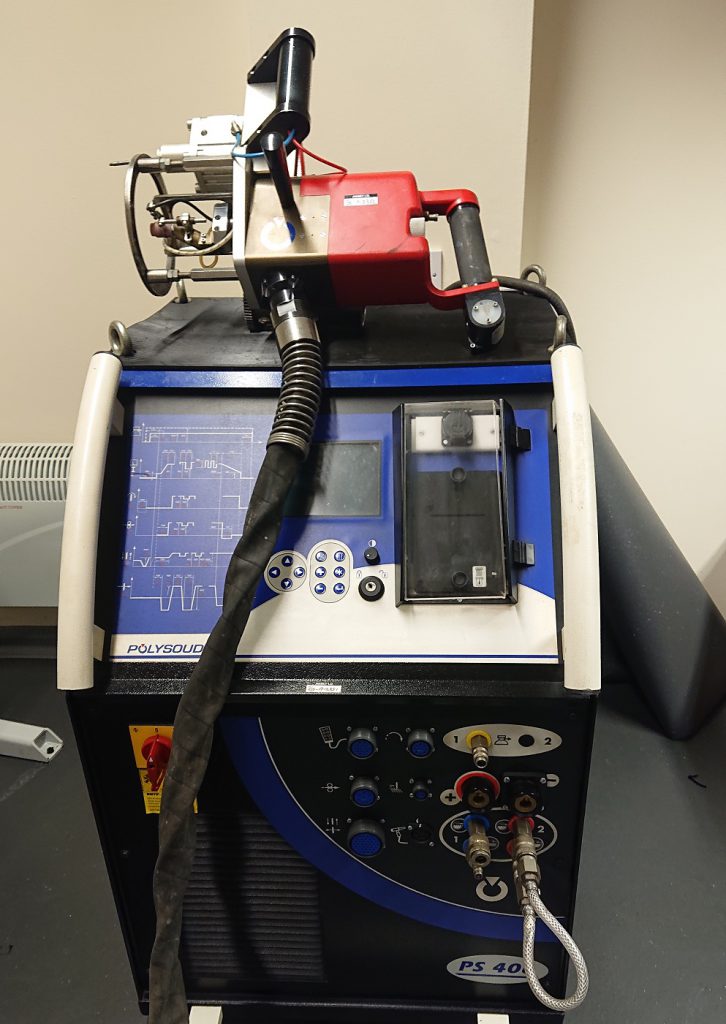 For those interested in market analysis of the orbital welding, the top key players name in 2019 are Polysoude, Magnatech, Axxair, Arc machines inc,
The Aerospace, Boiler Tube, Pharmaceutical Industry and Semiconductor are key markets for orbital tube and pipe welding going forward in 2019.
We have been buying and selling used orbital welding equipment and Pipe prep and tooling equipment for over 20 years so have years of experience and knowledge. Get in touch if you need help in deciding what type of Polysoude welding equipment is suitable