Would you believe it?
FLOOD to HEATWAVE
20 days apart from Round 1 of the British Women's MX championship to this weekend's 2nd round.On April 1st in Grittenham the track was so flooded the whole event had to be cancelled. Now England is having the hottest April for 70 years.  At least our company is more reliable than the weather!!
21st and 22nd April the 2nd (well actually the 1st!) round of the BWMA Westermans International Womens Motocross Championship will take place in Wiltshire.
Mid Wilts AMCA Bushton MX Club are hosting this weekend's event. Follow link to see the location if you fancy going along to support the ladies.
With many more girls sign up for the 2018 Championship it is looking to be a great season.
Already the Leaders of the 2017 season who qualified to ride for Great Britain were racing in Switzerland last week. So the girls are ready to show the home crowd their new bikes, kit and skills with thanks to many new sponsors.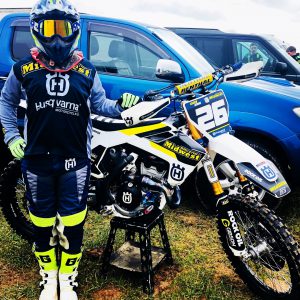 Read more about Cath King (left) in her local newspaper reporting on the BWMA and IMBA. Cath a dental nurse is featured in the Gazette and Herald.
IMBA results Switzerland April 2018
Chelsea Gowland riding on her brand new Redline Westermans Honda was 3rd overall at the weekends round.  Following fastest in qualifying by 2 seconds and pole position, 6th in the first after going through the ropes while leading by the time she got her bike out she was last, 3rd in the second race after hitting the leader trying to take first, but won the last race, making history as the first British girl to get pole and win an IMBA race.
A reminder of the 2017 Championship table can be found on the BWMA site where there was a competition to see who got the first Hole Shot of the series.
This season we are delighted to sponsor the 85cc youth championship for girls aged between 11 and 15.
If you want to get involved and get your name associated with the best female talent in MX then get in touch.