3M have released a new women's welding helmet collection, and we're loving it!
As we know men and women have many differences! So it is no surprise that women in the welding industry want their own, stylish welding apparel, including a specially designed welding helmet!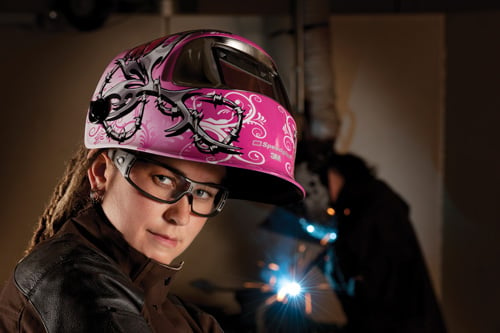 It's all about Safety and Comfort
To acknowledge the unique contributions made daily by female welders, 3M has designed the Speedglas 100 Series Graphic Welding Helmets – part of the Women's Collection.
This collection features four distinct designs (skull jewels, wild-n-pink, steel rose and steel eyes) that affirm the rightful place of female welders as committed, passionate professionals. The helmets feature user-selectable dark shades 8 through 12 and a viewing area of 6.05 square inches.
These are competitively price for around £130.00 online in the UK (rrp is £198.00).
Check out Jessi Combs sporting these cool designs and more women's PPE as she reviews them in partnership with Lincoln Electric!
Specification
Speedglas 100 Welding Helmet – Wild 'n' Pink from 3M is easy-to-use. It is an ideal auto-darkening welding helmet for so many women welders out there! Hobby welders, farmers and DIY enthusiasts to maintenance or construction workers who weld infrequently but want to always clearly see with their welding protection in place.
The Speedglas 100 Welding Helmet comes complete with a Speedglas 100V Auto Darkening Filter (ADF), which provides excellent optical clarity and reliable light to dark switching in 0.1 milliseconds.
It can be used for most arc welding processes such as stick (MMA), MIG/MAG and many TIG applications.
Speedglas 100 Welding Helmet Specifications:
Constant Protection UV/IR protection shade 12 permanent.
Variable Shade Welding Filters (100V).
Three selectable sensitivity settings: a normal setting used for most types of welding, a setting for other welders working nearby and a setting for low-current or stable arc welding.
Five user-selectable dark shades 8-12
Selectable delay settings (100-250 ms)
Switching time light and dark 0.1 ms
Single shade welding filters: single dark shade 10 or 11
Selectable delay settings (100S -10/100S-11: 150ms / 200ms)
Switching time light and dark 0.1 ms
The Speedglas 100V filter has five user-selectable dark shades (8-12) and a light shade of 3.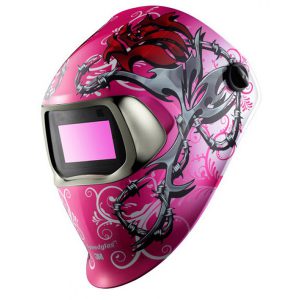 Check out their complete catalogue here, or get in touch if you want to purchase one of these unique helmets!