New And Used Welding Rotators for HIRE

Turning rolls are used for rolling and positioning for applications including small oil and gas pipe, wind towers, enormous pressure vessels and more.
Tank turning rollers, pipe rolls and vessel rotators are a necessity for light and heavy duty pipe or vessel welding applications. Whether you are positioning small diameter pipe or turning extremely large industrial vessels that will help you work safely and efficiently.
Does this look familiar?
Searching Google, you see many of images of a welder on his knees welding the pipe or tank, straining his back to reach.
But why?
Safety and working conditions are becoming more and more important around the world. If the workshop or site conditions allow it, one of the features of using a set of welding rotators is that the welder can have a semi automatic welding set up rotating the pipe or vessel by operating the speed of the rotation by way of a foot control.
Pipe Rotators consist normally of a set; one powered drive unit and an idler unit.  The length of the whole pipe will determine how many idlers you may need.
We have a large range of welding pipe rotators for sale or to hire.  Rental is the perfect solution for that short term contract.
With immediate delivery you can be welding pipes ranging in diameter from 20mm up to 5000mm without any capital outlay saving the risk of the contract ending early.
Our new and used range of Pipe Rotators start from as little as £125.00 per week to hire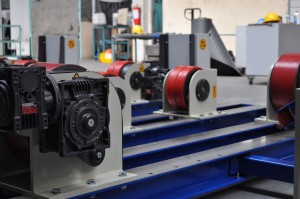 Maybe you are not sure which welding machine is best for you? Our Sales Team is more than happy to discuss your welding requirements.
With extensive knowledge on ALL makes and models, they can suggest the most suitable machine for your application and budget.
Between Monday and Friday during our working day of 8am – 5pm GMT, we aim to reply to your request within 2 hours of receiving your email.
Remember; we are not restricted to any one brand of Welding Machine.