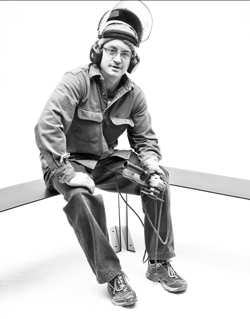 Next in our series of welding showcases we're joined by sculptor and artist Ben Roth.
Ben has created award winning outdoor pieces, beautiful animal sculptures and some utterly stunning and very creative furniture pieces – all without any formal training!
Take it away Ben!
Tell us a little bit about yourself!
I was born in Wyoming and grew up in Colorado. I've been living in Jackson WY for 17 years and enjoy skiing, fishing, skateboarding and biking. I spend most of my time making art but realize I have to spend time outside to recharge my batteries.
How did you get started in welding?
I got into welding while building a restaurant in Jackson. There was a lot of steel in the design and we didn't have much start-up money. I asked local metalworker and sculptor, John Simms, for help and he gave me a quick lesson and let me use his shop. Three months later the restaurant opened and I was hooked on metal. I'd always made art but hadn't figured out my medium. When I started working with metal, it felt like I'd done it before.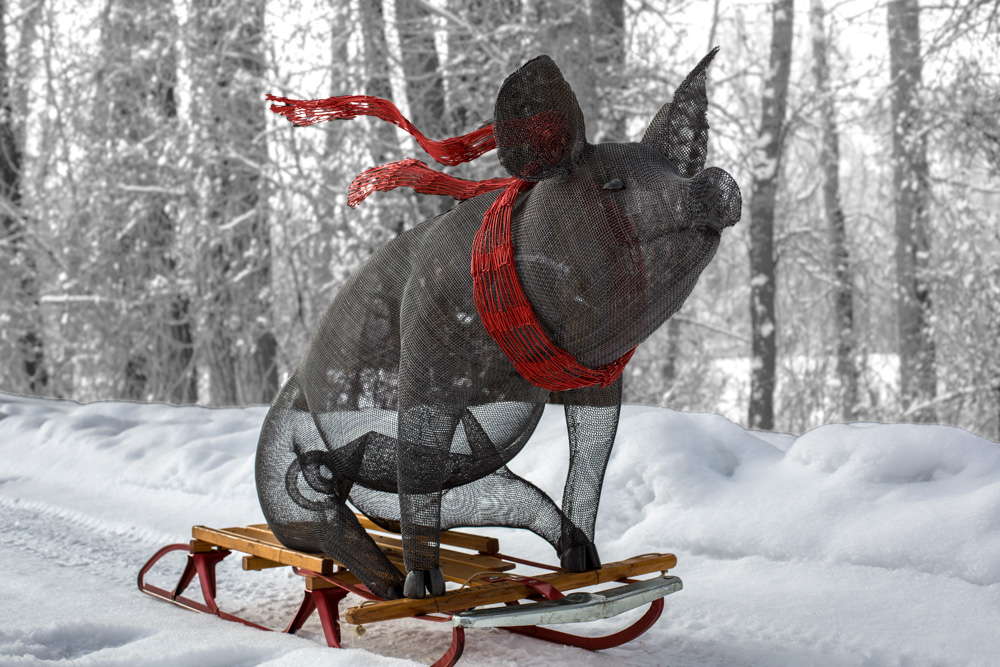 Tell me a little bit about how your company got started – what were you doing before you set it up?
Once the restaurant was open, I had to run it. I spent three years doing that while sneaking down to John's shop to make things out of steel. I got bought out from the restaurant in 2001 and started doing metal work full time. It's been 13 years and I love it.
You've made some incredible public art pieces – do you have a favourite?
My favorite steel public art piece would be the screen Elk Mount in the Vail visitor center. It's mounted over a fireplace and fits the space nicely.
We also love your furniture pieces – there are some very creative designs in there – where do you get your inspiration for these?
My furniture design work is odd. I used to think I wanted to be a designer that created lines of furniture. Now I'm more interested in doing custom, one-of-a-kind pieces. I try to create new designs and ideas that haven't been seen before. The challenge is creating something functional, comfortable, not too heavy and good-looking…. a tall order sometimes.
A sneak preview on Instagram suggests you're working on a giant Komodo Dragon – how's that coming along?
The Komodo dragon is almost done. I'm trying to decide whether the keep the claws and tongue polished or to blacken them. I also have to decide whether to add color to the body. I've got a couple weeks left before I have to take him to California for a show.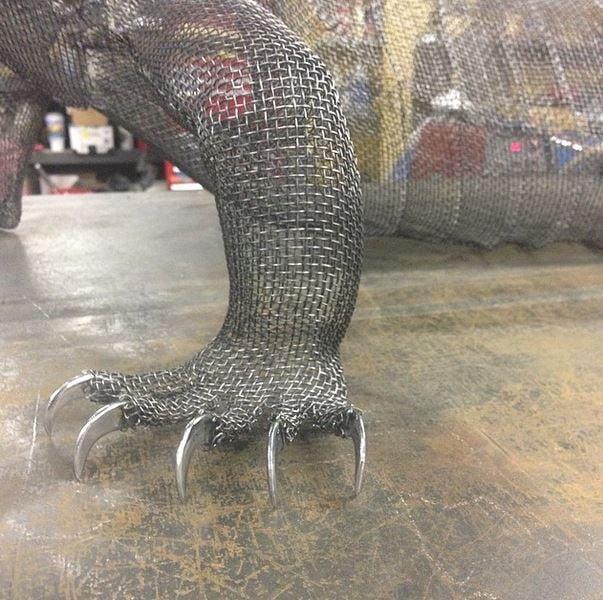 Congratulations on your recent award could you tell us a little bit more about that?
The Custom Home award was for a privacy screen I designed and built for an outdoor shower. The client didn't want to offend the neighbors (a quarter mile away) but wanted an unimpeded view of the surrounding wilderness while showering. It's attached to a rammed earth addition design by Carney, Logan, Burke Architects.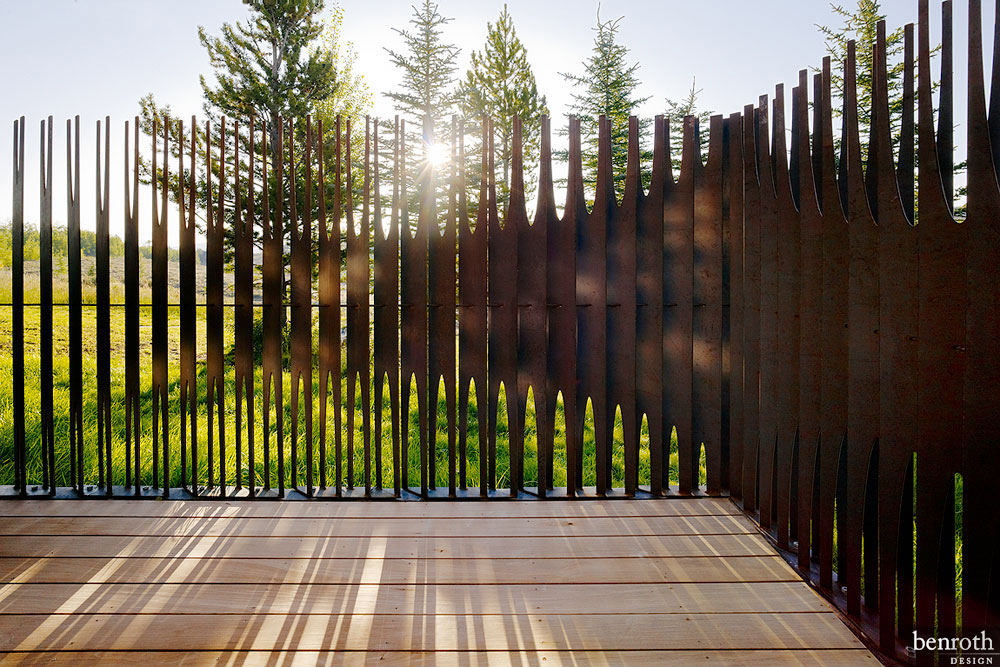 Do you have a favourite project that you have created?
I think my chameleon screen sculpture is my favorite piece to date. They are truly unique creatures and the material was just right for the job.  His eyes are spheres within sockets so his gaze can be changed.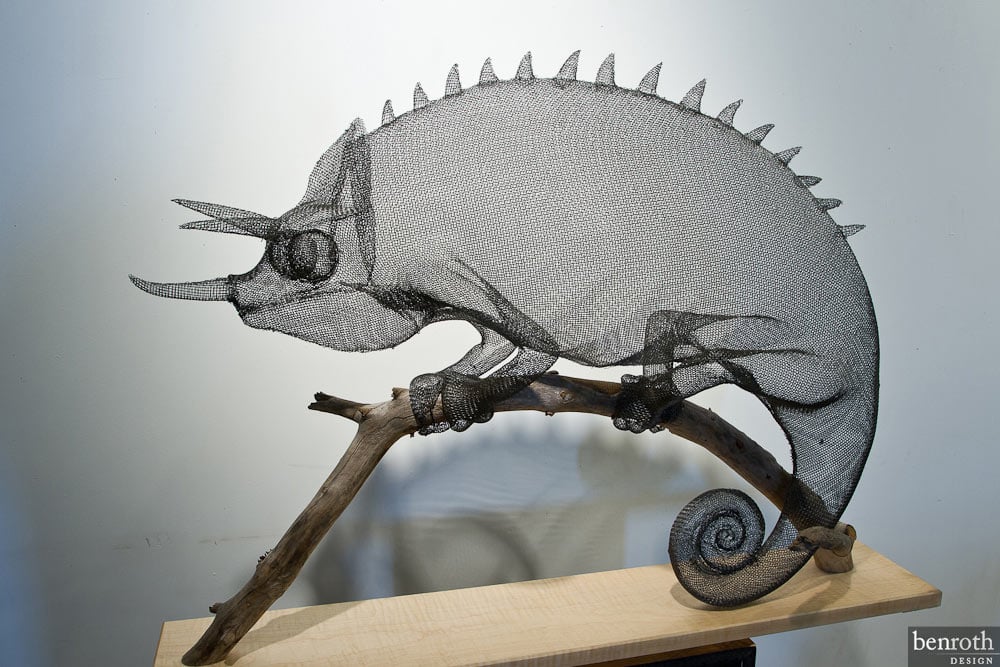 Do you have any dream commissions or projects you'd love to create?
I like public art but not application process, competitive aspect and group-think that goes along with it. I'd love a high visibility public art commission where I had plenty of creative freedom and only a few art minded collaborators who were daring in their vision. When a large group has to decide on a piece of art, you often end up with vanilla ice cream.
Who are your biggest design inspirations?
I try not to spend much time looking at other designer's or sculptor's work. I'm trying to create truly unique pieces that come from my imagination, not someone else's. That being said, I do like mid century modern furniture designs from people like Herman Miller, the Eames and Phillip Stark. My favorite sculptors are Richard Serra, Anish Kapor and Ursula von Rydingsvard.
What are your plans for the future?
My plan is to continue to create art and work with metal. I hope to get to the point financially, that I can spend time making art in other places and continue to evolve as an artist.
What advice would you give to people looking to get into welding?
I didn't get any formal welding education but recommend it. I've had to learn some things through trial and error and am envious of others' more complete understanding of metallurgy and welding. If you're interested in art, find an artist to volunteer with and don't waste much time watching TV.
Do you have any stories or anecdotes about your career in welding that you'd like to share?
I had a 9" variable speed grinder with a wire cup wheel kick my ass a few years ago. I still have a scar on my chest as a reminder. Tuck in your shirt and wear a leather jacket when using that tool!
Thanks for joining us Ben! If you would like to see more of Ben's work visit his website www.benrothdesign.com/