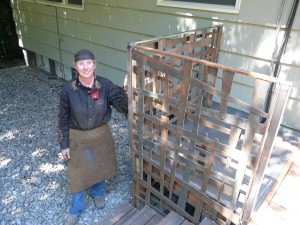 This month in our welding showcase we're joined by Jill Toberson, a very talented artist based in Oregon.
Jill focuses on creating art from recycled materials and 'found' metal and has produced a wide variety of pieces from outdoor sculpture, to gates and railings as well as some stunning indoor pieces.
She is also passing on her knowledge to budding metal workers at Portland University. Let's find out more about her!
Tell us a little bit about yourself – where you're from, hobbies etc!
I grew up in Kansas, and have made Oregon my home for 30 some years now.
Aside from being a visual artist, I am also a French horn player, and have been a musician my entire life.  I play in a few orchestras, including a professional all French Horn Orchestra called "The Northwest Horn Orchestra" which is based in Portland.
I am also an active hiker and have become an amateur Alpinist and mountaineer!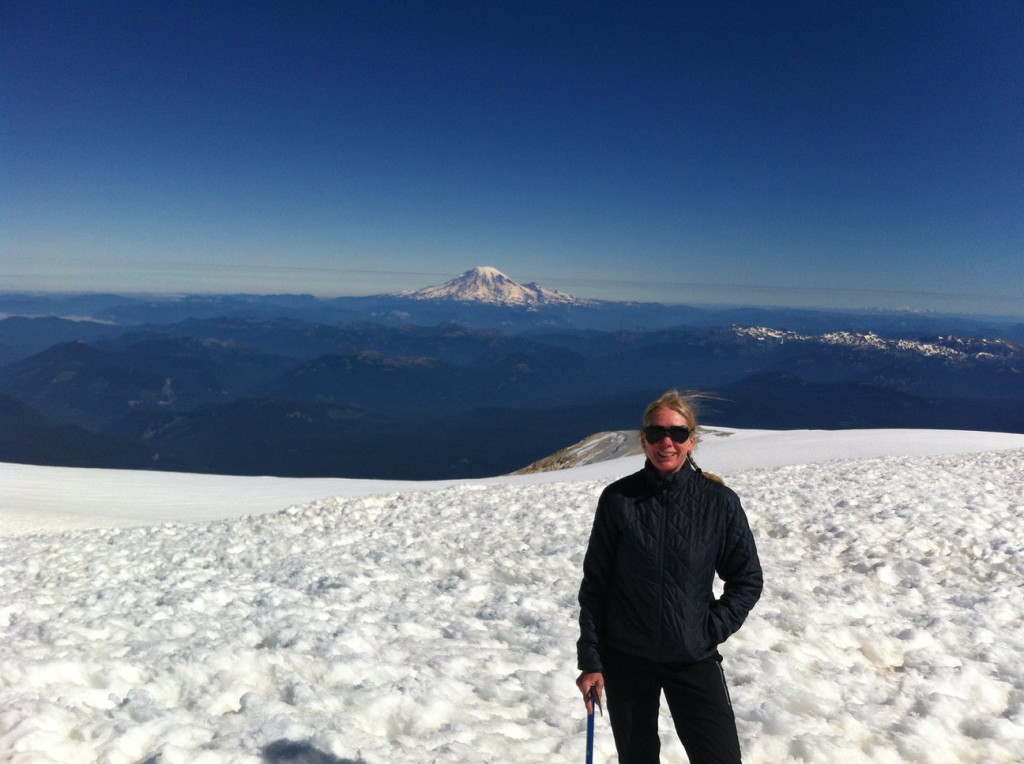 How did you get started in welding?
I truly think I am a fire lover, and always have been. I was the child who loved fireworks more than anyone else at the block party! I was also generally the kid who could sit by the fireplace long after others moved on to another activity.
While in Portland, I had the pleasure of working in the first microbrewery in the state, Bridgeport Brewing Company. I worked in the brewery as a bartender, draft technician and cellar keeper. We had a great welder on staff who built all kinds of things to keep the beer flowing around the plant, and I at times designed fittings to do my job, and he built them. As I watched him work, I became completely enamoured by the cutting and welding process, and this was my introduction to welding. This was a far cry from my classical music world, though really music and metalworking go hand in hand!
Much of your work involved using 'found metal', how did this come about?
Portland is a great town with a sound environmental outlook. Working in recycled materials is an easy fit here. I also grew up visiting my family in Michigan, and many of my relatives were family farmers. I loved the tractors, farm machinery, and tool shops and still I find a great deal of beauty and interest in industry. I marvel at the design and force it takes to create usable objects from steel!
Do you have a favourite piece of those that you have created?
I really love the gates that Portland general Electric commissioned in 2012. It was a challenge to create site-specific work 60 feet across the front of an urban sub station!
You're now involved with teaching welding at Portland University – could you tell us a little more about this?
I very much enjoy teaching at Portland State University. I work specifically in the School of Architecture, and teach students in the department. My workshops are 12 hours over 2 days, and they are a very intensive introduction to the metal shop, including blacksmithing.
Overwhelmingly, these students have never worked in a shop environment, and they come to the class with no metal shop skills. Generally they demonstrate a healthy fear at the start. One example is that the first demonstration of each workshop, I show them how to clamp and cut through steel with a cutting wheel on a hand held grinder. As the blade hits the steel, they all take a giant step backwards!
The joy comes in the progression of the class, and the transformation that takes place over the duration of the workshop. By the end of the workshop, these students are transformed and transfixed with the process of metalworking. Many of them stay in the shop at the close of the workshops, to put in a few more hours with their new found skills. I very much enjoy helping the architecture students figure out how to create their visions in our limited and basic shop setting.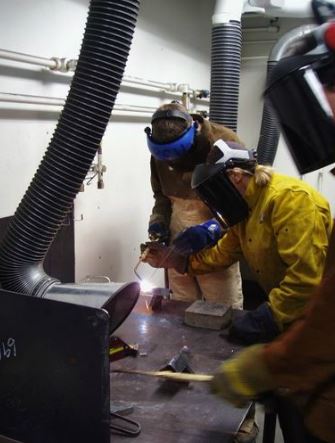 Do you have any dream commissions or projects you'd love to create?
Right now I am so busy that my terrible answer here is no. However, every day is a new design challenge, and I enjoy the process with the client. When I do gallery shows, I almost always come up with a theme, and the entire body of work revolves around that theme.
Who are your biggest design inspirations?
The more I work, the greater love I have for the minimalist ideal.
I am very much inspired by both the Japanese and Scandinavian design aesthetic. I greatly admire mid century design as well. I often collaborate with Jeff Schnabel, who is an artist and architect in Portland. Never have I had more inspiring visual colleague and I find endless inspiration from Jeff.
What are your plans for the future?
I am acquiring wood shop skills and tooling, and hope to design and fabricate furniture. I would very much like to keep doing my fabrication work as well.
What advice would you give to people looking to get into welding?
My advice would be to take your time and learn how to do things both safely and correctly from the start. Perhaps you will feel as if you want to rush things, but do not! Also understand that learning is a lifelong process, and if you are lucky, you will learn something new every day!  Do whatever you want in life, but do it with all your might. Listen to people who actually have skills and years in the trade. My best resources have been retired welders and fabricators, who cannot understand at all why I design things the way I do, but are always willing to help me find a way to build them.
Thanks for joining us Jill! If you would like to find out more about Jill and see the rest of her portfolio, visit her website http://www.jilltorberson.com/