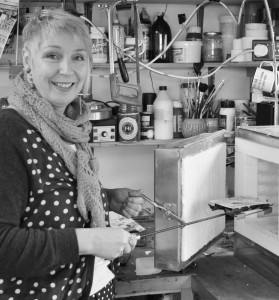 Next in our showcase series we're talking to Sue Brown, an artist working in Gloucestershire.
She recently purchased a spot welder from Westermans to enhance her art projects and we were keen to find out more about her work, as well as how she's getting on with her new piece of kit.
Sue's stunning projects combine insect forms with everyday household objects.
Take it away Sue!
Tell us a little bit about yourself!
I have been an artist for 20 years working from the studio in my garden in Cheltenham, Gloucestershire. Being a full time self-employed maker leaves me with little time for hobbies once I have factored in my 3 grown up children. But to keep myself refreshed I like to garden, cook, swim in our local Lido and read detective novels.
How did you get started in welding?
Inspired by process as much as nature, I use printmaking and enamel to tell stories. My work springs from the pages of my sketchbooks, and I develop carefully researched themes, experimenting with print and vitreous enamel techniques. I am fascinated by the alchemy of heat and glass to enhance metal surfaces, and intrigued by the paradox of working with a coating material that is ubiquitous in domestic ware, but nevertheless has an industrial history. My approach to enamel is non-traditional, combining the hand-drawn with the digital, and I screen-print transfers onto etched copper, fabricated steel and re purposed objects.
My work on steel spoons and moth installations is inspired by our emotional response to swarms and inundations of insect life. We are intrigued by insects in their natural habitat, but when we encounter them in our domestic environment we become unnerved. I explore this contradiction using repurposed ready-made objects, steel fabrication and enamel, enjoying the contrast between the industrial enamelled steel and the delicate glass of the domes. Entomological collections are exhibited under glass, safely housed: are my moths trying to get back in? Would we use a spoon that moths have alighted upon?
In 2012 I graduated from the Multi-Disciplinary Printmaking MA at the University of the West of England. It was here that I learnt to enamel on steel. I was drawn away from the printmaking studios and into the world of the Fabrication department. In my second year of a 3 year course I found myself using a hydraulic guillotine, pillar drill and the pedestal spot welder to make steel sculptures which I then enamelled.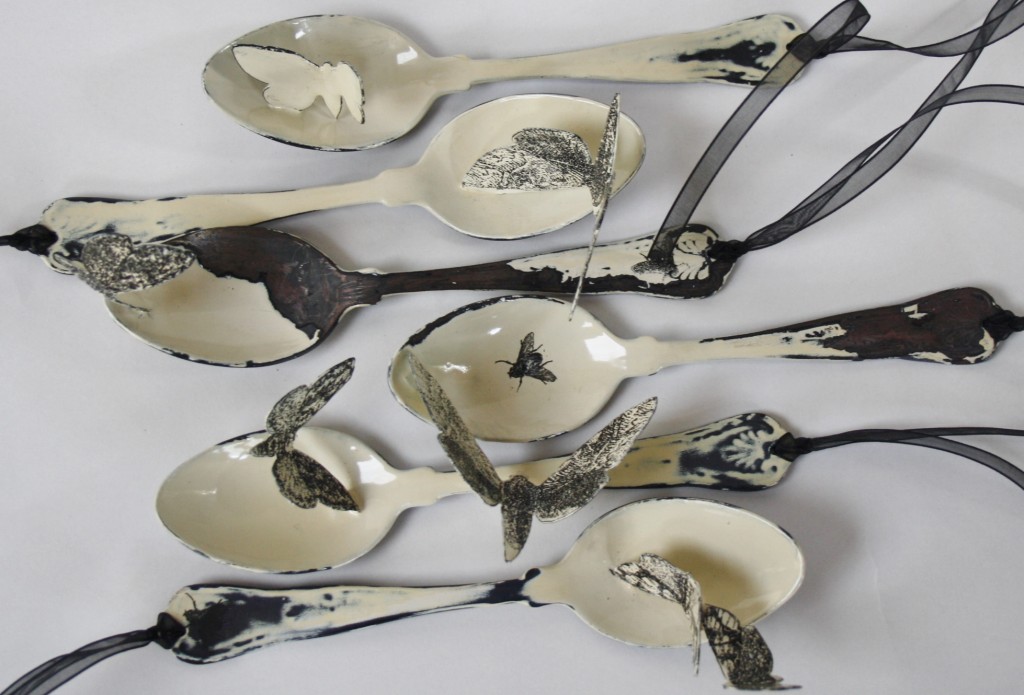 You recently purchased a spot welder from Westermans how are you getting on with it?
The biggest challenge at the end of a university course is how to continue making work without the facilities and equipment they provide. From printmaking onto paper to manipulating steel is a giant technical leap. I spent 2 years trying to join my steel shapes with cold connections with some success, but dreamt of the spot welder at UWE. After several months of research and looking into how I could get a 3phase electric supply into my studio, the mechanic who looks after my 2CV suggested I might like to look into a single phase spot-welder. Purchasing this piece of equipment has, after 2 weeks change my working practice completely. I can join my steel moths together with the confidence that they will not collapse when I enamel them in the kiln.
Do you have a favourite project you've worked on?
I am working on an installation called Moth Experiments which is a series of retort stands with small swarms of moths around decorative light bulbs. As a child I remember summer evenings with my father chasing fat bodied moths around the lounge with a rolled up newspaper, attracted into the room by our main light going 'doink' into the bulb.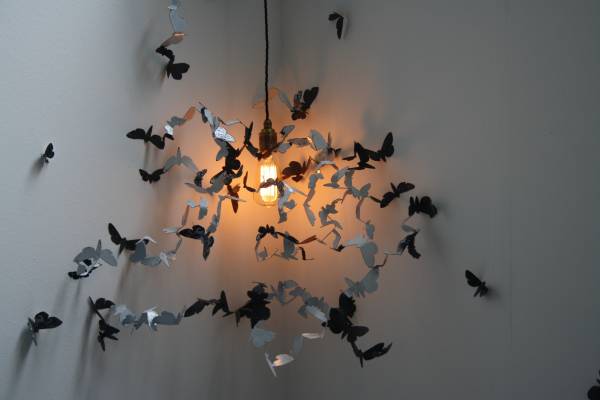 What are your plans for the future?
I want to create a very large swarm of moths around a bulb extending the piece I made for my final degree show. I have lots of ideas that I want to create in steel and enamel and in 2014 the Moth Experiment will be exhibited at the Devon Guild of Craftsmen, Bovey Tracey, Devon and New Brewery Arts, Cirencester.
Have you come across any difficulties or prejudices in the welding industry as a result of your gender?
As I work predominantly in my studio from home, I do not come across the welding industry. I was treated with courtesy and patience when I bought my spot welder from Westermans. I am just an artist using a piece of equipment to make my work, so my gender should not make a difference. I know my male sculptor friends are fascinated by my new purchase, even a bit jealous and my 2CV mechanic loves to talk tools with me.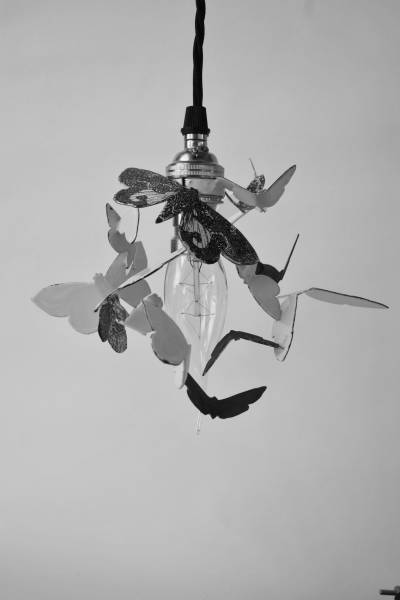 What advice would you give to women looking to get into sculpture and welding?
'Do it!' I loved being in the Fabrication department at UWE. Woman or Man, learn how to use tools from an expert, use the safety equipment when advised and be brave and daring.
Do you have any anecdotes about your career in welding that you'd like to share?
Being risk adverse I asked an electrician to put in a commando plug and check my supply when my spot-welder was delivered. I asked him to hang around while I tested it, he was fascinated by what I was doing and a little surprised. So ready for my test run, goggles and suede gauntlets on, but the dials set too high, with a firework type flash, melted metal and the fastest moving electrician I have ever seen. The next 2 tests he watched through the closed glass studio door until I had controlled the spark!
Thanks for joining us Sue! If you would like to find out more about Sue Brown's work, visit her website: www.suebrownprintmaker.blogspot.co.uk