Peter knew nothing about welding when he started his business some 50 years ago.
He still can't weld but with the help of great employees the business is riding high when it comes to an International success story.
Peter Westerman is bounding with enthusiasm. When he's not helping oversee the family business he's cruising around Europe on his BMW RT 1200 motorbike – striking deals with people who want to sell expensive pieces of second hand welding and cutting kit.
He is founder and managing director of the family business, Westermans International, based out of premises off the busy A50 in Groby.
There it reconditions and stores welding, cutting and positioning machines which it ships all over the world.
Peter, a sprightly 80-year old, runs the business with daughter Claire Spillane – the finance director – son Craig Westerman, the sales director, along with Craig's children and a sales, marketing and engineering team that totals 15.
Westermans moved to Groby in 2014 from Syston, to make space for growth.  The machinery can sell for between £5,000 and £90,000, while new pieces of kit – which it also sells – might retail for up to £130,000. Clients include companies working in nuclear, aerospace, food processing, gas and renewables. They are based in countriessuch as Malta, India, Cyprus, Australia, Nigeria and Kenya, as well as the United Kingdom.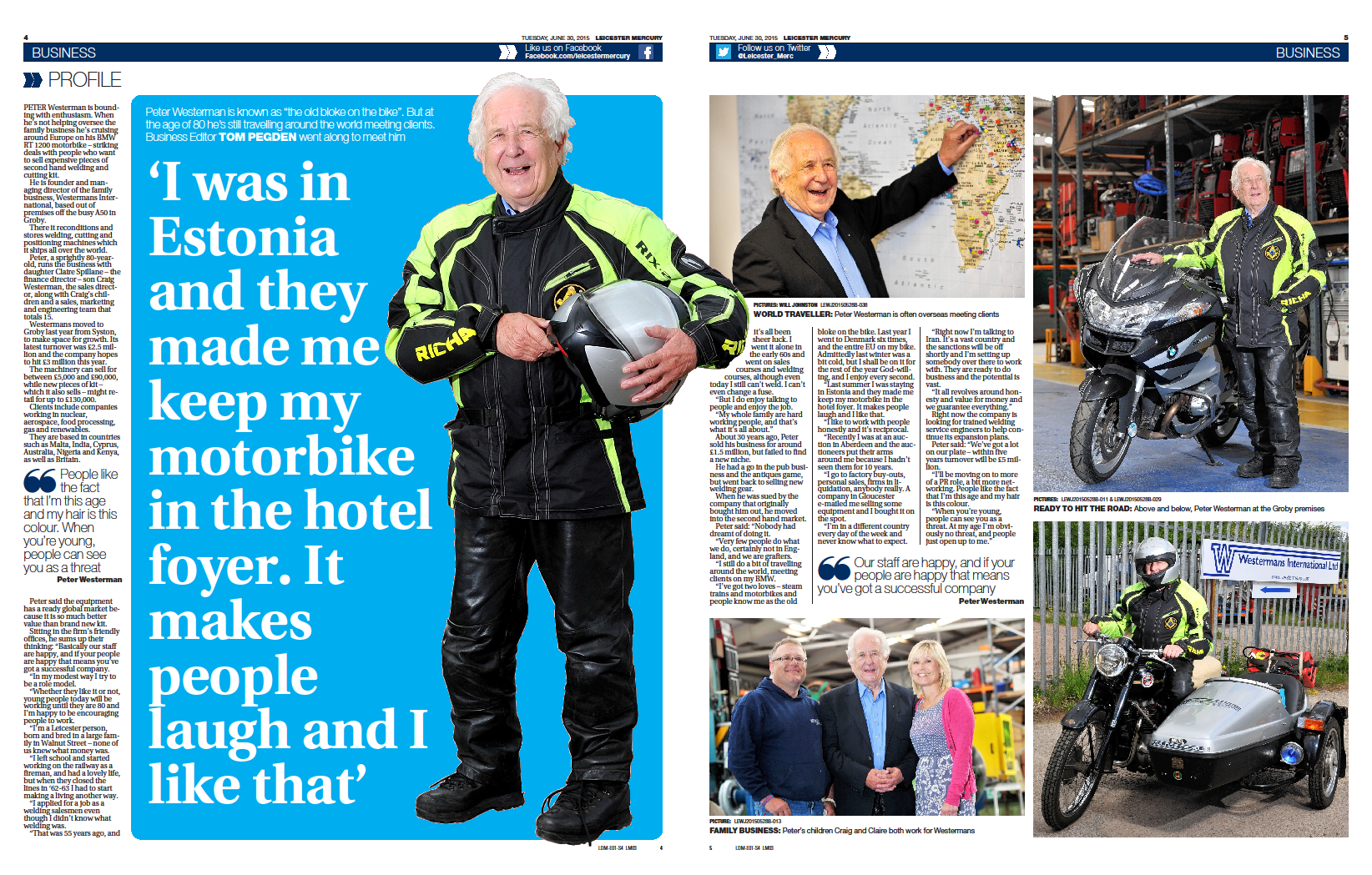 "I've got two loves – steam trains and motorbikes and people know me as the old bloke on the bike. Last year I went to Denmark six times, and the entire EU on my bike. Admittedly last winter was a bit cold, but I shall be on it for the rest of the year God-willing, and I enjoy every second.
"Last summer I was staying in Estonia and they made me keep my motorbike in the hotel foyer. It makes people laugh and I like that.
"I like to work with people honestly and it's reciprocal. "Recently I was at an auction in Aberdeen and the auctioneers put their arms around me because I hadn't seen them for 10 years.
"I go to factory buy-outs, personal sales, firms in liquidation, anybody really. A company in Gloucester e-mailed me selling some equipment and I bought it on the spot.  "I'm in a different country every day of the week and never know what to expect.
"Right now I'm talking to Brazil. It's a vast country. I will be off shortly and I'm setting up somebody over there to work with. They are ready to do business and the potential is vast.
"It all revolves around honesty and value for money and we guarantee everything." Right now the company is looking for trained welding service engineers to help continue its expansion plans. Peter said: "We've got a lot on our plate – within five years turnover will double".
"I'll be moving on to more of a PR role, a bit more networking.  People like the fact that I'm this age and my hair is this colour. "When you're young, people can see you as a threat. At my age I'm obviously no threat, and people just open up to me."
The full article was published in the Leicester Mercury 2nd June issue.