The final round of the 2019 Westermans International BWMA Championship for British women took place in Wiltshire at the weekend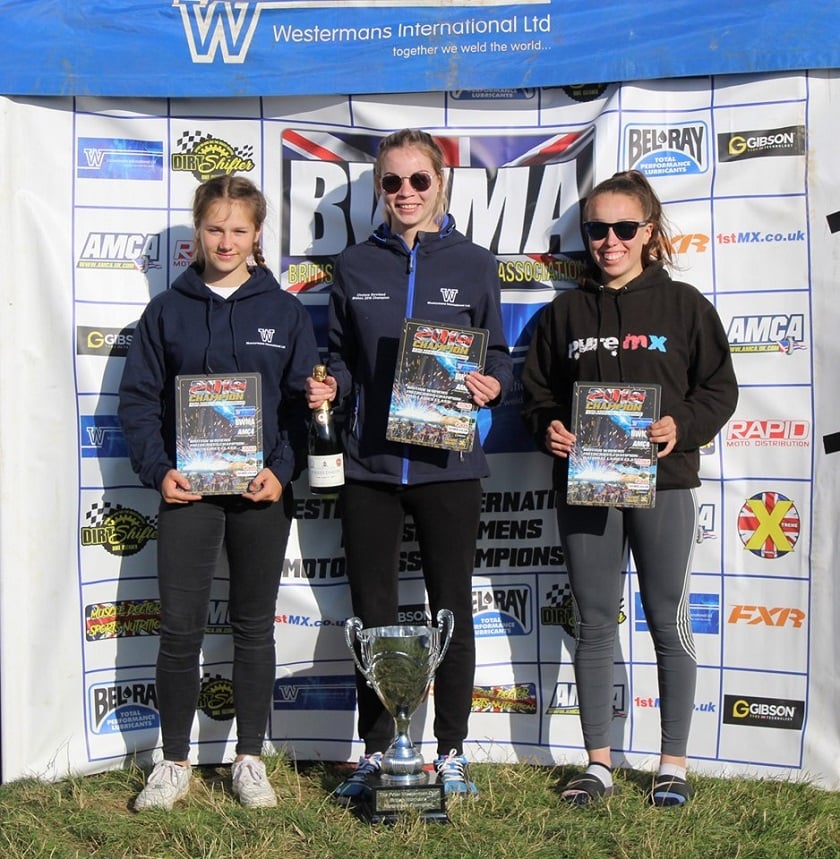 With changes to race meetings the Westermans International British Women's Motocross Championship final round took place at the sunny Grittenham track in Wiltshire on 1st September.
Originally a 2 day event but due to events beyond the organisers control at the 11th hour it was changed to Sunday 1st September cramming in 4 races. With double points in the final race, right up to the final lap there was still a battle for the top 5 positions in all 3 classes.
Pro-Ladies Championship
With top Prize money of £1500 for the Championship title in the Pro-ladies class, Chelsea Gowland who had a perfect season winning every race at every meeting, was the outright winner of the 2019 season. She also walked away with the BelRay Holeshot champion title for the seniors. Fearlessly, Chelsea rides her Honda bike like it's an extension of herself.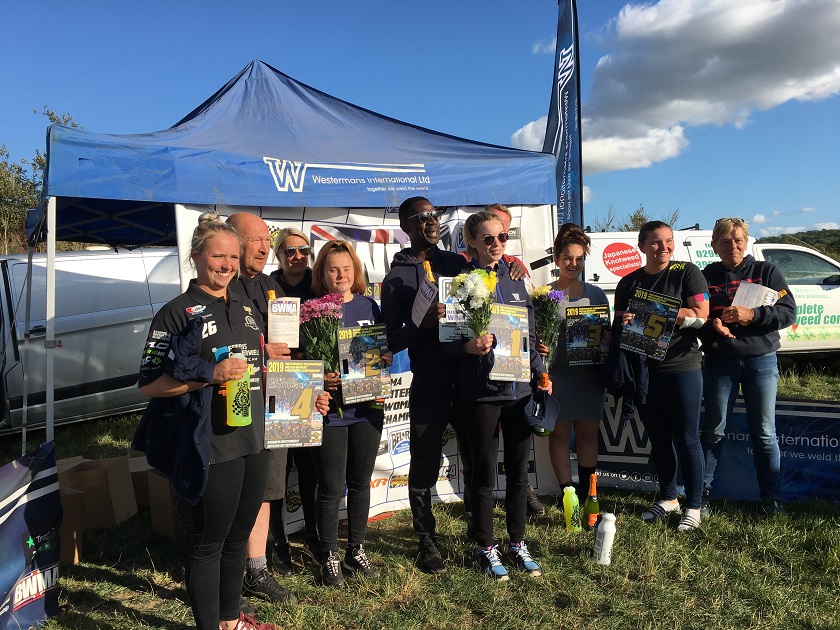 The leader board results were so close with Marni Saunders consistently in the top 5 all year. Cath King with her new regime stepped up her game with great battles and skill out on the track. In fact Cath, Marni, Kayleigh Durston, Bethany Allison and Charlotte Hall were often only separated by one second a lap. A nasty injury meant that Charlotte missed a couple of rounds but we know she will be back next season to fight for her place on the podium.
There was a action going on behind these ladies for the rest of the pack. Intense right up to the last race between Lily Moreland, Vicky Marriott, Grace Bates and Georgia Potter. All fighting for an IMBA place, Vicky's crash and hospital visit gave 15 years old Georgia Potter the spare place to ride in the tough European championships.
National Ladies Championship
The National Ladies Championship was won by Hannah Jones ahead of Hannah Stone, Abbie Walker and Esme King who all were fighting for the next 3 places. The improvement over the season for all of these riders was great to see. Their efforts were rewarded with flowers and products.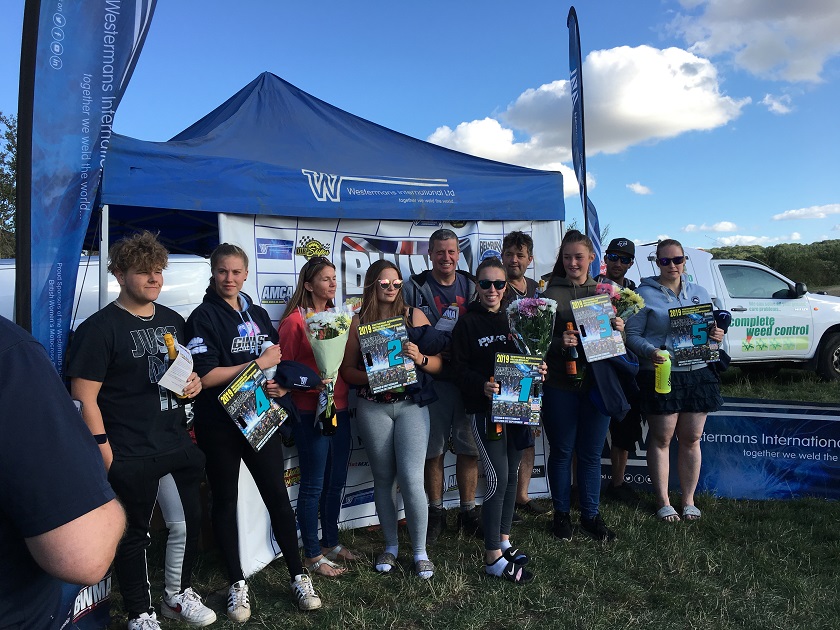 Youth Girls
Young Jaysi Austin from Mansfield won her first BWMA Champion and did so in style. Winning every youth race and was named Junior Holeshot champion for BelRay. Katie Morgan took 2nd place in front of Beanie Reece and Autumn Jenkinson, all 3 riding consistently and improving as the season progressed. New to the Junior riders Amber McGregor and Georgia Bottrell were at a similar pace and in 2020 there will definitely be a fight on for lead positions.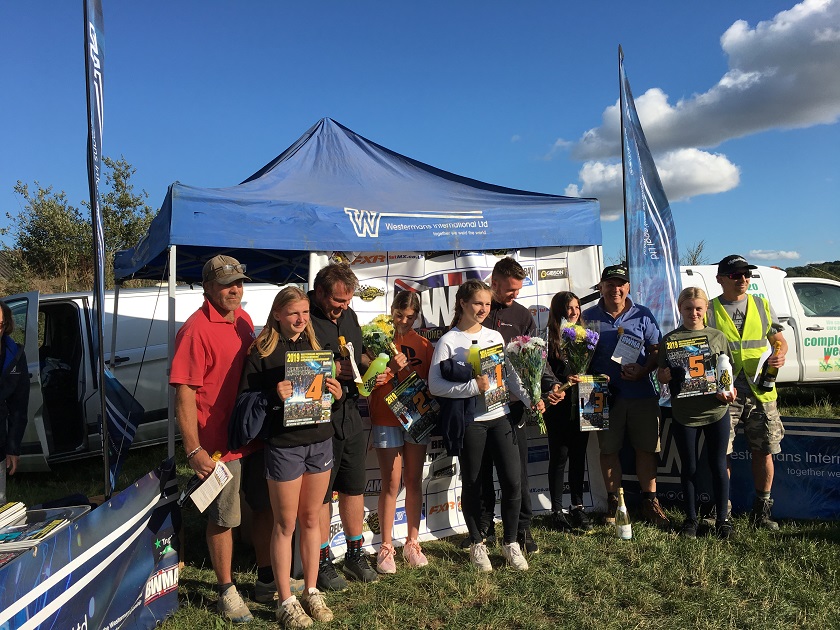 Rising Star Poppy Banning on her 85cc showed great potential and certainly added some exciting competition to the youth class. Can't wait to see her again next season. She is inspired by Chelsea Gowland.
The whole championship from registration, promotions to events and trophies are down to the dedication of two volunteers – Howard and Vicky Marriott.
They had the vision of structure to help young women in MX in the UK. Now the 3rd year has come to a close, appreciation from the AMCA, the riders and parents and any women in sport who need a voice, these guys deserve a massive round of applause and acknowledgement for their success.
It can be challenging to say the least when weather conditions, technical issues or good old parental ambition throw a spanner into an already feisty sport. Westermans International along with others, sponsor the Championship by giving money or products however Vicky and Howard devote many hours of their own time and money and for that we would like to thank them both. THANK YOU from everyone.
For full details of the final positions and points for the 2019 season take a look at the BWMA web site.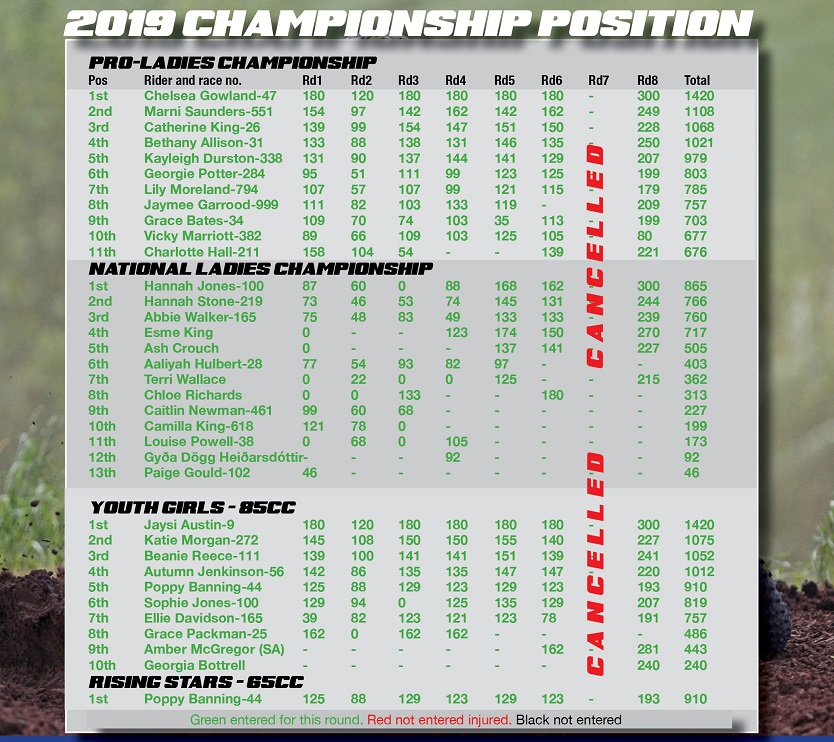 If you want to find out more about the girls, Motocross or how to join the Championship in 2020 please get in touch