New, Used & Refurbished Turning Rolls, Welding Rotators, Pipe and Tank Welding Turning Rolls and Vessel Fabrication Welding Equipment,
A welding rotator positions the cylindrical jobs whether on light or heavy fabrication shops, the use of a welding rotator provides increased production with reduced labour because it requires less usage of lifting or crane facilities, which also reduces idle time.
Adaptable for both automatic and manual welding works, using this type of welding machine helps attain exceptional quality circumferential joints on shells. It is mainly used for welding of pipes, API pipes, heat exchangers, mounted vessels, boilers, LPG bullets, barrels, pressure vessels and tanks.
Welding Rotators or Turning Rolls as they are sometimes called are useful accessories in welding fabrication workshops, designed to keep in place and to rotate heavy cylindrical parts around a horizontal axis, at a constant and steady turning speed in front of a welding head.
Alternatively they may be rotated in steps until a needed position is reached, and then locked in place for making a longitudinal weld with a welding head mounted on a traveling carriage.
Turning rolls permit to perform circumferential welds in a vertical plane. They are also used for surfacing (cladding), or depositing by welding a filler metal of useful properties on the external or on the internal surface of a hollow cylin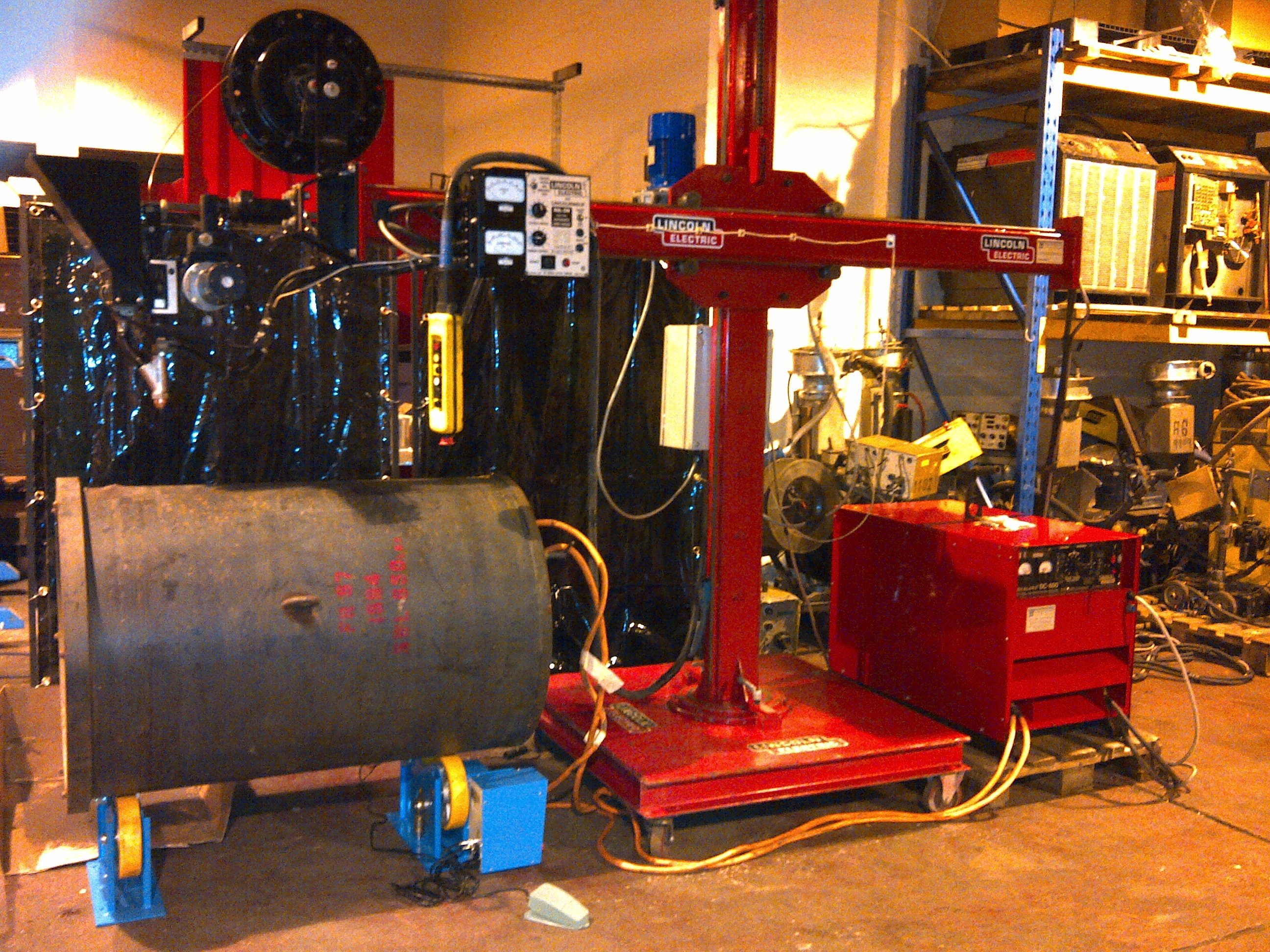 Turning Rolls are usually arranged in sets including a pair of identical rolls, one of which is rotated by an electric motor through a reduction gear box, known at the powered or drive unit while the other is idle, so arranged that the distance between the rolls can be adjusted to accommodate cylinders of different diameters, and mounted on a fabricated frame of simple shape.
Usually a pair of such frames must be arranged on the shop floor at some distance from one another, to accept the cylindrical body in need of welding.
Weight capacity and diameters that can be supported are the major parameters that define rotators. Other characteristics involve wheel and surface materials, power and surface speed available.
The free turning of the part on the rolls should be ascertained before the start of the welding operation, to verify that no protrusions interfere with the motion. Also the longitudinal weight distribution should be checked to prevent overloading.
Special attention should be paid to avoid instabilities that may cause the work piece to overturn. Minute inaccuracies of positioning may involve translation of the work piece along its axis.
None parallel or out of square turning rolls may cause drag forces that tend to move the work piece unpredictably.
Welding Rollers are supplied with steel, rubber or polyurethane

Although Welding Rotators are simple positioners, they should be maintained in proper service condition at all times. One should approach every job and every part with care, seriously and thoroughly, possibly following a standard check list, and learning from previous experience.

Welding turning rolls are used in large scale welding factories for elevated efficiency and safety in the work stations. The welding turning roll is also known as self-aligned rotators or self-aligning rotators. Other names applicable to this equipment is conventional turning rolls or pipers, they are all the same type of welding devices though they work at different capacities.
The following is a brief but hopefully informative insight into the world of turning rolls, which will seek to at least give you a basic understanding of the same and their application.
Their application consists mainly of holding large work pieces in place while they are being operated on. Work pieces are trapped firmly in the middle of the rollers and remain in place until adjusted. The rollers that make up this industrial equipment are able to automatically align themselves around the work piece without the need for manual manipulation of the rollers.
The welding turning roll consists of three basic parts that cause the device to work with sufficiency. These include the main support unit and the motorized drive. The rubber tired rollers are part of the support that is fitted to tolerate the loading shock when the work piece is mounted on the rollers. The roller-tired rubbers are equally made to cushion the work piece during the process of welding. The wheels are protected from damage and shock by a steel overload disc.
The motorized drive ensures the functioning of the equipment. These are just standard parts of pipe rotators though manufactures can customize the device to the needs and preferences of the customer. One has the option of incorporating additional features such as foot controlled pedals, pendant controls, digital displays, anti-drift components that ensure the work piece is not displaced.
Welding parts manually, especially in large production shops is indeed time consuming and it simply exhausts the welders who are involved. Thus the use of an automated welding turning roll come in handy to increase production as well as to ensure safety especially during heating procedures. The other advantage of using the welding tank rotators as a welding vessel is that it is reasonably safe to minimize the risks of industrial accidents.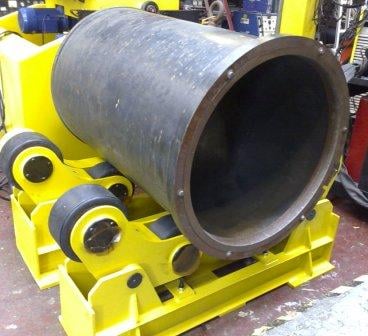 Welding rotators are often also called turning rolls or tank rotators.
Welding rotators are used predominately in the petrol chemical industry, onshore and off shore oil and gas industries, conventional power and nuclear industries and many other fabrication industries where pipes or vessel required to be rotated for semi or automatic welding processes. They come in two distinctive types - Self aligning and Conventional rotators. Both welding rotator types can be equipped with integral bogies or mounted on bogies to enable the rotator sections to be driven along a track way. Welding rotators nominally come in sets or pairs consisting of a drive section and freewheeling idler section.
Self-aligning Rotators
Self aligning rotators have three advantages over conventional rotators:
The self aligning feature of the wheel brackets allows the wheels to automatically align themselves when a pipe or vessel is loaded onto the sections, irrespective of ovality, to accommodate any diameter within their range.
With conventional rotators, the wheel brackets have to be adjusted manually across the frames to accommodate the varying diameters within their range.
The top rollers of the self aligning rotators incorporate either clutches to allow the top roller to free wheel or can be free wheeling to allow a vessel to be loaded onto the sections without any fear of damage to the transmission drive through negligent loading of a vessel.
Conventional rollers do not incorporate clutches so damage may occur to the transmission drive if a vessel is loaded negligently on the rollers.
With self aligning rotators, the vessel or pipe is supported on 4 wheels which help to maintain positive rotation especially when accounting for weld beads on the vessel and are less likely to indent the vessel when supporting thinner wall vessels.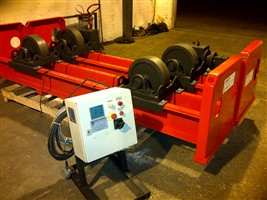 Conventional Rotators
Conventional rotators are now built in all capacities up to 2000 tonnes and are ideal where rotating larger diameter thick walled nuclear reactor vessels and steam generators
.Ideal for handling Pile Racks, Riser Lines, Wind towers, Pipe Mills, Double Jointing, Cladding and Overlay requirements.
Used and Refurbished Bode welding rotators are always in stock. Follow this link for all Welding Rotators for sale today
Other good used brands include Britannia, ESAB, Pema, Key Plant, Lincoln, Koike, Murex, MPE, Macobe, WeldLogic, A&N, Preston Easton and Gullco. Popular in North and South America are Pandjaris, Aronson, Ransome and Co-Weld. Our new range of Britannia Welding Pipe Rotators can be found here.
Refurbished turning rolls are normally re-sprayed, all necessary parts replaced including the worn tyres. Buying a used machine give you a set of welding rollers at unbeatable value with warranty – saving up to 70% on the cost of new.
We are happy to supply NEW tank rotators which meet all the high EU standards and are fully covered by CE. These are normally available ex-stock at competitive prices. Sizes range from 1000kg up to 100 ton. View all Sales and Hire stock here or ask for more details.
Also in stock to compliment the automation welding process are Welding Positioners, Column and Boom welders and welding equipment for any attachment include submerged arc and tig and mig welders

Would you like to talk to our Team?
Maybe you are not sure which welding machine is best for you? Our Sales Team is more than happy to discuss your welding requirements.
With extensive knowledge on ALL makes and models, they can suggest the most suitable machine for your application and budget.
Between Monday and Friday during our working day of 8am – 5pm GMT, we aim to reply to your request within 2 hours of receiving your email.