If you're looking to sell your redundant welding and cutting equipment, you'll want to know what you can get for it.
Whether you're upgrading to newer technology, having a clear out or closing the business, you'll want to get as much for your machinery as you can.
But what's it worth?
What factors affect the value of your used machine?
Age
Working condition
Service history
Cosmetic condition
Location
Market situation
All of the above should be taken into consideration when selling your welding or cutting equipment.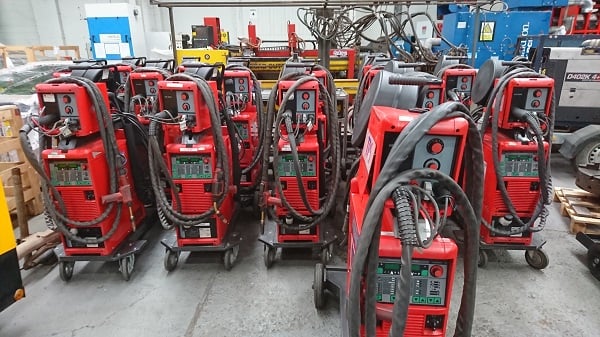 Age.
The newer the equipment is, the less the value will have depreciated – not to state the obvious!
It is also far more likely to have current technology, making it much more desirable when compared with older machines. Plus parts and service are usually readily available.
Working condition.
To get the most for the machine in question, it will need to be in good working condition.
If there is a fault that needs repairing or new parts required, this will dramatically reduce the value as these issues will need to be addressed.
Remember it is not just the cost of any parts, but the time taken to source these as well as to make any repairs.
Service history.
Going hand in hand with the above, a full service history will give a buyer confidence that the machine has been looked after.
It is less likely to have had any ongoing issues with routine maintenance, or have been tampered with by unqualified engineers attempting repairs.
Cosmetic condition.
Although the machine may be in working order, if it looks like it's been dragged out of the graveyard it will instantly put potential buyers off.
If the machine is to be re-sold, any major cosmetic flaws would have to be rectified to get a buyer interested.
Would you buy a working car if it didn't have doors or seatbelts?
Location.
The location of the equipment can contribute to the value someone is willing to offer.
If they are fairly close and are happy to collect for example, they might be willing to pay more.
However if the machine is across the other side of the world, shipping and customs fees may need to be taken into consideration.
A top offer may be the final price willing to be paid, including any additional fees that might be incurred.
Market situation.
This is an unfortunate factor that needs to be considered when selling your surplus equipment.
For example, if some popular grant work ended and there was an influx of similar equipment being offered for sale, it would affect how much you could sell your welding or cutting machine for.
It is a variable that in many cases is out of your control, but it can have a big effect on the value of your machinery at the time.
To summarise, try and do a bit of research beforehand.
Sites like eBay, Gumtree and preloved are places to start. However be wary of timewasters and scammers if you decide to go down this route.
You can also check out online auctions, great if you just want to get rid and don't mind what your equipment ends up selling for.
However if you're looking for a fair price and an easy sell, choose an equipment dealer like us.
Not only will you receive fast payment, but the whole process including dismantling and collection can be arranged by a friendly, knowledgeable team. No one wants another thing to think about and sort!