Tube welding can be pretty straight forward, until you hit an area with limited access and clearance.
This is where the Swagelok M-200 orbital welding system, fitted with micro weld head SWS-4MFH-B comes into it's own.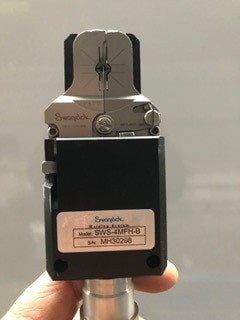 The miniature design of the welding head offers access to the most confined of welding areas, offering greater versatility on the job when used with standard welding heads.
With an optical speed control feature and no tachometer fitted, maintenance is easier without the need for calibration.
Click here for full features and specification, note contact us to confirm the specification of this particular welding head, due to it's pre-used nature.
The M200 power source supply is a favourite for orbital tube welding applications. It has a peak 200 amp output and an easy to use, colour touch screen display in multiple languages.
As well as being lightweight at 23kg, it's compatibility with all of Swagelok's welding heads. Including series 20, series 4, series 8 and series 5.
Click here for full specifications and features for this great value machine.
Industries that may encounter limited radial clearance applications include food and beverage, petrochemical and boiler making.
Check out the below video from Swagelok on how to assemble your tube adaptors, check out their channel for more!
To take advantage of adding this powerful little machine to your plant, click here to visit our website and request pricing!
Alternatively, if you have a similar machine for sale, we are always interesting in purchasing your redundant equipment.
Check out our wanted page or call Bev and Peter on +441162696941.