Fabrication and Welding – Is it a good career choice?
What is fabrication/welding?
Metal Fabrication is the forming of metal, usually steel plate, into various forms either by welding or other forms of metal joining processes.
Metal fabrication falls into two categories, either "light" (metals under 3mm thick) or "heavy" fabrication.
What does a metal fabricator/welder do?
A metal fabricator has to be able to interpret engineering drawings and then accurately cut steel plates into the required shapes. They must then weld them into the structure according to the drawings.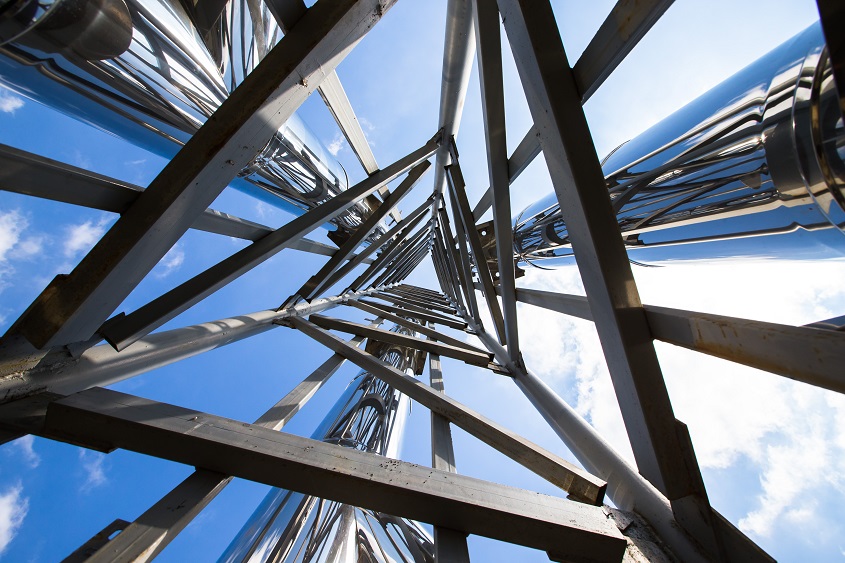 Metal Fabricators must learn to read engineering drawings, use geometric development methods and metal forming techniques. They must also be able to use computers in making metal products, and have a comprehensive knowledge of a range of industrial welding and joining processes to manufacture the required items.
What are some examples of work carried out by a metal fabricator?
Typical examples of "heavy" metal fabrication would be the manufacture of articles such as:
bridge structures
cranes and ship structures.
Wind towers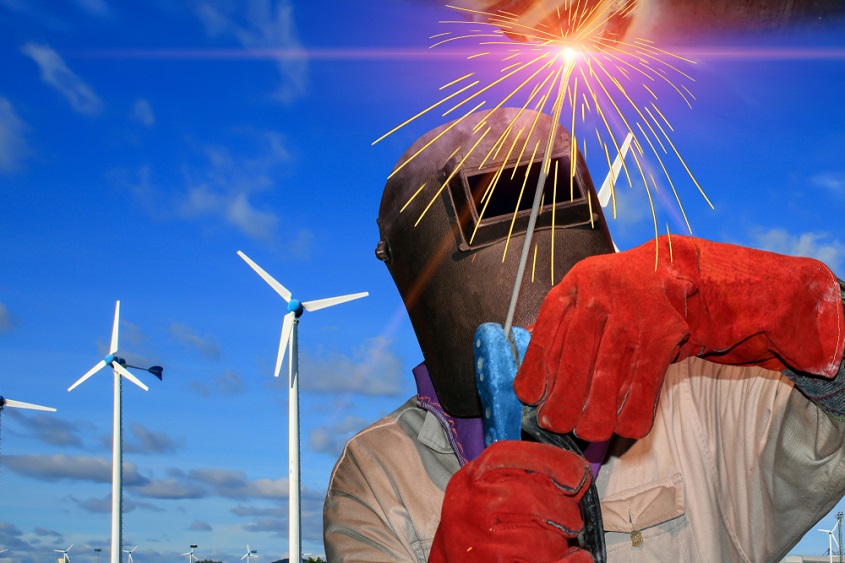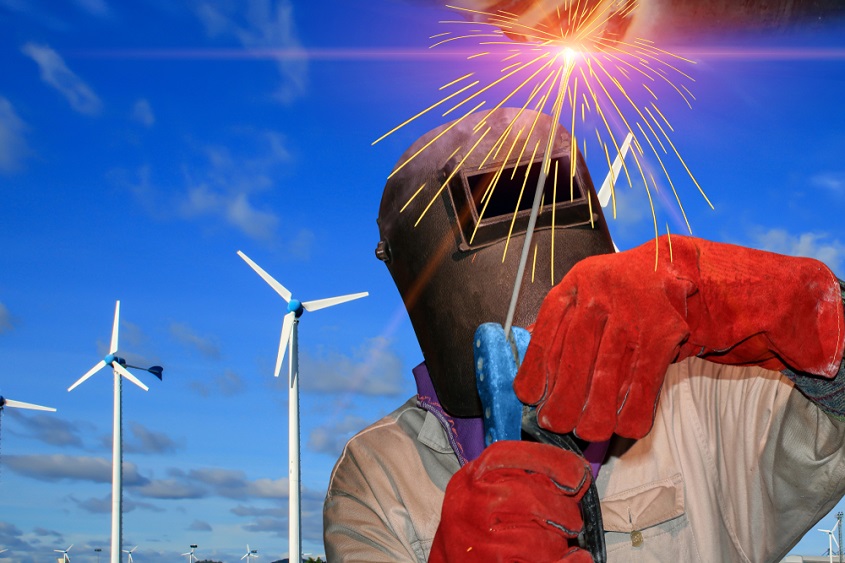 Examples of "light" fabrication would be:-
motorcar bodies,
water tanks,
metal chairs, etc
Other types of work would include the repair of broken items such as the welding of :-
shafts,
plates and blades on earth moving equipment
the rebuilding of worn metal parts.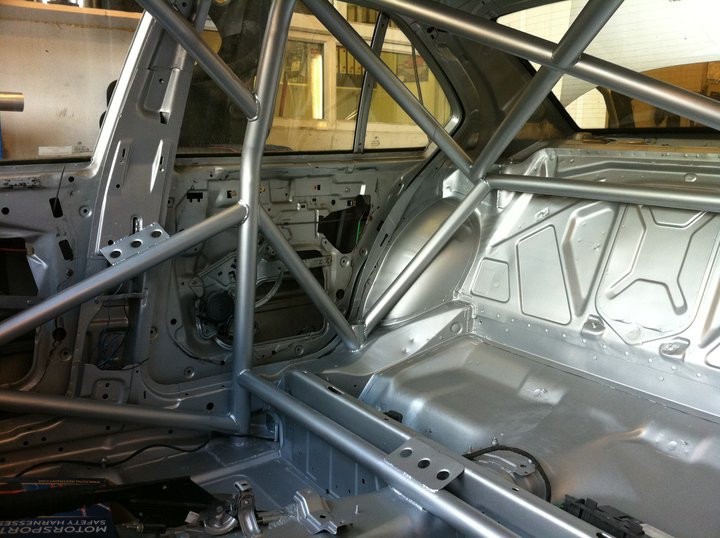 Is metal fabrication/welding a good career choice?
Yes. Metal fabrication and welding is ideally suited to people who like to use their hands to build and construct metal structures from engineering specifications. People who enter into this trade normally develop specialised talents in structural fabrication or pressure related construction and/or welding. These days a specialised welder can command top salaries around the world as a they are in demand.
What employment and career opportunities are available in fabrication/welding?
Metal fabrication and welding tradespersons are in great demand due to the amount of construction and general manufacturing taking place.
Because of the high level of skill required, good quality welding operators are in great demand and are able to command very high wages.
Metal fabricator welders have the opportunity to:-
Contract themselves out to companies
Start their own business
Specialize in underwater welding
Become fabrication/welding inspectors or supervisors for medium to large companies


What skills must a fabricator/welder develop?
Metal fabrication and welding tradespersons must :-
have an understanding of building metal structures
read and interpret engineering drawings
fabricate shapes using geometric development techniques
be able to use a range of welding processes.
They must develop artistic welding skills to join a wide range of metals in all positions.
What training and qualifications are available for fabricator/welders?
As an International supplier of Welding Equipment and CNC Plasma cutting machines, it is difficult to provide a list of all the information here. Our first suggestion would be to contact the Welding Institute in your Country. The UK has TWI which has many pages to help you decide if a career in welding is for you. Or in the USA you can contact the AWS, both these organisations have a wealth of knowledge on training centres and courses available.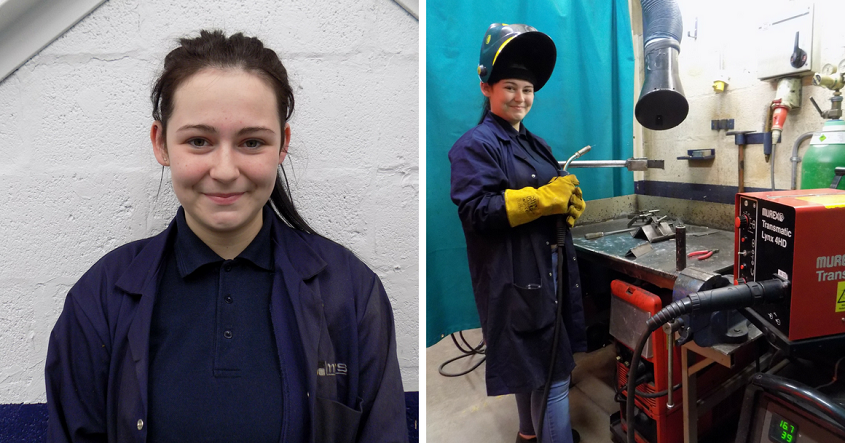 Apprenticeship schemes in the UK are an excellent way to start for a school leaver wishing to gain training whilst earning. Companies like BAE, Rolls Royce, JCB and Caterpillar are all now involved with apprentice training.
There are many colleges now offering vocational training. Search google for "basic welding courses" to find out what is in your area.