Our machine of the week is a used, ex-TWI, Fronius weld cladding system.
Featuring a 1000kg welding positioner for component handling. Plus a Fronius TT 450 TIG welding machine, suitable for both hot and cold wire welding processes.
This Fronius welding system is a top-of-the-line solution for your weld cladding needs. With a 1000kg welding positioner, this system can handle large and heavy workpieces with ease. The Fronius TT 450 TIG welding machine is a high-performance machine. It delivers excellent welding results, whether you're working with hot or cold wire welding processes.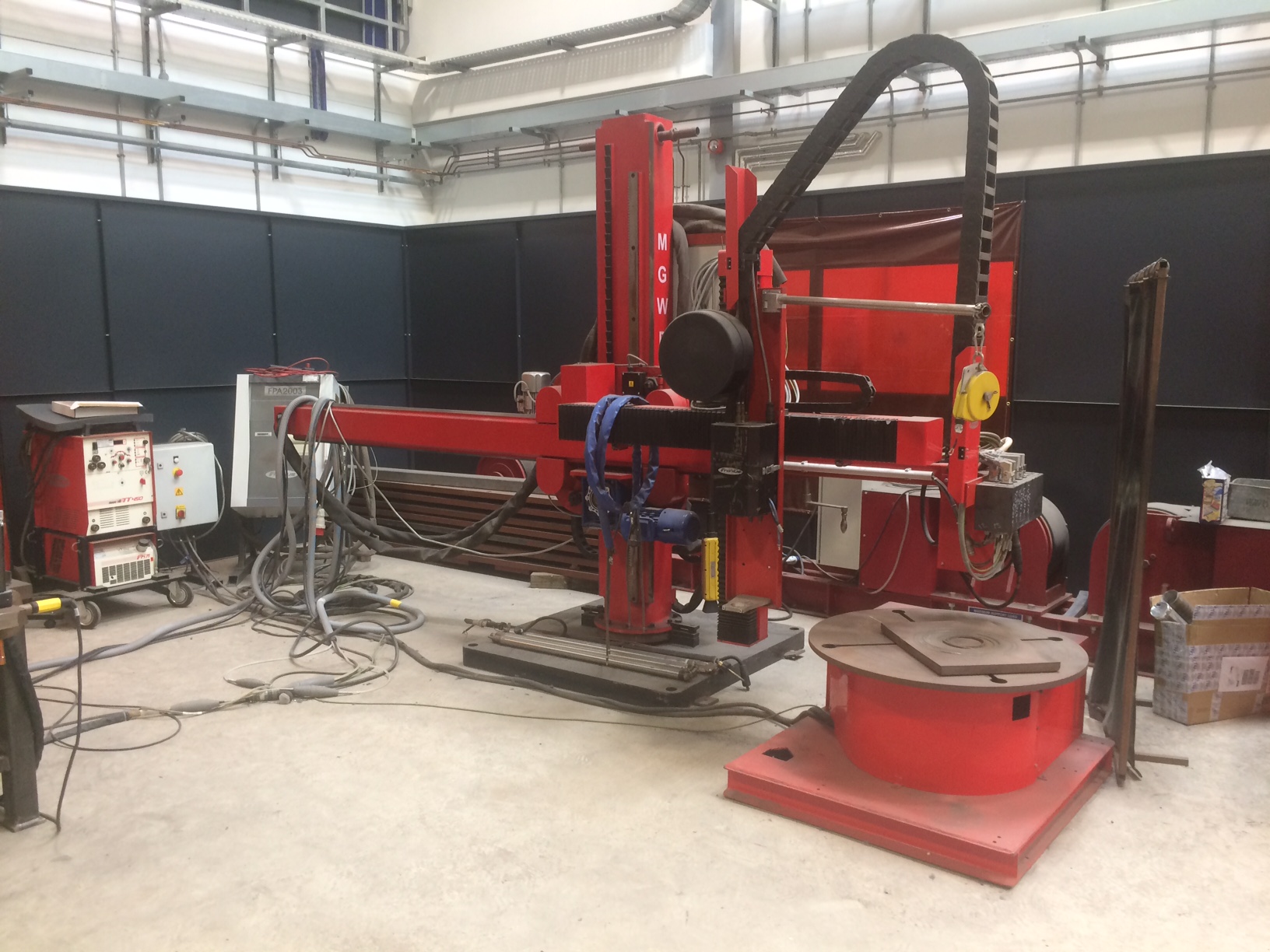 Weld Cladding Process.
Weld cladding is a process that involves welding a layer of material onto a base material. Used to enhance its properties and critical strength. It is a process used in various industries, including oil and gas and power generation. As well as offshore and chemical processing. Weld cladding is an effective way to improve the corrosion and wear resistance of the base metal. Plus other properties of materials used in these industries.
Advantages of Weld Cladding.
There are many advantages of weld cladding. Firstly, it provides an extra layer of protection to the base material. Which in turn, increases it's lifespan and reduces maintenance costs. Additionally, weld cladding allows for the use of less expensive base materials. This can lead to significant cost savings. Finally, weld cladding can improve the performance of a material. Making it more durable and resistant to wear and tear.
Weld Cladding applications.
The Fronius weld cladding system is ideal for a wide range of applications, including:
Corrosion protection. Weld cladding protects materials from corrosion in harsh environments. Such as this found on offshore oil rigs and chemical processing plants.

Wear resistance. Materials used in high-wear applications

benefit from

weld cladding. The process increases their durability and reduces the need for frequent replacement.

Heat resistance. Weld cladding protects base metals from high temperatures. Making it critical in industries such as power generation.

Repair and maintenance. Weld cladding is a great process to repair damaged or worn components. Helping to extend their lifespan and reducing the need for costly replacements.
Why choose Fronius?
The Fronius weld cladding system is a must-have for any industry that requires demanding welding results. With its 1000kg welding positioner and Fronius TT 450 TIG welding machine, this system delivers exceptional performance and reliability. Whether you're working with hot or cold wire welding processes, the Fronius weld cladding system is the perfect solution for your cladding needs.
Benefits of buying from Westermans:
Get a 4 month warranty as standard with this weld cladding system, giving you peace of mind on your

purchase

.

Whether you're located in the UAE or Canada, Scotland or Australia. We ship

Internationally

via our knowledgeable and experienced logistics partners.

Don't get left out in the cold! You'll get technical support from us for the duration of your ownership of the equipment.
Got a query about our products or service? Check out our FAQ's here.
So why wait? Contact us today to learn more and take your welding capabilities to the next level!