When it comes to TIG welding, the right equipment can make all the difference in the world. Whether you're an experienced welder or just starting out, selecting which TIG welder to use is a crucial decision. With various brands, models, and features on the market, it's easy to feel overwhelmed. This comprehensive buying guide will help you navigate the process, ensuring you choose the TIG welder that best suits your needs.
Understanding TIG Welding.
TIG (Tungsten Inert Gas) welding is known for its precision and versatility, making it the go-to choice for many professionals. It's ideal for welding thin materials; producing clean welds and suitable for a wide range of metals. These include both aluminium and stainless steel. With the right equipment, you can also achieve strong, aesthetic welds on thicker materials.
Key Considerations When Choosing Which TIG Welder.
1. Type of TIG Welder: AC or DC?
AC/DC vs DC TIG Welder: If you plan to weld a variety of materials, an AC/DC TIG welder is your best bet. This type can handle both alternating current (AC) for welding aluminium, and direct current (DC) for steel, stainless steel, and other metals.
2. Which TIG Welder Brand
Miller TIG Welders: Miller is a renowned brand in the welding industry, known for producing high-quality equipment. Consider their TIG welders for reliability and performance. Models include the Syncrowave and Dynasty.
Lincoln TIG Welders: Known for their robust construction and superior performance, Lincoln Electric offer a range of TIG welders for industrial applications. These include the Precision TIG (AC/DC) and the Invertec, a DC TIG welder.
Fronius TIG Welders: Often considered the "Rolls Royce" of the welding industry, Fronius TIG welders are worth the investment. Excelling in precision applications and demanding environments. Their Magicwave offers a premium AC/DC TIG welding solution. While the Transtig is a consistent overachiever for DC applications.
3. Power Output
Ensure that the welder's power output meets your specific welding requirements. The thicker the material, the higher the amperage requirements. A rule of thumb for steel is 1 amp of output power per .001″ material thickness (suitable for most work). Miller also have a great weld settings calculator if you need a guide to get you started!
4. Portability and Size
Consider where and how you'll use the TIG welder. If you need portability, look for compact and lightweight inverter TIG welders. These are great for light-duty, on-site repairs or welding jobs. For industrial welding applications, consider a robust set up with a cart and foot pedal. This will make them portable enough to move around the shop, while keeping ease of use a priority.
5. Duty Cycle
The duty cycle indicates how long the welder can operate without overheating. A higher duty cycle is better for prolonged welding tasks and heavy duty applications.
6. Which TIG Welder for Ease of Use
Look for features like user-friendly controls, digital displays, and clear instructions. A welding machine that's easy to use will reduce the learning curve, as well as increase output.
7. TIG Welder Price
Your budget is a crucial factor. While it's tempting to opt for the cheapest option, consider your long-term welding needs. Invest wisely to avoid regrets and the potential of having to upgrade at a later date. This will help to future-proof your business.
8. Extra Features
Some welders come with advanced features. These include things like pulse settings, pre-flow and post-flow timers, and foot controls. Determine which features are essential for your work now, or in the future if your budget allows.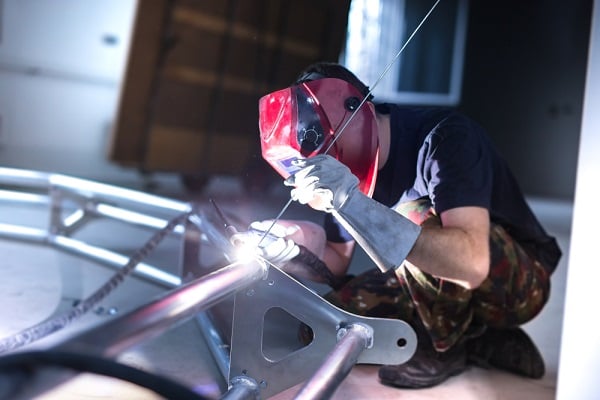 Safety Precautions
Safety should be a top priority when TIG welding, so you need to ensure your TIG welder has the necessary safety features. These include overheat protection and water cooling, as well as an effective gas shielding system. You should also have appropriate PPE (personal protective equipment) like welding gloves and eye protection. Finally, ensure the area is well ventilated to avoid the dangers of welding fume. This may include an air fed mask if working outdoors, or a welding fume extractor if indoors.
Which TIG Welder Is Best for You?
The 'best' TIG welder varies from person to person. It depends on your specific welding applications, budget, and preferences. To make an informed choice, answer these questions:
What types of materials will you be welding?
Do you need both AC and DC capabilities?
What is your budget?
Will you be moving the welder frequently, or will it stay in one location?
Our Recommendations When Choosing Which TIG Welder is Best.
Below, we have summarised some of our favourite machines for popular TIG welding applications:
Portable TIG Welder.
If you're looking for portability, a great choice is the GYS TIG 220 DC machine. Coming in at a light 12kg (machine only), it's ideal for on-site work. Optimised for DC TIG, pulsed DC TIG, as well as spot welding functions, it's versatile too! Plus, it comes new with a 2 year warranty and a fantastic back-up service from GYS for repairs and servicing.
TIG Welder for Aluminium.
If you're TIG welding thin aluminium (2-3mm), then take a look at the Miller Dynasty. They have the advantage of advanced inverter technology, with features associated with a high-end power source. All in a compact footprint!
Shop the Miller Dynasty range.
For thicknesses of 10mm plus, then the Fronius Magicwave is a great choice. Perfect for industrial TIG welding, it's robust design and simple operating system makes it ideal for demanding environments. Being a digitised power source, if offers superb control and superior performance, as well as perfect root fusion. Making it the go-to choice for critical TIG welding applications.
TIG Welder for Beginners.
If you're just starting your TIG welding journey, it may be a case of trial and error to find a machine you're comfortable with. If you have some jobs in mind that you'd like to use the TIG welder for, use Miller's welding calculator mentioned earlier. This will give you an idea of the characteristics a suitable machine will need. We would advise to stick to well known manufacturers, with good after-sales support. If you can find a used machine in good working order, you could trial it and see how you get on. If it's not for you, re-sell it and get another one until you're happy!
Which TIG Welder? Final Thoughts
Choosing the right TIG welder is a critical decision for any welding professional. By understanding your specific needs and considering the factors mentioned in this comprehensive guide, you can make an informed choice. Whether you're looking for an AC DC TIG welder or a DC TIG welder, remember that investing in quality equipment will pay off in the long run.
In conclusion, the key to choosing the right TIG welder is understanding your unique needs and priorities. Whether you're tackling aluminium, stainless steel, or other metals, this buying guide will help you make an informed decision. Prioritise quality, safety, and the specific features that matter most to you, and you'll be well on your way to finding the perfect TIG welder for your business. Happy welding!