Laser Welding for Pressure Vessel and Pipework Fabrication
Funded by the DTI, Yorkshire Forward and Objective 1, The Toolform programme has assessed the feasibility using of laser welding to add to the existing arc welding expertise already in use by a Sheffield pressure vessels fabricator to produce high quality welded components.
A client of ours, Portobello Fabrications, located in Sheffield, is a leading fabricator of heat exchangers, chemical tanks and pressure vessels used in the oil, gas and chemicals industry as well as water, food, pharmaceuticals, power generation, and nuclear industries.
The materials used in these products must always be welded reliably to meet stringent welding standard requirements. Portobello Fabrications specialise in producing components that see extremes of corrosive environment, elevated temperature or pressure from 2-20 bar, so it is vital to obtain reliable welds. By implementing laser welding, considerable savings in set-up times and efficiency can be attained over conventional arc welding.
Tubes of 304L stainless steel and IMI 130 Grade 2 titanium, with bore size varying from 40mm to 200mm and 1.5mm, 2mm and 4mm wall thickness, were joined using an HL4006D lamp pumped Nd:YAG laser manufactured by Trumpf, with a Kawasaki JS30 robot used to manipulate the beam during welding operations. The flexibility of fibre optic beam delivery and use of robotic manipulation, were ideal for this application, particularly for angled butt joints and various configurations of fillet welds, as well as for straightforward circumferential butt welds.
Amongst the advantages of choosing laser welding over arc welding, is the ability to repeatedly weld standard sizes according to programmed routines, reducing welding time and ensuring that manpower can be more effectively distributed. Welds on non-standard configurations can also be achieved with similar results to the manual arc welding procedures currently employed by Portobello. Provided that acceptable fit-up can be achieved prior to joining, laser welding can produce single pass welds in the wall thicknesses evaluated with full penetration at welding travel speeds up to 5m/min.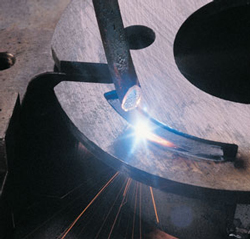 This article was provided by the TWI.
TWI is a global leader in technology engineering providing research and consultancy to its members. Respected for its expertise, professionalism, impartiality and confidentiality, TWI works with the most influential companies worldwide across all industry sectors.
Leading the industry are Trumpf-Laser where laser welding is a permanent part now of the electronics production.
Alternatively ESAB, leader's in new welding and cutting equipment have produced a Hybrid laser welder…..
ESAB's Hybrio™ hybrid laser welding technology combines the deep weld penetration and low heat input associated with laser welding with the excellent weld properties and superior gap tolerance of Gas Metal Arc Welding (GMAW). A radically new welding alternative, it produces extremely narrow and deep welds at very high travel speeds. In a single pass, the Hybrio™ process can often achieve what might require multiple weld passes using a conventional fusion welding process. Heat input to the part is reduced, as is the associated weld shrinkage and distortion that can make post-welding geometry unpredictable – and costly to repair.
Using GMAW in combination with a laser, the Hybrio™ process solves laser-only welding's limitations, concerning its ability to produce acceptable welds in joints with less than perfect fit-up between parts. This enables a widened, more robust process envelope by a factor of three compared to a conventional laser-only process. GMAW also allows users to add filler metal to adjust the weld's metallurgical properties and create beads and fillets, while the slower cooling rate reduces hardness. These features are especially beneficial when joining high performance carbon and stainless steels.
If you want more information on the various laser welding equipment available or any other application, please contact us.