Tired of the Long Lead Times for Sheet Metal Cutting?
Have you thought about investing in your own CNC plasma cutter?
Long lead times could be a thing of the past with this great value CNC plasma cutting table made by ESAB, complete with our in-house warranty (if purchased fully serviced).
A used machine can open up some investment options that you may not have thought possible.
ESAB are one of the World's most popular brands when it comes to welding and cutting equipment, this used CNC plasma cutter could give you back control of your production schedule and client lead times.
Benefits:
Both gas and plasma posts fitted, giving you more versatility on the thickness of material that can be cut. Both posts are set up all the time so you can switch from one to the other with no need to chop and change fittings.
ESAB ESP 150 plasma power source and machine torch. A heavy duty power source suitable for production plasma cutting and plasma gouging. Capable of cutting up to 51mm.
ESAB Cooljet motorised gas cutting post.
Complete with Marlborough cutting bed.
4 month warranty included with fully serviced option.
This machine is offered in "as is" condition or "fully serviced" with warranty. You can see all about our sales options here on our website to find out which package is best for you, or speak to one of the team who will be happy to assist.
Want a price?
Click here to view all the specifications and photos, as well as make an enquiry.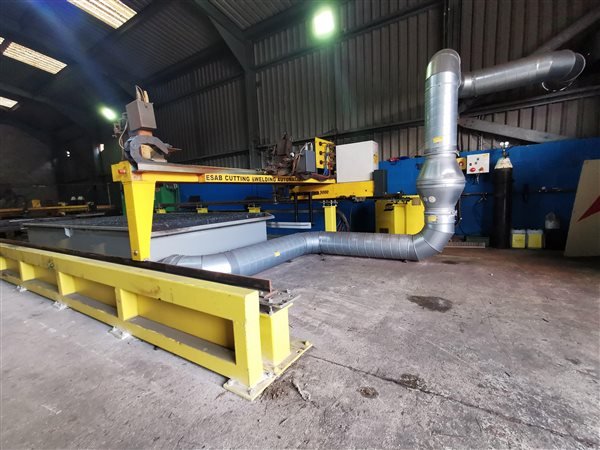 We can also handle delivery and offloading if required, just provide your details when making your enquiry and we can get a price for you. Alternatively collections are welcome if you have your own transport.
All CNC plasma cutters currently in stock can be found here on our website.
Want to talk to someone? Then gives us a call as we are more than happy to talk to you about our products and services.