Whether you're looking to upgrade your current CNC plasma cutting table, or looking to invest in your first machine. Take control of your cutting requirements with an array of CNC plasma machines available from stock.
Esprit Automation are a British company that hold an enviable reputation when it comes to the manufacture of mechanised plasma cutting tables.
Offering solutions for a range of applications, from light fab shop work to industrial, production use, Esprit's range of machinery for sheet metal cutting combine first class cutting with reliable operation.
We currently have the most diverse machines in stock for a vast range of applications, check out these examples below:
Esprit Arrow CNC Plasma Cutter with Hypertherm Powermax 600.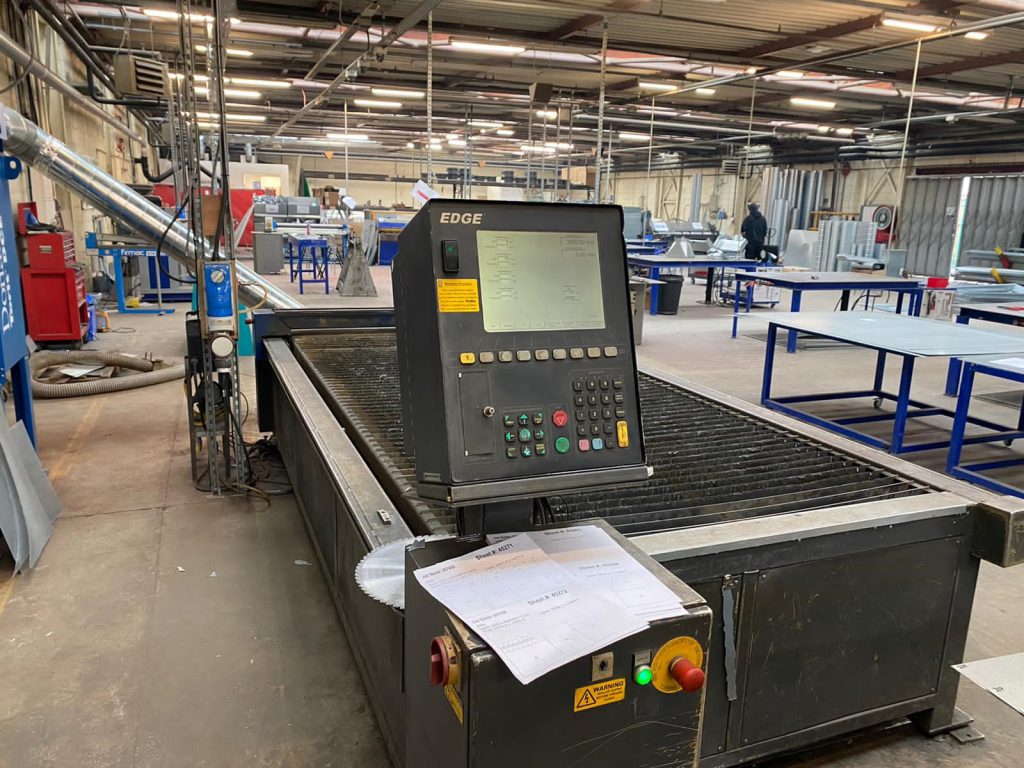 Esprit Arrow CNC precision profile cutting machine with Hypertherm PowerMax 600 plasma cutting power supply.
Cutting size: 3.0m x 1.5m (lxw), ideal for lightweight applications.
Maximum axis speed of 25m/min (X & Y).
Precision hardened and ground linear bearings in both axes for optimum performance.
Direct rack & pinion drive in both axes offers no intermediate belt transmissions.
Virtually zero backlash with Swiss made, precision gearboxes.
Heavy duty fabricated and machined steel cutting bed and gantry.
Edge control unit offers consistent performance with easy to use software.
The perfect machine for a fab shop looking to take control of their sheet metal cutting demands at unbeatable value.
Click here for full details on this machine and to make an enquiry.
Esprit Lightning Compact CNC Plasma Cutting Table with Hypertherm Powermax 65 Plasma.
Compact & versatile CNC plasma cutter that covers a wide range of applications.
Suitable for sheet size up to
Produces high quality, accurate components in virtually all metals.
British manufactured as a single fabricated structure, with machined mounting and alignment faces.
Integral, segmented fume extraction cutting table.
Hypertherm Edge PRO CNC unit.
Hypertherm Powermax 65 plasma power source, 16mm recommended capacity for mechanised cutting (can be changed if required).
Complete with HYDROVANE HV02 Air Compressor and Dryer.
A great workhorse for production, conventional cutting requirements.
Click here for full details and to make an enquiry.
Esprit Lightning HD CNC Plasma Cutter with Hypertherm HPR 400XD Hyperformance Plasma Power Source.
Esprit Lightning HD CNC plasma profile cutting system, designed for high definition cutting applications.
Fitted with Hypertherm Edge Pro CNC unit.
Hypertherm HPR 400XD HyPerformance 400 amp plasma power source, built for maximum performance and productivity.
Heavy duty stainless and aluminium cutting capability.
Suitable for sheet size 2500 x 4000mm.
Donaldson fume extraction system.
A modern and full spec machine, for cutting applications that require the ultimate production and performance capability. All without the price tag of a brand new package.
Full details and enquiries can be made here.
Esprit Lightning S Precision Plasma Cutting System with Choice of Hypertherm HPR Plasma Source.
Esprit Lightning S CNC plasma metal cutting machines have an innovative linked rail design which delivers high machine stability.
Sheet size 1500 x 3000mm.
Can be fitted with either Hypertherm HPR130 or HPR260 Hyperformance plasma power source.
Includes Donaldson fume extraction system.
This machine combines precision linear guidance, direct rack and pinion transmissions and digital brushless drives to give smooth, precise motion for the best cut quality.
As new condition and complete with 6 month warranty as standard.
The ideal machine for upgrading from an entry level CNC plasma cutting table, or for more accurate cutting results.
Click here for full details and photos, as well as making an enquiry.
All of the above machines are currently in stock, with installation and training packages available to suit your requirements.
We can also handle delivery, as well as offloading if not available on site.
Give one of the team a call today on +44(0)1162696941 for a chat about your requirements and any additional info you might need.