In this, the latest installment of our Welding Showcase we're joined by David Freeman.
A very gifted artist blacksmith and sculptor, David has been creating impressive works over the last 15 years. His eclectic style includes furniture, huge outdoor sculptures and small decorative figures.
Join us as we find out the story behind his gorgeous designs.
Tell us a little bit about yourself – where you're from, hobbies etc!
Hi, I'm David Freedman and I'm an artist blacksmith from Cheshire. I'm also a keen writer in my spare time, writing short stories and I've just published my first children's book on Amazon called Stunt Crow.
My home and workshop is an old watermill which I've been renovating for about 15 years and still not finished (I don't think I ever will!). I love nature and enjoy camping, canoeing, walking and cycling in the countryside.
How did you get started in welding and blacksmithing? What attracted you to the profession?
I studied psychology at University in London, but soon realised I wanted to do something more artistic and when the opportunity arose to travel to Italy as part of my course, I set off! and met an interesting collective, mostly from the UK, living in central Italy called the Mutoid Waste Company. I spent some time with them, watching and taking part in their shows which involved huge sculptures that moved and breathed fire, all made from scrap metal. This inspired me to try making sculpture when I got back to London so I looked for somewhere to work and chanced upon a metal fabricator's shop in Dalston, Hackney. In the end I worked there for over three years, mainly helping out and learning the basic skills in the process, such as MIG welding, gas cutting, arc welding and a tiny bit of forge work.
The forge work inspired me to learn more so I made contact with a blacksmith in Kent and spent some time working there and honing my forgework skills.
Eventually I was confident enough to take on my own commissions and set up for myself.
Tell us a little bit about how your business got started – what were you doing before you set it up?
I moved back to Cheshire where my family was in 1997 and set up my own workshop, mostly making practical items such as gates, railings and some items of furniture.
It has taken many years to bring my work round to more decorative and sculptural pieces which I now specialise in. I still occasionally weld up the neighbour's rusty wheelbarrow, but the majority of my commissions are now high-end which is very satisfying.
Do you have a favourite project that you have created?
I made a full size leaping horse for a client a few years ago, which is perhaps the most impressive piece I've created. It was a challenge at every stage but very enjoyable. I also like making smaller pieces such as the insect and flower sculptures I've made using copper and stainless steel.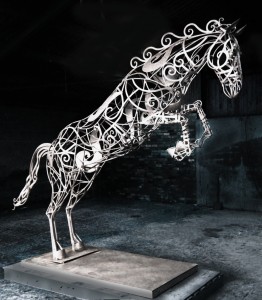 Do you have any dream commissions or projects you'd love to create?
Anything where budget is no object so I can work on it until it's a masterpiece!
Your sculptural work is very varied, from intricate masks to stunning insects – where does your inspiration come from for these pieces?
Most of my work is inspired by nature. I don't like copying nature because I don't think for example that a metal rose will ever be as beautiful as a real one. However an interpretation of a flower in metal without slavishly sticking to accuracy can be something new and interesting. I look more at natural forms such as the way plants grow, trees brach out, seed heads open and insects are constructed and make my own approximations, keeping in mind what will look good in metal.
Could you tell us a little more about the sculptures you made for the Wyre Forest Sculpture Trail and how they came about?
I was asked to design some pieces for a forest sculpture trail which, unusually, was intended for disabled access, so the sculptures needed to have impact when viewed from a nearby path. The idea for the deer sculpture was that it should be camouflaged in the forest until your eyes picked it out. It could also be interpreted as a 'forest spirit', not quite solid. Hence it is made in a framework so it is transparent.
Who are your biggest design inspirations?
I've studied a lot of artists work over the years including the wonderful metalwork of Samuel Yellin and also Gaudi. I look at other media as well, such as the photography of Karl Blossfeldt and the wood carving of Grindling Gibbons.
What are your plans for the future?
I intend to try to focus more on smaller more intricate pieces of work in the future. Making huge pieces is fun but physically challenging, and I enjoy working small scale too. I also plan to balance metalwork with writing. It's good to have more than one outlet for your creativity.
What advice would you give to people looking to get into welding?
Welding is easy. I am not the worlds best welder or blacksmith, but if you can do it adequately, all that's important is your design ideas and working out how to achieve them.
Also, wear suitable protection!
Great advice David and thanks again for joining us! If you would like to find out more about David's work you can visit his website: http://davidfreedmansculpture.co.uk/