This month in our welding showcase, we're joined by the very talented Michael Turner.
Based in the New Forest, Michael has been a sculptor for 15 years. He specialises in stunning stainless steel creations, often based on animals.
His unique work is exhibited in galleries across the UK and we're sure you'll agree that it's very impressive.
Let's find out a bit more about it, take it away Michael!
Tell us a little bit about yourself!
I was born in Derby, my family moved when I was seven to the New Forest where I live now. I like to walk my dog across the forest, but my 2 1/2 year old and 1 year old keep me busy enough!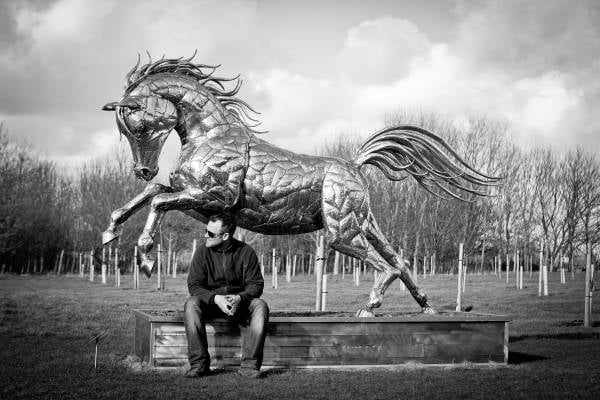 How did you get started in welding? What attracted you to the profession?
I have always been creative as far as I can remember – lots of drawing, model making and wood working etc. I discovered welding when I was at college, when I was around 20 the attraction was almost instant, so many possibilities in what could be created with this equipment!
Tell me a little bit about how your company got started – what were you doing before you set it up?
I was extremely lucky to have very supporting parents that encouraged and nurtured me and let me use their garage to build a workshop back in 1997. When I left college, I had various jobs including petrol station attendant, supermarket work and postman…all these were just funding me to keep making and building metalwork. As time went on my business started taking off and eventually I could start to concentrate full time on my sculpture.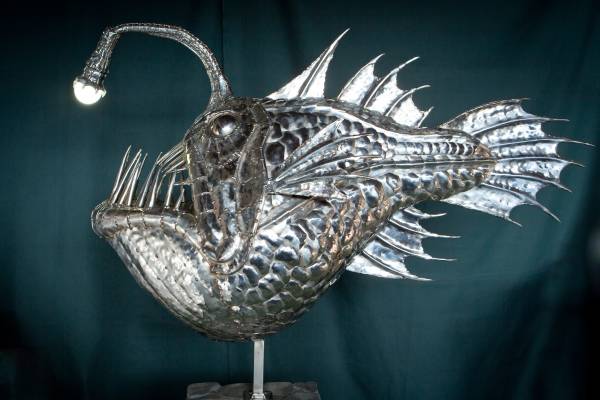 Your specialty is sculptures of animals, what is it that led you to focus on the natural world?
I suppose it just happened naturally, I have always been fascinated by the natural world and why things are the way they are. The 'golden section' is a big magical wonder of the world. My most recent piece is a 7 ft shark. When you study these creatures they are just an amazing piece of design.
You've also designed a steel racing car – could you tell us a little more about that project?
This project was a bit of fun, I'm not really into sports but this is the only one I like. I do watch Formula One and love to follow the progress and its really about the engineering involved. The cars are beautifully crafted and also sculptures on their own.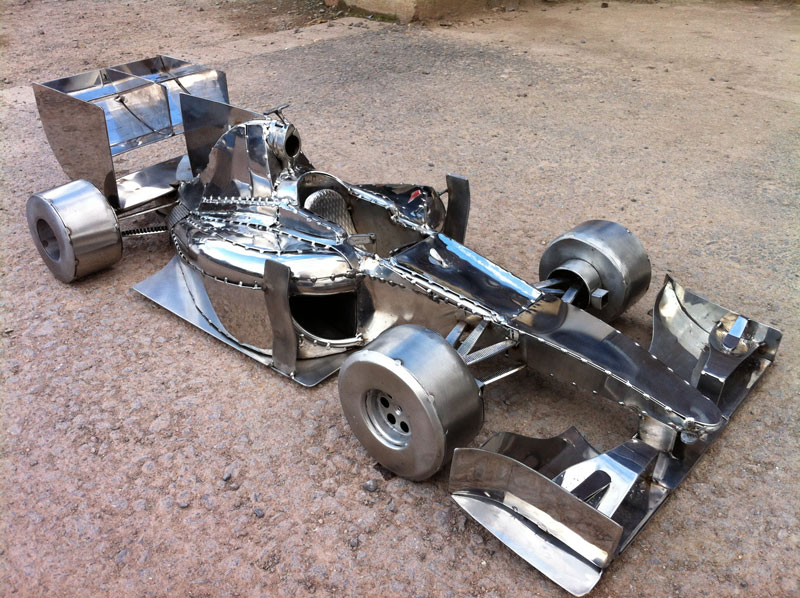 You mentioned one of your pieces being featured in Harvey Nichols' stores, how did that come about?
That was quite a long time back now, they invited me to put work in there window display. It was good, but the bugs I supplied were too small and were lost in their massive windows!
Do you have a favourite project that you have created?
Every piece is my favourite at the time, I get heavily involved and wrapped up on each. As soon as it is finished I'm straight onto the next, currently its my shark.
Do you have any dream commissions or projects you'd love to create?
I am in a very good place at the moment, I am enjoying every project that comes my way and am very excited about the future.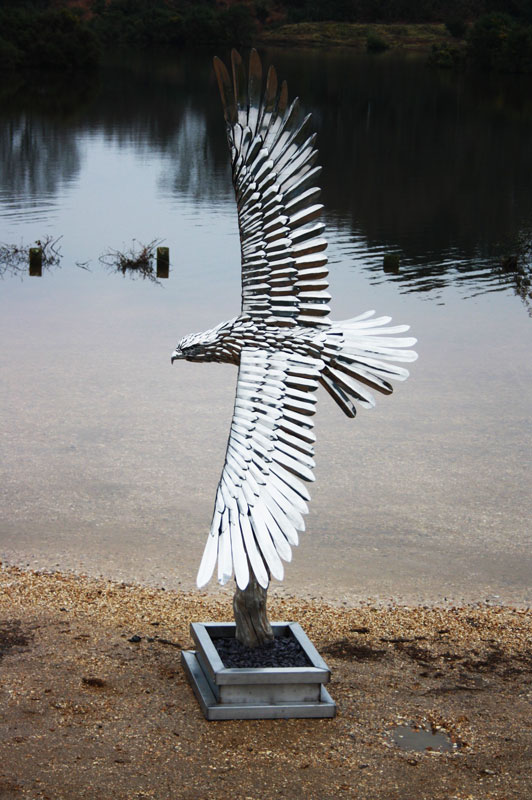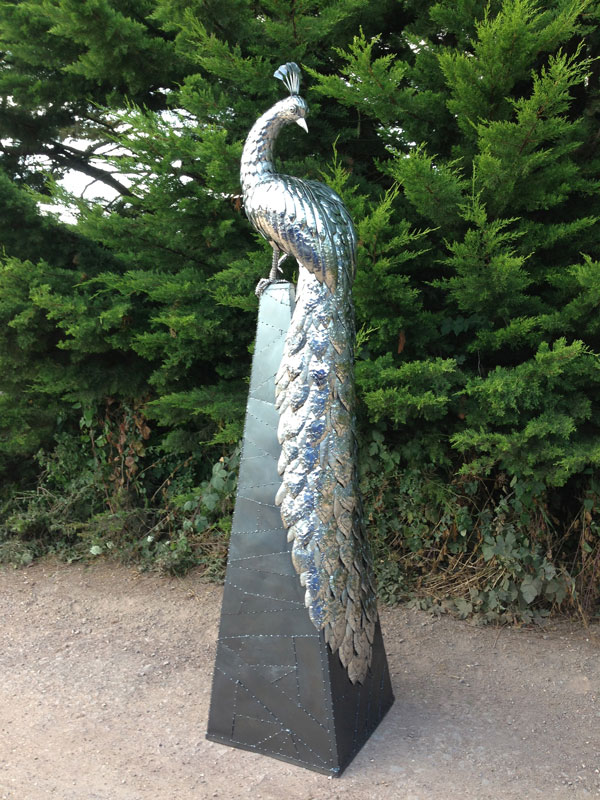 Who are your biggest design inspirations?
I don't set out to follow any particular artist, I just get inspired by whats around me, which is constantly changing!
What are your plans for the future?
I would love to get recognition in the art world, it would be a dream to have 'a big name' in the art world.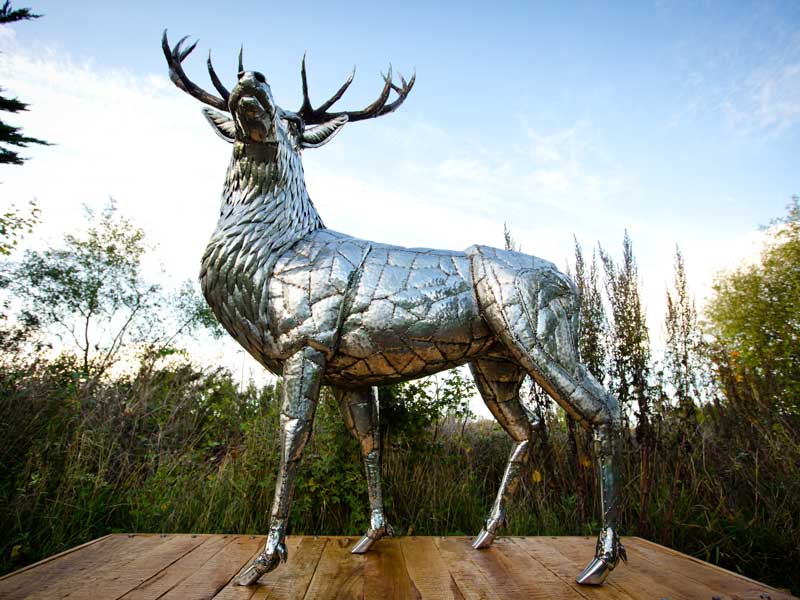 What advice would you give to people looking to get into welding?
Go for it! If you're lucky enough to have a place to work as a welder just use your imagination and enjoy it.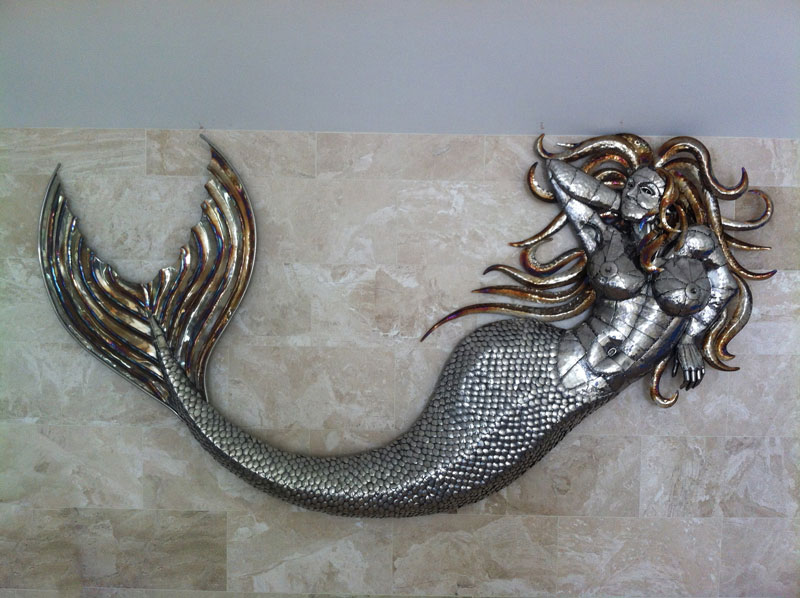 Do you have any interesting anecdotes about your career in welding that you'd like to share?
I almost burnt down my studio a few years ago, although I hope my landlord doesn't read this! I was welding a mermaid at the time and the hessian bag full of fir cones for my woodburner in the corner (not the best thing to store in a welding studio!) caught alight with a spark and was pretty hairy! Thankfully no one was hurt or injured and I managed to get it outside quickly where it burnt to a crisp and I recovered from a heart stopping moment!
Thanks for joining us Michael! If you'd like to find out more about Michael and see more of his incredible sculptures, visit his website www.michaelturnerstudios.co.uk