Following on from the success of our women in welding series, we're bringing you more talented sculptors and metalworkers.
Showcasing the versatility of the metal and the beautiful objects it can create around the world.
First in this series we're meeting Kevin Caron, a full time artist from Arizona. Kevin's is known for his challenging work and his incredibly popular YouTube channel detailing his works and top welding tips.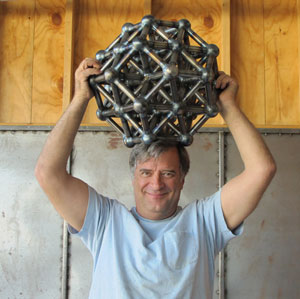 Hi Kevin, tell us a little bit about yourself!
I was born in Connecticut but have lived in Arizona since 1974. (When people ask me what brought me here, I tell them, "My mother said, 'Get in the car!'") Before I became an artist, I was a ground support equipment technician, ran a foreign car repair garage, and drove an 18-wheeler, all of which contributed to my work as an artist. My hobbies are reading – I love science fiction – and riding my BMW  LT motorcycle long distances when I can and shorter ones when that's my only choice. I am very curious and always learning new things. Right now, my passion is 3-D printing, which is part of  my work, too. When you love what you do, though, it all seems to run together ….
How did you get started in sculpture? What attracted you to the profession?
I am not one of those people who always wanted to be an artist, but I have always built things. In 2002, my wife and I wanted a privacy screen, so I began looking for material. I found it where I worked: a beautiful, worn out metal conveyor belt. I made it into the screen (which later was turned into the commission Floating Undulations below), and had some material left over, so I turned it on its side and made a fountain (Stretch). People began asking me to make them things, and my career was born.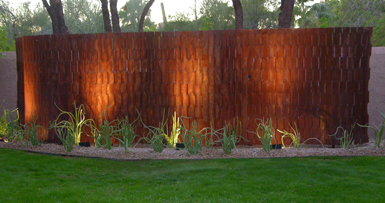 I love the creativity required for sculpting. My mind is always working, so it is fun to see what I create there and then bring to live in metal. I also love using different sorts of equipment – my studio is full of unusual equipment because my approach is very multidisciplinary. I'll use any tool or material I need to achieve the results I'm seeking.
What were you doing before you got started in sculpture?
I drove an 18-wheeler semitruck. That gave me a lot of time to think. I would reverse engineer parts of the truck in my mind as I drove (and watched the road!). Then I began doing the same with other things I saw, and finally with my own sculpture. By the time I actually started creating, I had years of ideas in my head.  Before that, I ran a foreign car repair garage and before that served in the Navy repairing ground support equipment. All of these experiences definitely contributed to my work today.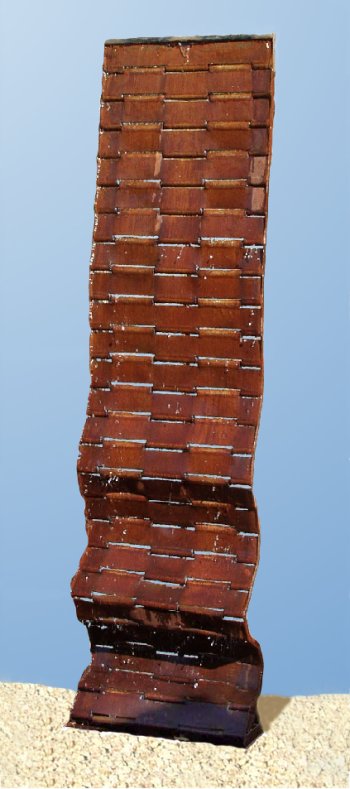 Your love of machinery especially motorcycles seem to have been very influential in your development as an artist – could you tell us a little more about that?
This is very true. When I'm riding on my motorcycle, my mind is running free. You can see the road in my work – it is evident in the strong lines and movement in many of my sculptures. My relationship with tools also shows up visually. Of course, I couldn't create my work without all of the equipment I have, but it goes beyond that. One of my patrons observed that my work is post-industrial, that I appropriate forms that have their roots in the shapes and proportions of tools and then take them to the next level.
You're really active on YouTube with over 13,000 subscribers – what inspired you to start creating videos about welding?
My first videos at http://www.youtube.com/kevincaron were about what was going on in the studio, but I found that people weren't all that interested back then. I enjoyed creating them, though, and noticed that the most popular ones were about welding and fabrication, so that quickly became the focus of my videos. It took about a year for the channel to take off – I might have given up making them sooner, but I was having fun! That being said, I really enjoy helping other people and my relationships with my viewers. I've made some great friends through my channel. I upload a new video every week.
Do you have a favourite project that you have created?
Yes, all of them. That's why I make them. But if I had to pick just one, it'd be Charged Particle, below. It's beautiful to look at it, and  I'm intimately familiar with how much work, heart and soul went into it. I spent about three solid months making it, and could spend as much time looking at it …. That being said, I hope someone buys it so they can enjoy it as much as I do.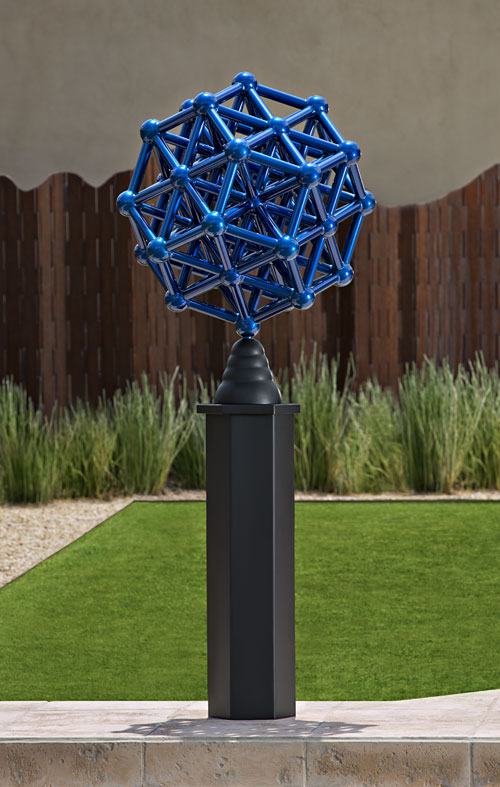 What about your most challenging piece?
At this point, it'd probably be Wherever You Go, There You Are. It's very large – 9 feet tall and 10 feet wide – and has many, many pieces that have to be cut correctly and lined up. It took all of that work  to create a sculpture that looks so simple …. It's a very powerful form, too. When you are around it, you feel both drawn in and propelled outward.  I did an entire series on creating this sculpture, which you can see on YouTube here.
What projects are you working on at the moment?
I usually work on a couple of pieces at a time. That way I can switch from one to another if I get stuck or just need something different to work on. Currently, I'm working on a sculpture called Building Blocks. It's aluminium, which gave me a chance to work on my AC welding. I hope it will be a maquette (model) for a much larger piece. I'm also working on a fine art sculpture made of railroad spikes – it requires a lot of patience AND a lot of oxygen acetylene gas! I also just started a new sculpture, based on the form the 4-cube tesseract. I've made two other versions of this form, one more than 7 feet tall and one less than 2 feet tall. This one will be about 1 foot tall, which is about as small as I can work on this particular form. Sometimes I will work on a concept like this in several different sizes, colors, etc. until I feel I have investigated it thoroughly. You can always see what I have in progress on my website at http://www.kevincaron.com, which we update often.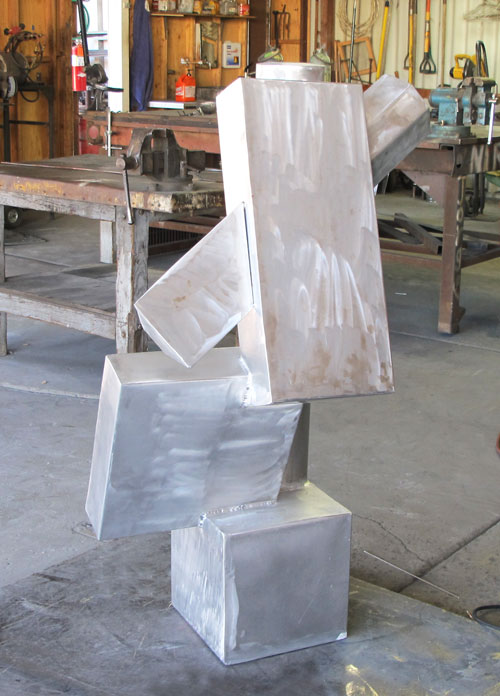 Do you have any dream commissions or projects you'd love to create?
Several. I've just created a new form in my CAD program that is a variation on an umbilic torus. I've printed it on a 3-D printer, but I'd love to make it 9 feet tall so you can walk through it – I like people to be able to physically interact with my work. I also created another design in CAD and on my 3-D printer that I'd like to make about 9 feet tall. Another piece I've been thinking about for a while is a five-sided umbilic torus (they are traditionally three sided). It's a one-sided – or in this case, five sided – three-dimensional  object. I've created two three-sided versions (one is Wherever You Go, which I mentioned above; the other is Torrent, which sold well above its price range at an auction at the Phoenix Art Museum, so I'm ready to step up to the challenge.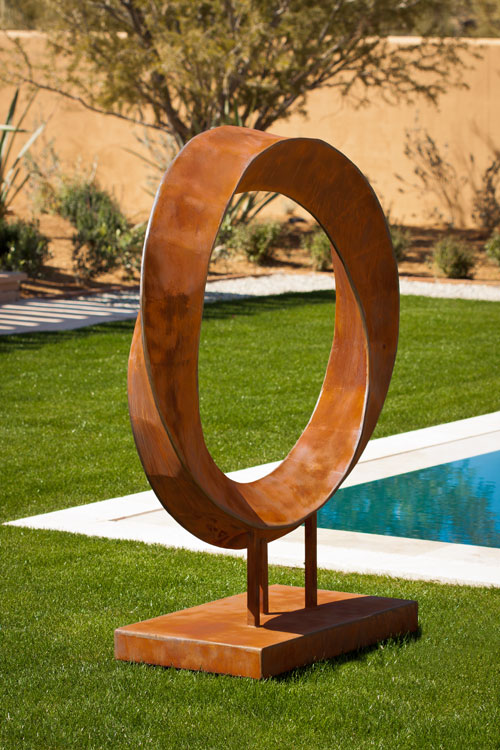 Who are your biggest design inspirations?
Dutch artist M.C. Escher, definitely. I have created some sculptures directly inspired by him, such as After Escher (below) and also am inspired by his architectural and never-ending creations.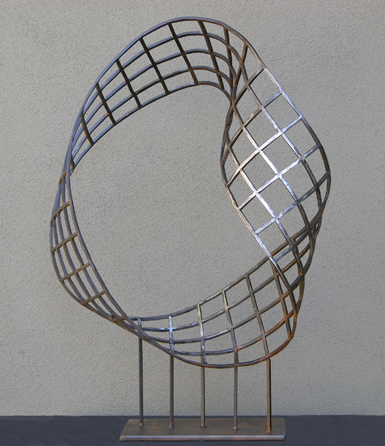 The work of French artist Antoine Pevsner also fascinates me. He created beautiful shapes. When I finally saw one of his sculptures in real life, I was almost moved to tears.
What are your plans for the future?
To learn, to become better at my art. I'd like to create a large-scale public piece at least once a year, and  I have created a couple of forms I'd like to see in monumental sizes.
What advice would you give to people looking to get into welding and sculpture?
Consider school or an apprenticeship to learn some of the basics of welding. Teaching myself has been fun, but it is a lot harder and takes a lot longer than getting a jump start by learning from others.  Also, practice and be patient. You aren't going to be able to build a masterpiece the first time you pick up a torch. Give yourself time to grow.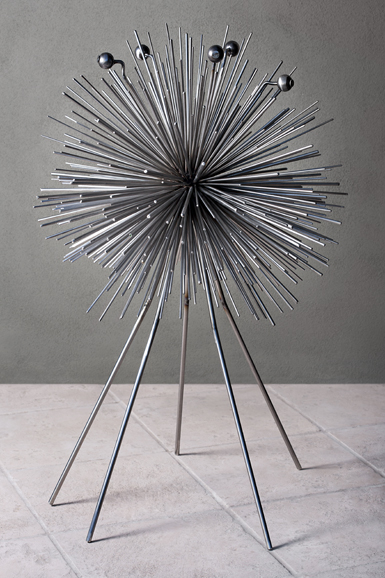 Do you have any stories or anecdotes about your career in welding that you'd like to share?
Ohmigosh, yes. The most vivid one is something I probably shouldn't share, but that's never stopped me before …. Back before I had my studio, I worked alongside our house, ironically, behind that original privacy screen. I was using my oxygen acetylene torch and didn't notice that some sparks had found their way into a patch of pampas grass that was, unfortunately, under our gas meter. Suddenly, a butt of yellow smoke started rising as the grass caught fire. I grabbed a hose and put out the fire, then pulled out every bit of greenery in my welding area. Boy, was that a wake-up call!
Thanks for joining us Kevin! If you'd like to find out more about Kevin's work, drop by his website or check out his YouTube channel.