This month in our Women in Welding series we're pleased to be joined by the fabulous Bex Simon.
Bex has created spectacular huge sculptural pieces as well as stunning homeware items following an appearance on TV show High Street Dreams. She's here with us to share her impressive designs, inspirations and hopes for the future.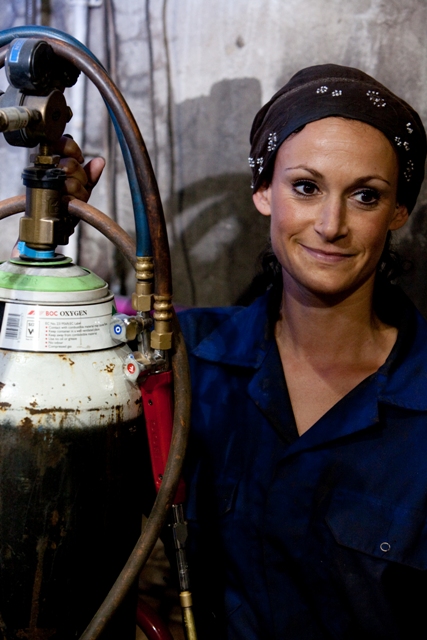 Hi Bex! Tell us a little bit about yourself!
My name is Bex Simon. I was born in Chertsey, Surrey and grew up in the same area.  My hobbies are working, swimming, running, buying other peoples stuff at car boot sales and hanging out with my family and friends.
How did you get started in welding? What attracted you to the profession?
I worked in ceramics first, however, building in clay is quite a slow process, and being an impatient person, this wasn't ideal. After finishing my Art Foundation, I was attending demonstrations to see what course I would take for a degree and walked into the Forge where a Blacksmith was hammering hot metal and welding bits together, suddenly I was filled with excitement and I just knew that that was what I wanted to do. After finishing my BAHons in 3 Dimensional Design, I did a national Certificate and Diploma in Blacksmithing at Hereford College of Technology, to learn how to swing a hammer properly.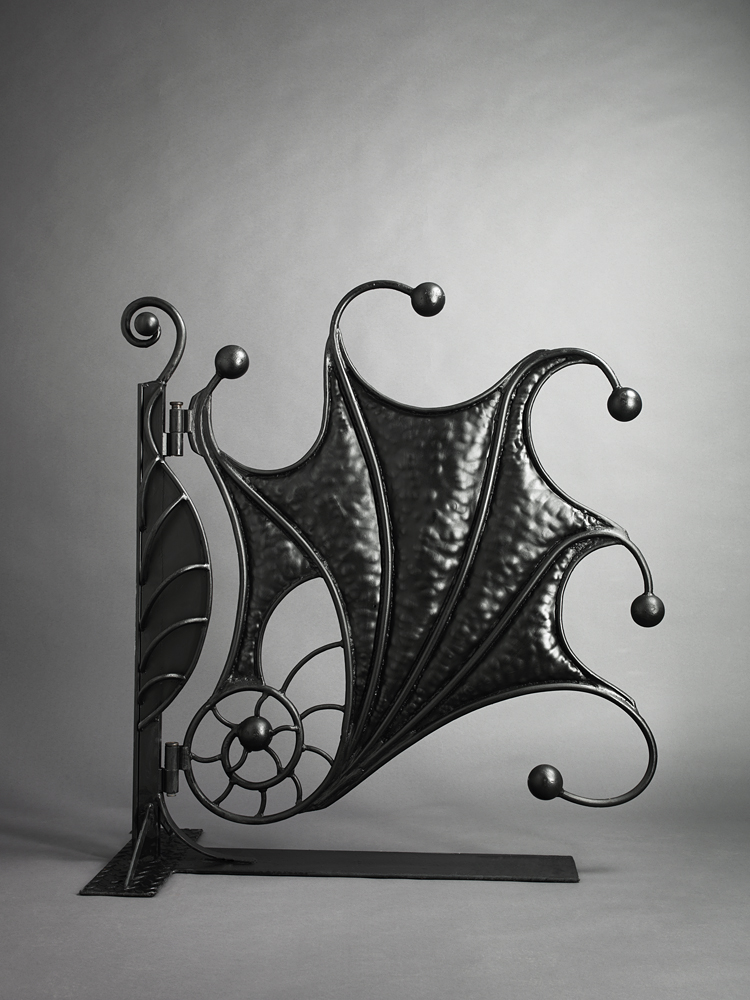 Tell us a little bit about how your company got started – what were you doing before you set it up?
Having completed my education in Blacksmithing at Hereford, I went on to gain practical experience working for various other blacksmiths, also working for a shop in London, welding furniture in order to get my speed up and understand how things fit together, before applying for and winning a start up loan from The Prince's Trust. I rented space in a workshop and started building commissions. This was the start of BexSimon (1999).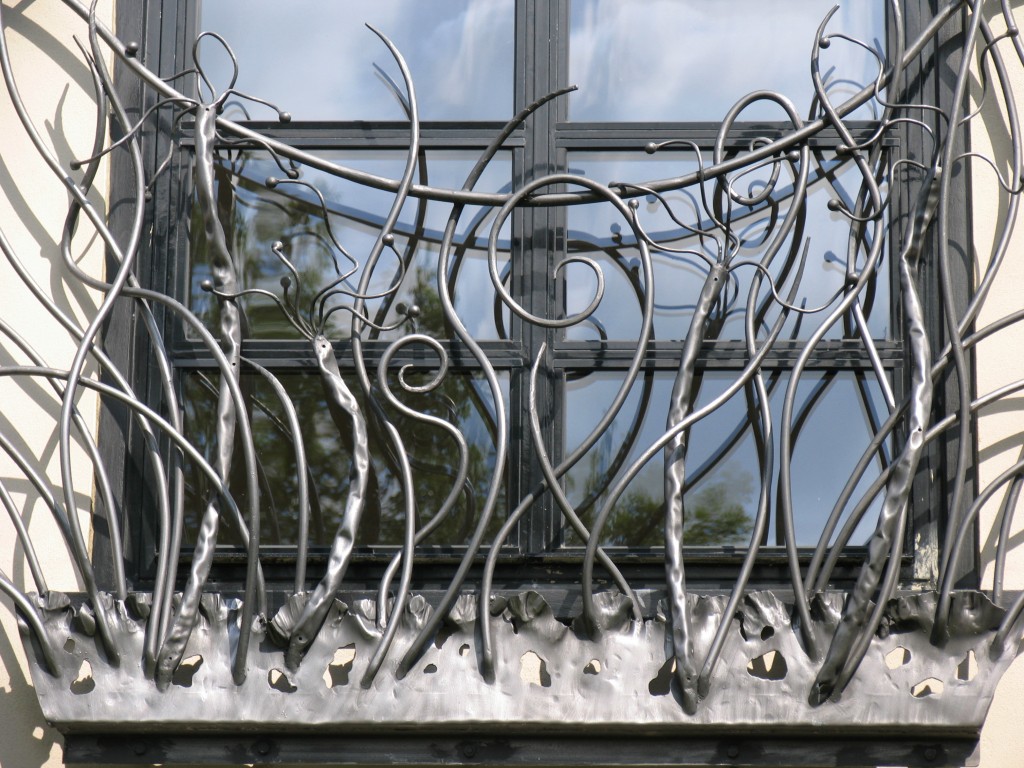 You were featured on TV's High Street Dreams – how did that come about? 
When the recession hit, it hit my business hard and I really had to rethink my business plan.  Suddenly my entire client base seemed to disappear, so I had to diversify.  I decided to be a 'yes man' and go for anything that came my way.  I was sent an application form for a TV program and went for it!  The show featured a group of individuals who had aspirations of getting their products to retail.  Unbelievably I was selected! It was probably one of the hardest things I have had to do AFTER child birth! Filming was for 3 months but in order to design, develop and get a product into production it takes a lot longer but I am glad I did it and that's where BexSimon Collections, our range of Cast Iron Kitchenware, started.
You've created giant pieces and also some homeware ideas – how do you find working on such differing scales? Do you have a preference for one over the other?
Because I have so many ideas and inspirations, having lots of different things to jump back and forth from works really well for me, but I do love getting into the workshop most of all and building the larger pieces. At college I was one of the smallest but always built the larger, heavier pieces……I like a challenge!

We love the gate you designed as a tribute to April Fennell – could you tell us a little more about that?
The April gate was quite special, she was one of the little girls at the school who died of Cystic Fibrosis. The teachers and pupils wanted to create a garden, where stories could be read in a quiet place dedicated to her, April. The pupils all drew ideas of how they would like the gate to look, so I selected bits from each design and together we created the final piece.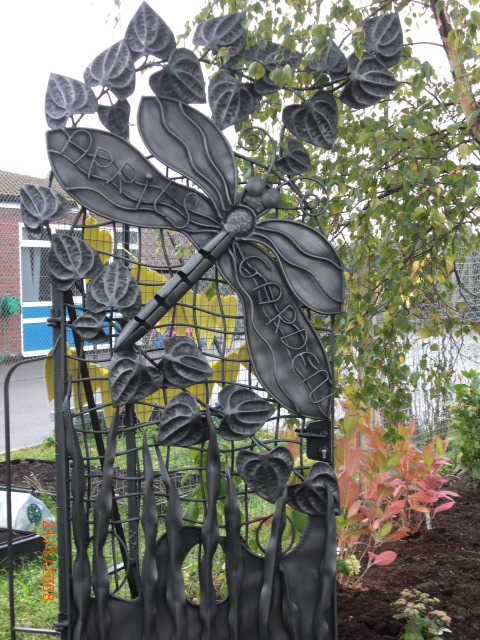 You've spoken a lot about the inspiration you draw from Gaudi's style – which other artists inspire you?
Gaudi has to be my favourite but I also love work by Lalique, Giger and the MacDonald sisters.
Do you have a favourite project that you have created?
Every piece I work on is my favourite until the next one. I work hard to create something special for each client. One of the pieces I am currently building is a very large door handle. I love textures and want to make the piece to be very tactile with lots of depth within the design. After building a frame, I am welding lots of small strips of metal together, turning the heat down on my mig, so I have very high loaded welds,  lightly soft disking them to make a smooth top but lots of texture below. I really enjoy playing with the metal to see what new surface texture I can achieve.
One of the most unusual and creative jobs I have had was designing the Ejection seat base. The client had bought an Ejection seat from a Phantom F4 fighter jet and wanted it as his office chair. When I saw it for the first time, it instantly made me think of the film Alien. Like this seat was a piece from the spaceship, and I thought we could make it morph into life. There was a shaft on the back of the seat and it was perfect for an alien spine! I got very absorbed in the atmosphere of it all. I would LOVE more design commissions like this!
What are your plans for the future?
The last few years we have really focused on the cast iron range while we started a family.  I now have 2 small children, Molly 3 and Lyonie 5 months. But now it's time to get back into the workshop. We have some exciting, large scale pieces to build, also we are working with Property Developers on very large public art/gates, which is very exciting. With the Cast Iron range, we want to add to it and continue developing our retail brand. I have a few sketch books in which I am constantly jotting down more ideas of pieces I would love to build. I know that at some point I will get to build it all.
Have you come across any difficulties or prejudices in the welding industry as a result of your gender?
When I first started my business I think there was more prejudice to females working in what is typically a predominantly male working environment, however, things have really changed now and I rarely see it.
I hear you have a pink anvil! How did that come about?! Do you feel that it's a statement or just a bit of fun?
I remember when I was looking to buy my first anvil.  I walked into a warehouse in London and there were a few sniggers when I enquired but they soon stopped when I reeled off what exactly I was looking for, using all the correct terms. Having been shown all the anvils inside, I couldn't find the one I wanted, but they had a collection outside, painted to protect them. The moment I saw the pink one, I had to have it. It was the irony of a female Blacksmith with a pink anvil………..my favourite colour is in fact yellow!
What advice would you give to women looking to get into welding?
Any women looking to get into welding, I would say go for it!
Thanks so much for joining us Bex! If you want to find out more about Bex's bespoke metalwork designs or homeware accessories drop by her website www.bexsimon.com/