Cut down field welding time with automatic tank welding machines.
Coming in different shapes and sizes, industrial storage tanks are used for a variety of commodities. The most common include gas, oil, water,  petrochemical products and even food in bulk.
As the name indicates they are employed for industrial uses. But  they can be found in a variety of locations including underground, above ground, horizontal, and vertical. They are usually made from concrete, stone, fibreglass, steel or plastic.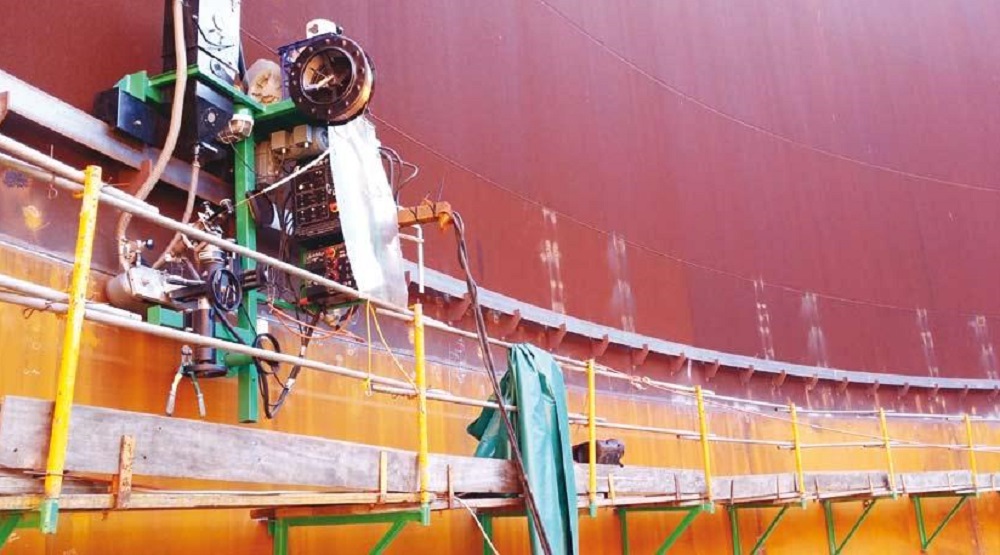 Industrial storage tanks can be categorised into several types based on the substance they hold and other factors.
A single source of information can be found at the Storage Terminals online portal and magazine. This includes includes oil and petrochemical price movements, regulatory updates and regional growth markets. It also features cutting edge technologies, that terminals must consider when investing in new infrastructure.
The tank welding machinery we offer for sale is for the fabrication of welded steel containers.
Carry on reading if you are welding storage tanks and vessels on-site manually.
Buying an automatic girth welder could considerably cut down on your welding time whilst erecting these liquid or gas vertical tankers out in the field.
In "As New" condition with very little use, the machine of the week is a portable SAW girth welding system. It is equipped with a Lincoln Electric DC 1000 amp power source, NA3 submerged arc welding head and flux recovery.
Model AGW-1/P will increase productivity both inside and outside the container wall, by welding a seam in the horizontal position. Read further information on pre-used tank welding equipment we have for sale.
Detailed manufacturer's specification on the capabilities of the direct current power source can be found from Lincoln Electric, American manufacturer's of welding equipment.
SAW as Submerged Arc Welding in known, is probably one of the most efficient welding processes.
The process is automatic and uses a solid wire electrode that is submerged in a granular flux blanket.
The SAW process is ideal for building up material/overlays and joining thicker materials.
Solidified slag must be removed from the surface, but removal is much easier compared to other processes.
Want to know more?
Contact our Team for the selling price including warranty and worldwide shipping.