Before joints are welded – preparation needs to take place to allow the material to join as effectively as possible, whether it be a butt join, fillet weld or lap joint. Here we will look at bevelling as a preparation technique.
Bevelled Edge = Not perpendicular to the face of the piece, allowing for an easier and more straight forward weld.
Plate bevelling machines can be used singly or together with a beveller specifically designed to work on the underside of the steel plate, as demonstrated below by Gullco. This increases production efficiency and in turn allows for greater turnover.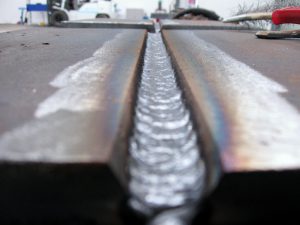 Bevelling is also used to soften the edges of the work piece for safety reasons, wear resistance and aesthetics.
Westermans are proud to partner Gullco in providing plate bevelling machines and cutting carriages, with the added benefit of no thermal distortion on mild steel, stainless steel and aluminium plate.
Go to our website for more details on these reliable and trusted bevelling machines, make your enquiry here.