This month in our Welding Showcase we're joined by American sculptor Greg Brotherton.
Greg is an internationally acclaimed metalworker who was  the featured artist in 2007 T.E.D. (Technology, Entertainment and Design) Conference in California.
His unique style features re-purposed steel figures and intricate machines that are a little unnerving but also utterly charming! A born experimenter Brotherton seemed destined to become an artist from an early age – and what an artist he has become!
Take it away Greg!
Tell us a little bit about yourself – where you're from, hobbies etc!
I was born in Iowa, but spent most of my youth across Utah and Colorado. After graduating from the Colorado Institute of Art, in 1989, I relocated to California where I've split my time between San Diego and, currently, Los Angeles.
My hobbies are numerous disciplines that I like to call "work", including; sculpting, film effects, design for motion and print, illustration, and, more recently, writing. Right now I'm finishing up the script and design for a graphic novel based on my sculpture and I'm about half way though the novel version. There has been significant interest in both properties which has been very encouraging, but also exhausting as I try to get it all done.
It sounds like you were interested in art and experimenting from a very early age – how has this affected your work? Do you feel like being an artist is in your blood?
Somethings definitely in the blood and it's been driving me to create since childhood. My brain only seems to work normally when I'm confronted with the challenges of creating. The challenge is my focus and a map of the world around me, art is the happy byproduct.
Tell us a little bit about your training in art and your background?
I couldn't seem to stay in school and, long story short, ended up in art school at age 16 where I proceeded to manically embrace the college lifestyle and the "maker" mentality. From art school I went into architectural model making, trade show display, action sports apparel, comic book publishing, video games, and movies, more or less in that order.
Most of the time I lived in industrial warehouses with other artist friends, that is where my real training took place. We would build out cheap square footage for living, skating and various ventures in art and manufacturing, teaching ourselves to build, weld, wire, program, whatever we needed along the way. Not having much money at the time, taught us to become proficient scavengers and inventors. We, jokingly, considered ourselves the Indians of the industrial parks, using all the parts of the metaphoric salvaged buffalo.
When Warner Bros. bought the company I was working for in San Diego, I moved to Los Angeles, with my now wife Amy, where I finally built a shop that I also didn't live in. Ten years later we retuned to San Diego to found the Device Gallery and Glashaus where I began sculpting full time.
You have a unique and unusual style – how would you describe your work?
I create creatures of industry, improbable and anxious machines populating a landscape of broken history. I try to find the common ground between invention, repurposed salvage, and storytelling in my work. My overall shapes tend to be simple and graphically composed while the textural elements are usually more complex, sometimes obsessively so.
Tell us a little bit about your most recent project – The Walking Ship
The walking ship is an idea that had been kicking around in my head for a long time and is central to a story that I'm working on now. I was happy to finally get a version of it into reality. I wanted to keep the design within the aesthetics of early shipbuilding, having mechanical legs that looked like they evolved from the masts and rigging of a wooden ship. Most of the welded pieces are designed to mimic miniaturized casting or iron work. It requires a pretty light touch on the MIG to get things like posable ball joints and fingers. The spot welding technique has evolved from years of simulating miniaturized riveted plate. There probably aren't many people that MIG weld with tweezers.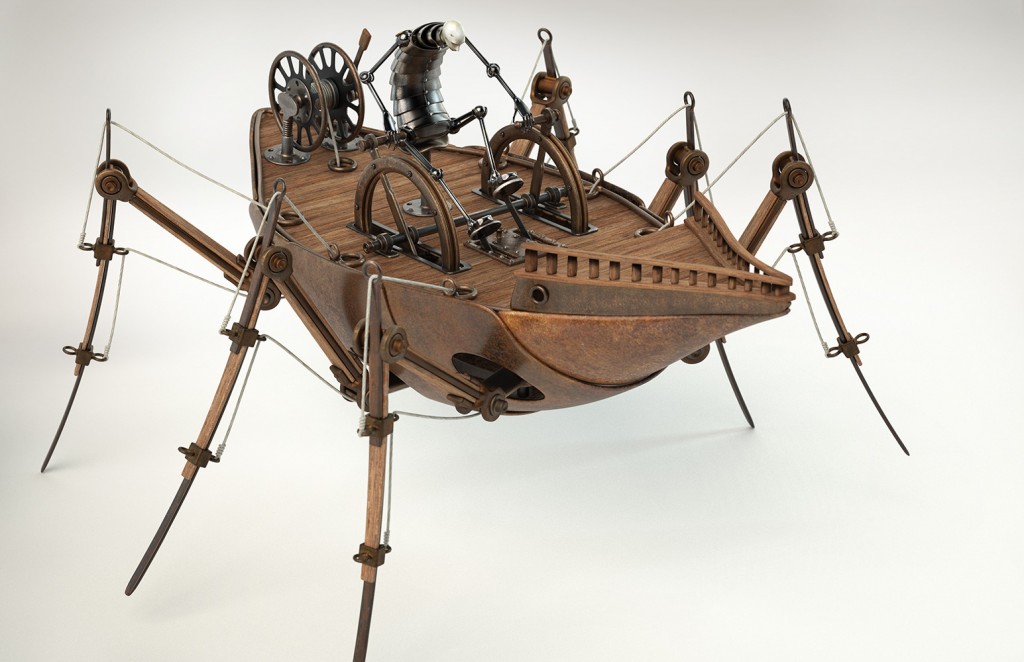 You fabricate most of your work at the Glashaus studios – could you tell us a little more about how that came about? How do you find working among so many other artists?
I designed and built the San Diego Glashaus studio with Matt Devine about 6 years ago. It was a risky opportunity in a bad economy to take over an old glass factory and build it out for studio space, but the risk paid off brilliantly and has helped revitalize the area. Matt has continued to develop the space and Glashaus is going stronger than ever, but restless for new challenges, I have moved back to LA to develop my body of work into a larger entertainment property. I definitely miss the artist interaction of the Glashaus, it was a callback to my younger days. Working with Matt and the other artists there provided a valuable exchange of skills, techniques, and camaraderie. The detached garage of my Venice home has been converted into a small machine shop where I do all of my fabrication now. My wife runs the Device gallery http://www.devicegallery.com from LA and we have just come out with our third art book TRAVELING DEVICE that has several of my pieces featured. It is a widely distributed, sculpture only book that has really helped us reach a broader audience.
Do you have a favourite project that you have created?
My favorite project is always the one I'm working on at the time. I think I'm in love with the potential of a piece more than the final result. While I look back on my body of work fondly, it's the new and untried that really holds my interest.
Do you have any dream commissions or projects you'd love to create?
Ultimately, I'd like to take my stories and creatures into film. Stop frame animation or a stylized CG animation seems like the most natural fit for the look of my work, but I can also envision my pieces combined with live action and special effects. It's what I'm working toward now and my hopes for what will be.
Who are your biggest design inspirations?
I find a lot of my inspiration comes from film makers and writers, usually with a distopian slant to their work. Terry Gilliam, Jean-Pierre Jeunet, The Quay Brothers, Franz Kafka, George Orwell and China Mieville, to name just a few.
You've received a huge amount of International recognition for your creations, including being a featured artist at the TED conference, what do all these accolades mean to you?
Art is meant to be seen and developing a relationship with an audience is an important part of success for me. I find that with recognition come a lot of involvement in thing that are way outside my comfort level, like doing live TV, public events and lecturing at museums, while I'd rather hide away somewhere quiet and just make things. These experiences, especially the TED conference, have been wonderful, world broadening, and sometimes terrifying. The recognition means I get to keep doing what I'm doing and I am grateful for the attention my work has received and to everyone that has believe in or helped promote it along the way.
What are your plans for the future?
I plan to develop my work into a broader narrative that can be represented in film and print, and explore as many stories as I can.
What advice would you give to people looking to get into sculpture and metalworking?
If you love it or can't help but do it, go for it! If you're new to welding there are many places that offer lessons, and casting classes at a college or local foundry are a great experience. But if you want to make sculpture your primary income be prepared for some lean days. It's a limited and difficult market to find a place in. Get to know the market place, many of the things that look like big money are actually sitting there on loan costing the artist money instead. Everyone wants to wave the "good exposure" carrot in front of your nose, and while you do need good exposure, make sure those people represent real buyers and have a track record of selling sculpture. Just because you can sell paintings doesn't mean you have sculpture collectors. Many people throw art events where they make money on tickets or booze, but want to use your art for free. Keep in mind that shipping and displaying sculpture is costly and you risk breakage throughout the process, so at least make sure they are insured for the sale cost of your work.
Do you have any funny/interesting/scary stories or anecdotes about your career in welding that you'd like to share?
When I first started sculpting, I wanted to build big, and build in steel, so I bought a MIG welder. I had no idea how to weld, the internet wasn't like it is today with a lots of free training, so, like everything at the time, I just tried it. I wasted an enormous amount of time working under the false belief, that if I touched the metal while welding I would get shocked, and ended up building some of the most elaborate jigs you can imagine for a "hands free" approach. Now I practically lay on my work while welding and chuckle at how timid I was.
Thanks for joining us Greg and sharing your story! If you would like to find out more about Greg and his incredible sculptures, visit his website www.broton.com