A questions often asked is – should I get the Powermax30 Air model or the Powermax30XP plasma cutter?
Question.
Would I have enough supply air to operate the Powermax30 XP with a 75 litre compressor? I want to use this Hypertherm plasma cutter for my hobbies in my garage.
Answer.
With both Powermax30 models produce 30 amps which is the standard measure of cutting power.
If you dig a bit deeper into the specification sheets on the Hypertherm cutters you will see the XP model is rated for thicker cutting and shows faster cutting speeds too.
And the reason why is clear. The Powermax30 XP power supply does not have to share its power with an onboard air compressor. So it can produce 30amps at a higher load voltage.
From a power (speed and thickness) and duty cycle comparison the Powermax30 XP is a clear winner.
Now if you need something light and portable and do not want to lug around a heavy air compressor then the Powermax30 AIR is ideal for you as it was designed for portability to take on site to jobs.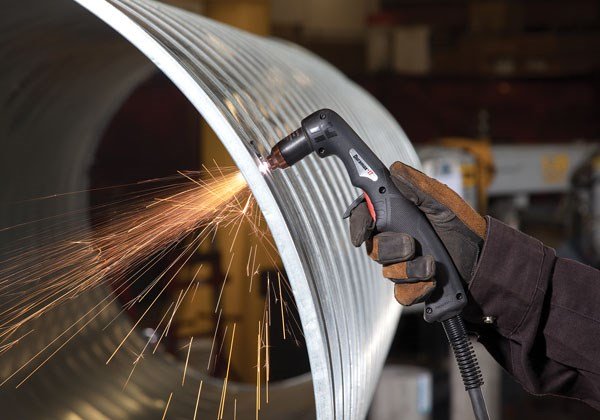 At the end of the day both are great machines but as you already have a good compressor and do not live in an area of high humidity (as this can affect the cut quality and life of the consumables) Then go for the Powermax30 XP over the Powermax30 Air to see the benefits of higher cutting wattage, faster cut speeds and high duty cycle.
Which plasma cutter offers the best overall value?
If you need to cut thicker than 10mm by miles would be the Hypertherm Powermax 45XP plasma cutter, with dual input phases single or three phase
This small, light weight machine weighing in at 15kg, is a small portal unit with maximum dimensions only being 44cm x 18cm x 35cm.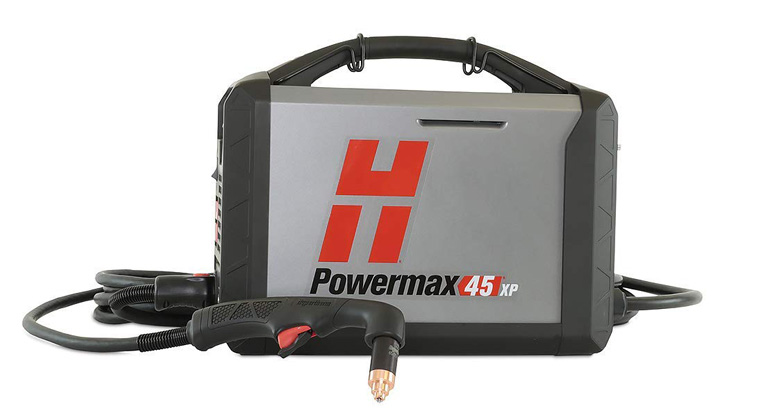 It ticks all the boxes. Capable of hand cutting, mechanised cutting, drag cutting, FineCut, marking, precision gouging. Recommend cutting is 16mm (or thinner) with a severance cut of 29mm of any metal.
Made in America, the robust unit has sense technology regulating the air pressure and preventing malfunctions.
Could be considered expensive compared to other brands on the market but the reviews prove this machine is a superior, powerful plasma cutter with plenty of versatility switching consumables at a rapid rate, compact and transportable meaning it is well worth the price. With a 3 year warranty (excluding torch) this unit is the best on the market if purchased from an authorised Hypertherm Distributor. Get your Powermax 45XP here
Whatever you decided, please share your cutting videos, projects and finished products with us.
As an authorised Hypertherm Distributor, we can supply all products the vast range, of what we class, the leaders in plasma cutting equipment.