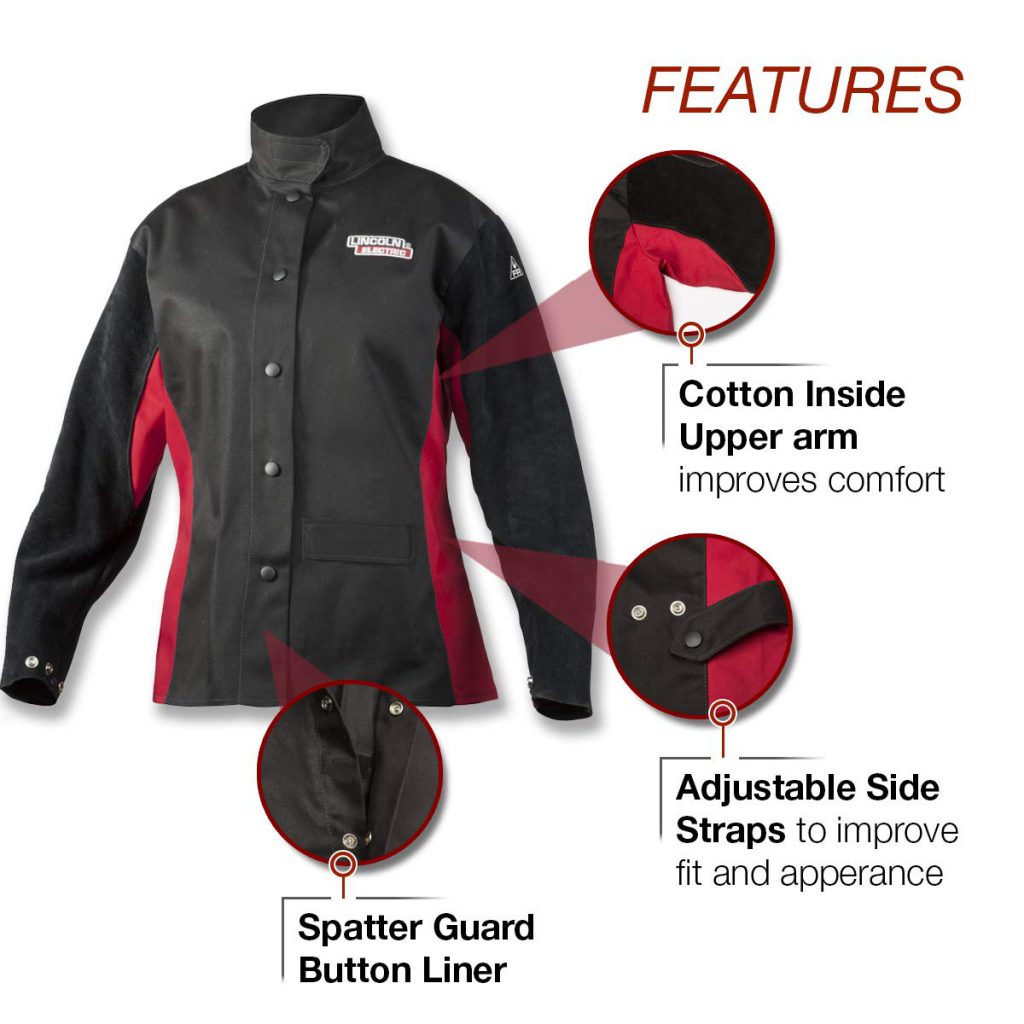 UPDATE: you can now buy women's workwear from Lincoln Electric direct. Click this link for more details 
I am never surprised at the way the American's promote and embrace women in the metalworking industry.  Just jealous of their passion.
It really does leave the rest of us trailing behind. I think it's about time I discovered stories of British females in this industry who are making sparks!!
Women ARE different…….
Thanks to Jessi Combs and Lincoln Electric, female welders can stop rolling up the sleeves of their baggy men's welding jackets and put away the giant gloves that are made for larger hands. The Jessi Combs line of welding gear is Lincoln Electric's latest fusion of style and safety, offering welding apparel tailored – and sized – specifically for women.  Dowload the product brochure here
This Youtube video shows exactly why Lincoln Electric chose Jessi to promote their gear. She talks about curves, waists, hour glass figures as well as demonstrating her skills in the fab shop.  A vivacious woman who enjoys being feminine.
Combs, a popular television personality and fabricator, is the perfect choice to work with the company to introduce the new line of female personal protection apparel. A skilled welder, she has appeared on such shows as Discovery Channel's Mythbusters and Overhaulin'. She currently co-hosts All Girls Garage and the new Overhaulin' on the Velocity Channel.
"For years, I've wrestled with sleeves that are too long and gloves that are too big. With this introduction, I'm excited to partner with Lincoln Electric to offer protective gear that fits right and looks good. I really look forward to sharing these items with other female fabricators," notes Combs, who provided significant input throughout the development process to ensure an accurate fit and appeal for female welders.
The first product in the new female line is the Jessi Combs Viking 1840 Series Amp Angel Auto-Darkening Welding Helmet. The comfortable helmet has subtle graphics and features a 90 x 110 mm cartridge to keep the weight to a minimum. External continuous 9-13 shade control makes it easy to adjust on the fly and continuous sensitivity and delay offer customized responses for every application.
The Jessi Combs Women's Shadow Welding Jacket, tailored especially for women's sizing, features a cooling front and back flame- retardant panels. A flip up collar, adjustable snap sleeves and a snap cinch waist keep spatter out, while two horizontal flap pockets secure personal items.
A sexy lady who makes welding look fun! Go girl……..
If you know of any "welding ladies" here in Europe – then let us know. We'd love to feature them on our various sites and include their business, skills and products.
Biography of Jessi Comb from her FB page

Jessi Combs was born in the Black Hills of Rapid City, SD. With a lifelong desire to become a race car driver, this fearless young lady found a love for speed and its machines at a very young age. Her parents loved to explore everything around them and gave her a solid appreciation for off-roading as well as racing in many forms.  In addition to her love for speed, Jessi is artistic and spends as much time as she can creating with her own hands.  She loves metal working and leather craft and is skilled in both.  Jessi is an independent and adventurous spirit, boasting, "I will try everything at least twice…  I wouldn't want to be jaded by the first attempt!"  Her sense of adventure led her to board sports, travel, photography, and sky diving.
Having turned down a full scholarship to a prominent interior design school, she traveled North America before settling in Denver, CO to pursue a career in snowboarding.  This proved harder on her physically than she had anticipated and decided on a career that involved her love of everything automotive and showcased her artistic abilities.  She moved to Laramie, WY to attend WyoTech where she studied Collision/Refinishing, Chassis Fabrication, Street RodFabrication, and Trim/Upholstery, graduating with a degree in Custom Automotive Fabrication. Her time and involvement at the trade school led to her first fabrication job when the marketing department hired her and another student to build a car from the ground up in six months to debut at the Specialty Equipment Marketing Association's (SEMA) show.  The car was auctioned for charity and Jessi hasn't looked back since.
While her chosen career path didn't initially include time on television, she found herself on Overhaulin' as a guest fabricator and was soon hired as the co-host of Xtreme 4×4, part of the Powerblock on Spike TV, a position she held for four years and 90+ episodes.  Together with a co-host, they built everything from race trucks to street trucks and trail rigs to trailers for an audience of millions.